Today Konami has revealed that some old classics are coming to PC via the GOG store, including games such as Castlevania, Metal Gear, and the Contra franchise. Some of the games can be bought individually, but others have to be purchased as part of a bundle.
Metal Gear games - Metal Gear, Metal Gear Solid, and Metal Gear Solid 2: Substance can be purchased individually, but the Castlevania and Contra series have to be purchased in a single pack called the Konami Collector's Series.
The bundle includes Castlevania, Castlevania II: Simon's Quest, Castlevania III: Dracula's Curse, Contra, and Super C.
From the GOG store page:
Metal Gear is $5.99
Metal Gear Solid is $9.99,
Metal Gear Solid 2: Substance is $9.99
Konami Collector's Series is $5.99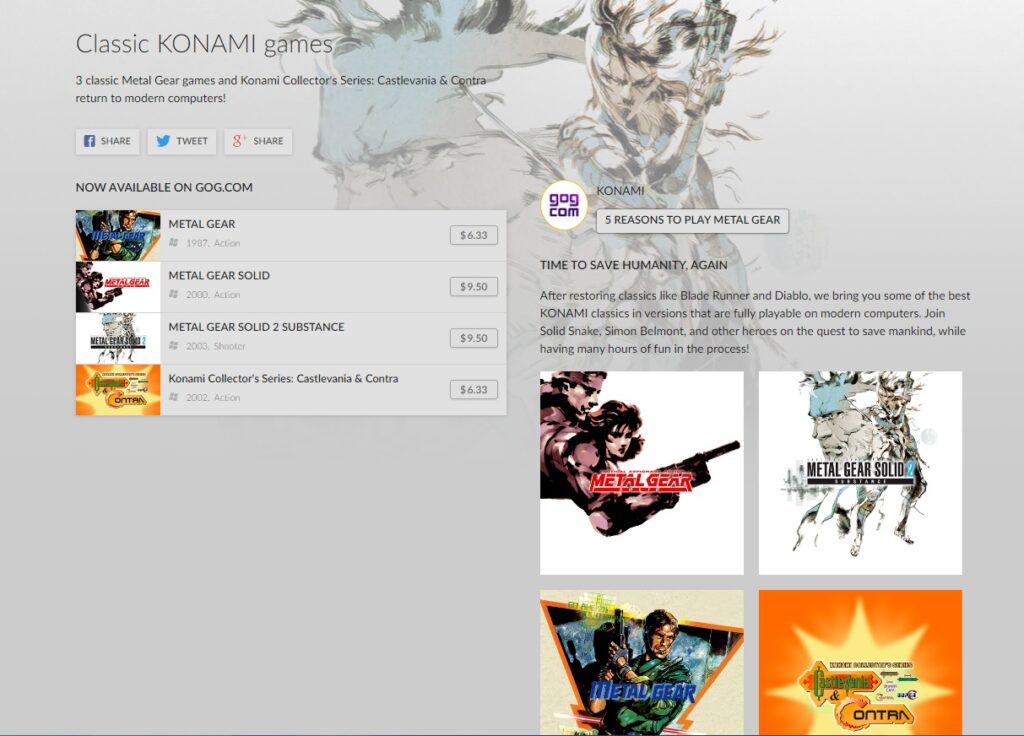 This was rumored to be happening, and now it has come to fruition, which no doubt have pleased many fans around the globe. Although what about the other Konami rumors that have been floating around?
According to YouTube channel, RedGamingTech, who has been extremely credible in the past when it comes to leaks, has mentioned that Metal Gear Solid 2/3/4 are meant to be getting remasters for the PlayStation 5 and potentially the PC. It's also mentioned that Metal Gear Solid is getting a full-blown remake, which is exclusive to the PS5. Even though RedGamingTech specializes in hardware, not software, his source is meant to have a 100% track record.
If the remake is true, we have no idea how far it is in development it is. Perhaps we shall see it during the Tokyo Game Show, which is currently in its second day. If a teaser is shown, then it's definitely a sure-fire way to sell PlayStation 5 consoles, as an exclusive that massive is hard to ignore!