Within the Morrow Parish sits a decrepit mansion filled with twisted creatures and horrors from beyond. Inside the mansion is a single locked safe, preserved from the rustic area around it. Opening it requires a specific combination of numbers, and this combination is far from obvious to find. I myself nearly missed it; in fact, you can lose out on the safe entirely if you aren't careful, so you'll want to make sure you open it before it's too late. Here's how to open the Morrow Parish safe in Remnant 2.
What is the Morrow Parish safe combination in Remnant 2?
If you're interested in just the combination to open the safe, then the code is 2971:
This specific set of numbers comes from the woman locked in her room in the basement of the Morrow Parish manor. As you may have noticed from exploring the manor, everyone inside has gone completely insane, and the woman in the basement is no exception. Speaking with her through the locked door, she asks you to collect the missing dolls of her beloved Nightweaver, a future boss for you to encounter. These dolls are scattered throughout the manor in easily accessible places, so they aren't hard to find if you explore the mansion. There are three in total; each one has a bright orange glow that signals its location.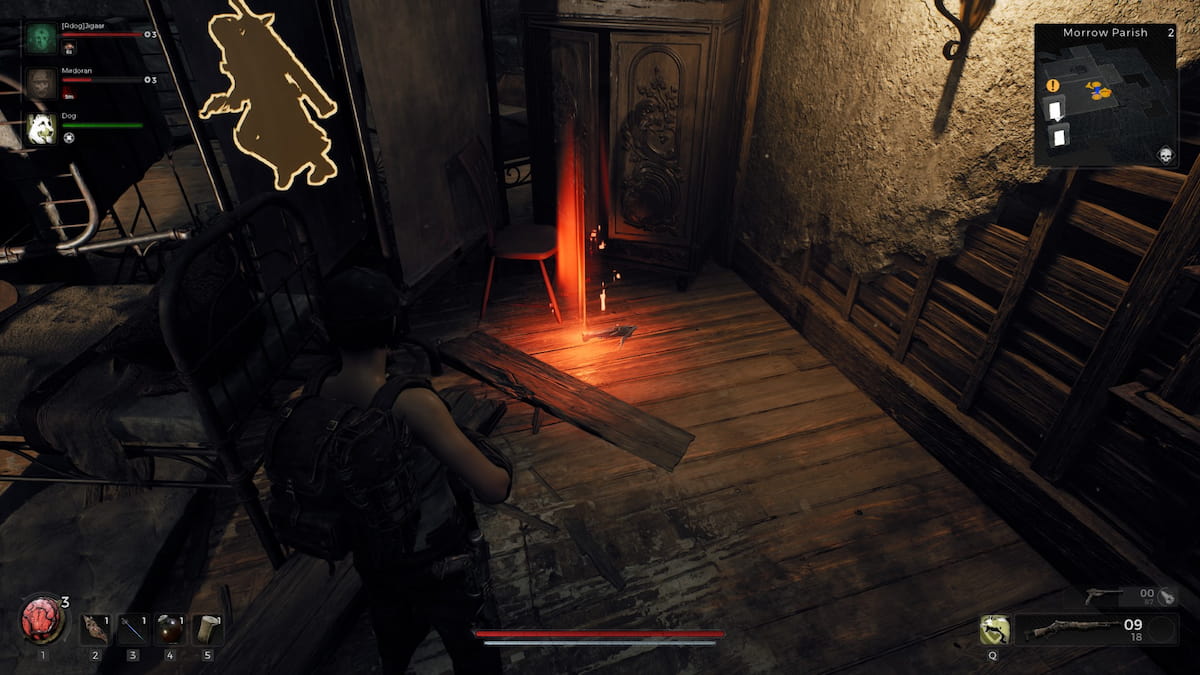 Returning all three dolls to her will cause her to carol about their return and the joy she feels. During her singing, she will blurt out one of the safe numbers in each verse. This isn't obvious, however, as the context in which she states each number is not related to the safe in any way. You just have to catch on to it.
Related: Healing in Remnant 2 – How to recover health, explained
However, know that you do not need to entertain her as the safe does not rely on her singing. The code is the same and works even if you never speak to her. The same can be said if you opened her cell and watched her disappear without opening the safe.
What is in the safe?
In the safe, you will find a powerful sawed-off shotgun for your secondary slot. This weapon does extreme damage at close range and can be fully upgraded back at Ward 13. I highly recommend using this thing early on, as it packs a serious punch, significantly more than most early guns in Remnant 2.
For more quality guides and information relating to Remnant 2, check out our guide on Remnant 2 Cargo Control Key – Where to find, how to use here on Pro Game Guides.