It can be hard to get the exact halo, shoe, wing, or other items that you want in Roblox Royale High. This may be because you are having trouble acquiring it for general or specific reasons. Whatever your reasons may be, it can be frustrating to not be able to get the pet or toy that you want. Thankfully, that's where trading comes in.
Traderie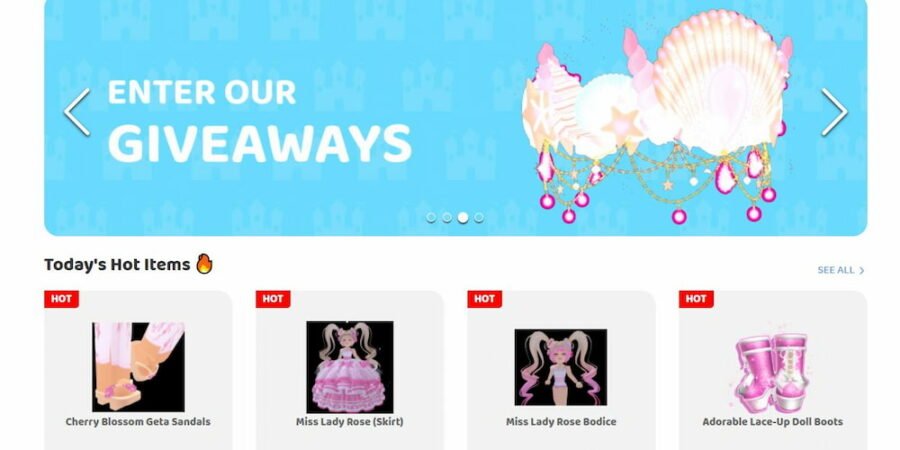 If you want to find a centralized place to find clothing you are looking to trade or get rid of, Traderie is a great source. You can sign up for an account on this site and link your Roblox account. This creates a safe and more assured place to find trades and make offers. You'll still complete the trade in-game, but this makes trading easier and can help you avoid scams. You can even leave reviews for people you trade with!
Related: How to get the Summer Fantasy set in Roblox Royale High
You can create an account, which will allow you to make offers, post listings, and message those you're selling/buying with. There are more than just clothing for trade, such as wings and accessories.
How to Trade in Royale High
Trading was added into the game on March 23, 2020, to the delight of players. This makes players swapping objects very easy and can help give everyone their ideal Royale High Experience.
To trade in-game, you need to agree on where to meet the player you are trading with. Once you see them, you can click on them, which will give you their player profile and a trade option. You can set up the trade here. Depending on who sends the offer, either you or the other play will accept or decline the trade that is offered.
Want to read more about Royale High? Check out Roblox Royale High Codes (2021) don't exist, here's why on Pro Game Guides.