It's a race to the finish in this Roblox game, and you will need some serious speed to claim victory. Hyper Race is all about going fast and leaving your opponents in the dust. Click as fast as you can when the time comes, and don't stop running until your footsteps are the only sound you hear.
Using codes in Hyper Race will give you rewards when they are added. All codes have an expiration date, so be sure to keep an eye on them and use these codes once they are released. As codes are created, we will add them our to lists below, so be sure to check back to get free rewards in Hyper Race.
If you're looking for more Roblox content, check out Skydive Race Clicker Codes, Speed Race Codes, Muscle Race Clicker Codes, and more on Pro Game Guides. Explore our site for more Roblox code guides and get loads of free stuff.
All Hyper Race Codes List
Updated June 17, 2023

Checked for new codes.
All Hyper Race Codes List (Working)
1millionvisits—Redeem for 100 Wins
morepets—Redeem for 15 Wins
prestige—Redeem for 20 Wins
petsupdate—Redeem for 20 Wins
All Hyper Race Codes List (Expired)
Here are all expired codes for Hyper Race.
Release—Redeem for 25 Wins
Roblox Hyper Race Simulator Codes FAQ
Here's everything you need to know about Roblox Hyper Race codes.
How to redeem codes in Hyper Race
Redeeming codes will give you free rewards and fast-track your racing career in Hyper Race. Make sure that when entering codes, they are spelled correctly and are not expired. Here is how to redeem codes in Hyper Race.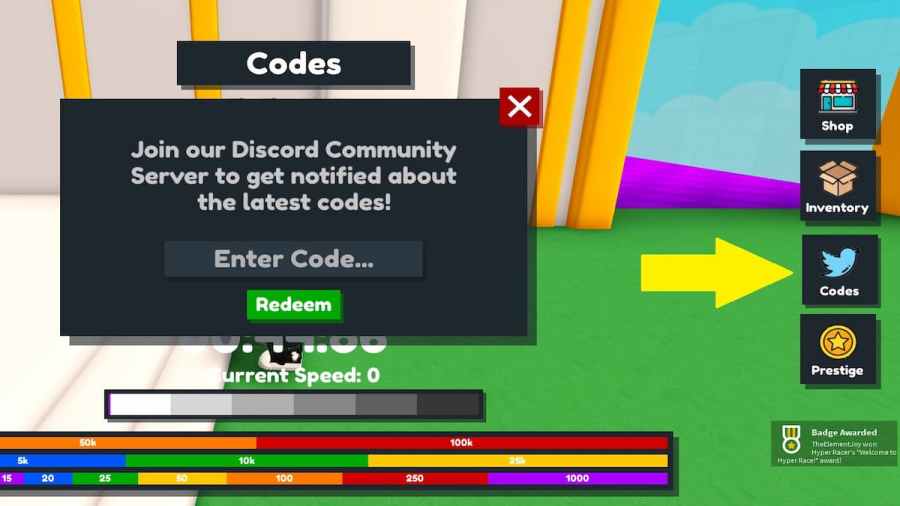 Click on the Codes button on the right side of the screen.
Select the text box.
Enter your code and hit Redeem.
How to get more Hyper Race Codes
Join the Hyper Race Community Group and Discord for more codes and to interact with the community. You can also bookmark this page, as we will update this list once new codes are released. So be sure to check back often to see if there are new codes for Hyper Race.
Why aren't my Hyper Race Codes working?
The developer controls codes for Hyper Race, and they determine how long the codes are active for. Some codes may expire quicker than others, and some may not work with others. If a code does not work for you, double-check if there is a spelling error, the code isn't active yet, or it has already expired. To help solve that issue, bookmark this page and come back often to see if Hyper Race has added new codes or if some are expired.
How to get speed in Hyper Race
To get speed in Hyper Race, you must wait for the first countdown timer to reach zero. This will start a second timer where you are able to click. Each click will increase your speed. As you race, you will cross lines that give you wins, which in turn increase the amount of speed you get per click.
What is Hyper Race?
In Hyper Race, you have 20 seconds to click and build up speed before you can speed off toward the finish line. Earn wins to increase how much speed you generate per click, and you can prestige to increase this further. Leave your opponents behind as you zip to victory.
For more information on Roblox, check out Anime Race Clicker Codes and Race Clicker Codes on Pro Game Guides.