Since Roblox is an online platform, there are times when the servers crash and cause a platform-wide outage. Sometimes the outages are so vast that the entire website is no longer accessible. This is likely the case of a Roblox runtime error, but users shouldn't fret: this is often a temporary error that the company must fix on their end.
If you are experiencing a Roblox runtime error, chances are high that this is due to an outage on the company's end. To check the status of Roblox, users can refer to the Roblox Server Status page. This is the official server status website from Roblox that breaks down the online status across all aspects of the platform.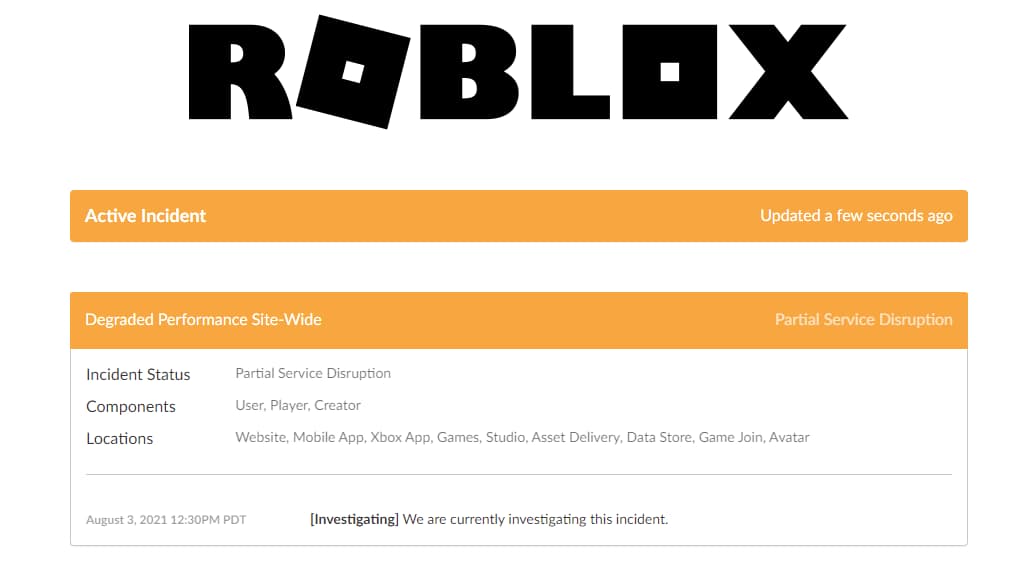 In the likely chance of a server outage and runtime error, Roblox updates this server status page. Whether the issue occurs on the website, mobile app, Xbox app, etc., the company pinpoints where the outage exists. They also provide real-time updates as they investigate and attempt to the solve the issue.
If for some reason the Roblox server status page was not updated, users may also refer to the Roblox Downdetector page. Although unaffiliated with the Roblox company, Downdetector compiles user-generated reports across many online services. If there is a runtime error across Roblox, many users report the issue here. This is an efficient method to confirm that the error is not just pinpointed to your home network.
In most cases, users will be unable to solve the runtime error themselves. This is due to the issue arising on the comapny's end as opposed to the user's end. In this case, time is the only fix for a Roblox runtime error, and users must wait for the company to get the servers operational once again.
For immediate status updates outside of the Roblox company, we also recommend following Bloxy News on Twitter. When online errors occur on the platform, this account is often quick to update the Roblox community.
For more Roblox guides, check out How to fix Roblox Error Code 524 and Roblox Error Code 529 – What is It? on Pro Game Guides.