While games in the past have had meteoric rises, it is hard to really find one that has happened in the same way that it did with Among Us. This is a game that came out in 2018 and went relatively unheard from until it caught a wave of popularity from content creators on Twitch and YouTube. That wave of influence has brought the game from an average of 117 players on Steam in January 2020 to a whopping 84,000+ in the last 30 days.
According to the numbers collected on Steam Charts, there is an amazing success story to be told from the humble beginnings of Among Us. The game clearly came out to very little fanfare, as can be witnessed by the first six months of the game's lifespan on Steam. Among Us averaged under 10 players in this time period, until it finally saw its first small jump in June 2019. While the game was mostly able to retain that player base, it didn't show significant growth until July 2020.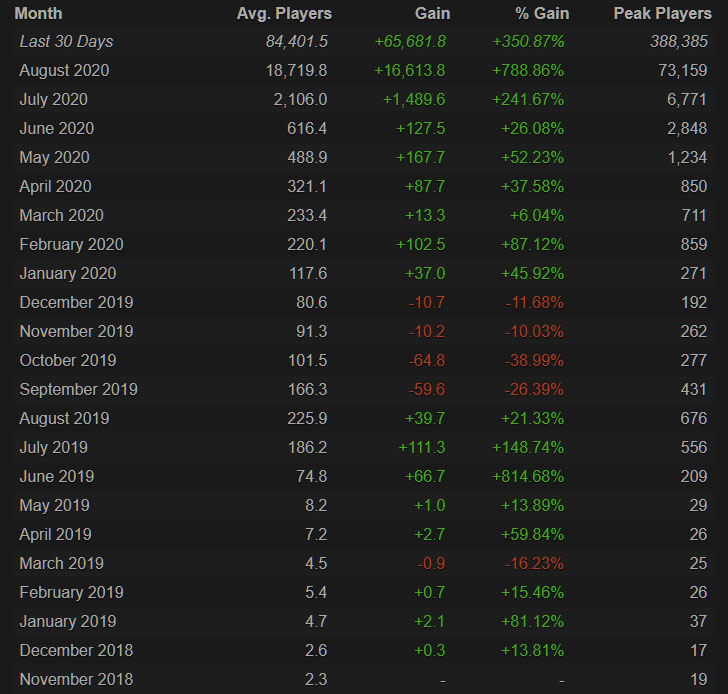 The popularity rise started when the game went on sale during the Steam Summer sale, and culminated with the play of Sodapoppin, who is a very popular streamer on Twitch. This stream setoff the chain of events that got us to where we are now. It was picked up by many top Twitch and YouTube content creators and has been a rocket ever since. You could argue that the pandemic helped it on its way, due to so many people being home and looking for ways to hang out with their friends and family. This is a game that is meant to be played with people you know, and while it can be enjoyed in a random pub, gathering your friends together for a round is usually preferred.
The game broke its peak popularity record on September 19th, 2020 by reaching 388,385 players at one time on Steam. This is an incredible number from a game whose peak had yet to reach triple digits six months after its launch.
Among Us is available on Steam for $4.99 USD, and if you prefer a mobile experience, then you can get it for free on iOS or Android devices.