Among Us has really captivated the gaming world, and has seen players from all types of platforms engage in a life or death battle to figure out who is sus and who isn't! Now that we know the sequel to the game has been scrapped, we can expect a bunch of new updates to be released for Among Us in the near future. This upcoming patch should hopefully bring a lot of the quality of life fixes that players have been asking for, along with the possibility of some additional content that will shake up the game!
Among Us Update Release Date
At the moment, we currently do not know when the next Among Us update is going to be released. As far as I'm aware, there's not much in the way of a timeframe that has been shared as well. So, we could either be waiting a while for the new patch, or it could come out a lot sooner than we would expect. So, it looks like we're just stuck waiting and seeing when the Innersloth team releases additional information!
New Features
Based on the future of Among Us post that announced the cancellation of Among Us 2, we got a list of what exactly the team was working on. Now, it's important to note that all of these things might not be available in the next update, but some of them will hopefully make the cut. Here's a brief list of what they are working on:
Servers - I'm sure no one likes getting disconnect from the game or having lagged gameplay. Well, they are hard at work at resolving the issues involving the servers.
Colorblind Support - Any tasks that are color based should be fixed in a way that will allow anyone who is colorblind to complete them. One of these fixes has already been added in the beta.
Friends/Account System - Create an account and add friends to quickly get in games together.
New Stage - As for content, a new map is currently being created!
Colorblind Support
As mentioned, the Colorblind Support has already seen the light of day in the beta. If you aren't aware, you can join in the Among Us beta if you play the game on Steam. Just right click the game in your Steam Library, head to the Betas section, and use the opt into beta drop down to select the Public Beta. Once selected, it will download the beta version of the client and you can use it! One of the changes you will notice, is that if you attempt to do the wires task, you will see shapes on each of the wires now. So, instead of relying on colors to complete it, you can just match up the shapes instead!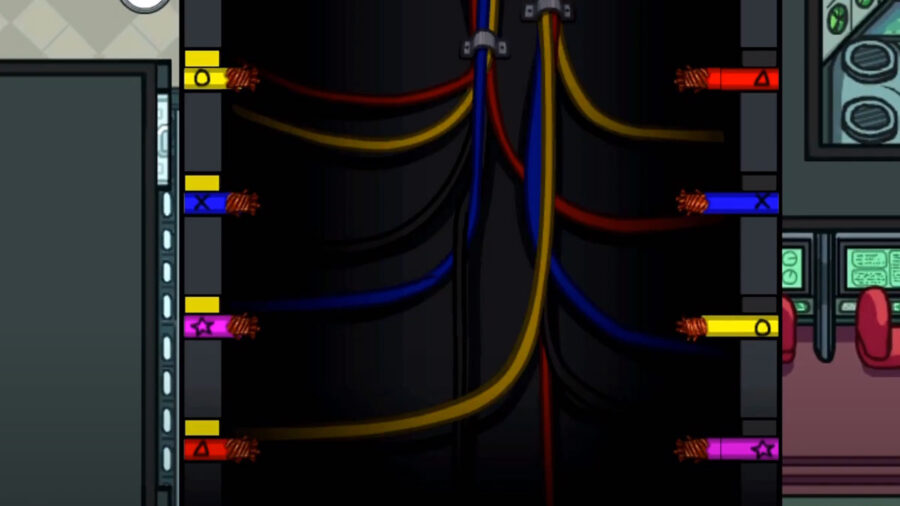 As for more support, we will have to wait and see what they decide to add.
Task Bar Updates
Another feature of the beta is the new Task Bar Updates option in the game settings. There are three options for this: Always, Never, and Meetings. Always will make it so each time a task is completed it shows that on the task bar, never will obviously not show any updates, and meetings will show it after a meeting has been completed.
Anonymous Votes
If you don't want people to see who has voted for who, then you can check or uncheck this option. When the vote happens, all of the player colors will be grey, so you will not know if people voted how they said they were going to, or who voted for who! This adds an additional layer of strategy, which could shake things up in your games.
This feature is also available in the beta!
New Map
Not much is known about the map, but in the interview with the developers shown below, we do know that the new map is going to be bigger than Polus. However, it doesn't sound like it's all that far along, because later in the interview it is said that only around four rooms have been drawn out.
Bigger Lobbies
The question was asked if there were plans for larger lobbies, and it sounds like it is something that will be added in the future. The number 15 was thrown out, but we're not sure if that's just an example or something they have more set in stone. It could be possibly tied to specific maps, particularly the new map that will be quite large.
More Pets
A pretty obvious thing is they talked about more pets being added to the game. It sounds like it's relatively simple to put more out, so you can expect more of these in the future.
Developer Interview
If you want to get some insight from the developers on where things are going and what they are working on then this video is a great place to start:
Based on the interview, it sounds like a lot of the early stuff they will be working on is revamping the code of the game so they can update it more easily in the future. Hacking has become quite a big issue for some reason, so they will be working on attempting to fix that, however, it sounds like it will be quite a big fix. Hopefully, that is something that will be brought to the game soon, because it is becoming a major problem.
That's all of the details we have for now! We will be keeping track of any additional announcements, and listing them within this post as soon as they are available.