With March closing out and if you're island is in the Northern Hemisphere, you're going to need to know how to catch a Sturgeon in Animal Crossing: New Horizons before it leaves the waters! Catching all of the fish in your Critterpedia will get you that sweet Golden Fishing Rod, so don't miss out. This fish can be pretty elusive, but we've got a pretty good method on getting it pretty much guaranteed!
How to Catch a Sturgeon
First, we'll take a look at the Sturgeon's Critterpedia information because it's vital to know when you can actually catch this thing. It only shows up in certain times of the year, so don't go fishing for it unless you fall into the precise months it is available.
Northern Hemisphere: September - March
Southern Hemisphere: March - September
Active Hours: All Day
Shadow: Large
Location: River Mouth
The shadow of the Sturgeon is noticeably larger than most shadows. You can see from the image below exactly what it looks like, because that's an actual Sturgeon I caught! You will also notice from the data that it mentions the location is at the River Mouth. That means you will only find Sturgeons in the area where the river flows out into the ocean. It's between the waves of the ocean and the little current marker you can kind of see in the river (notice the location of the fish in the image below).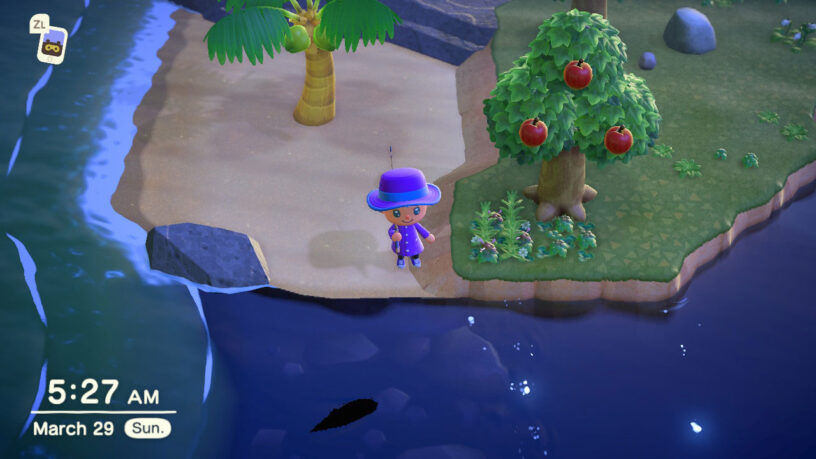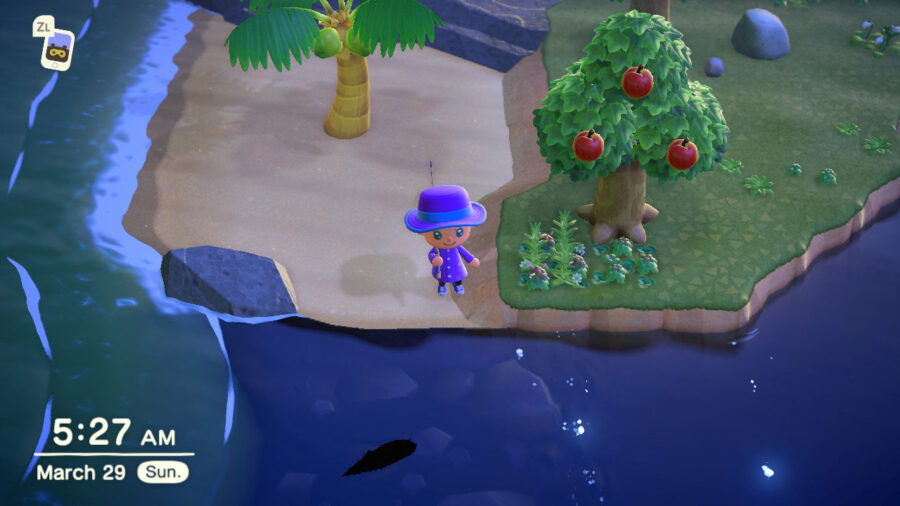 So, what's the best method to catch one of these? Well, if you want to catch one quickly then you're going to want to employ the mystery island fishing strategy. As far as I know, this was found by King Ryrex on YouTube, so credit to them. What you'll want to do is purchase a Nook Miles Ticket for 2,000 Nook Miles from the Nook Stop. Fly to a mystery island and look for an island that has a river that leads to an ocean. The key to this method is that you will need to scare all the fish away that spawn that AREN'T the Sturgeon.
It appears that fish spawn quite a bit faster on a mystery island, so scaring them away will generate more fish. So, you can run back and forth on the river to scare the shadows of fish away. Once you've scared a bunch of them, run back to the mouth of the river and look for a fish spawn. If it isn't a large shadow, scare it away and repeat the process. You will want to do this until you come across the Sturgeon. Here's ways to scare fish:
Sprint (hold B-button) and run along the river to scare them
Pole vault across the river near the fish
Cast towards a fish, get them to bite, and reel it in without catching the fish. This scares away the fish you got to bite and other nearby fish!
If you do this enough, you should trigger a Sturgeon to spawn in the mouth of the river. This method worked within ten minutes of me trying it out, so I am a full believer that this is the best method you can use right now.
You might feel like this way is a bit on the cheat/glitch side of things, so you can also farm up Fish bait and throw it out at the mouth of the river. You can run around beaches and dig up clams that can be found in dark spots that spout out water. This could work for you as well, but is more unreliable!
That should be all you need to know to catch a Sturgeon in Animal Crossing: New Horizons!