In Avatars Saga, you complete quests around the world that require you complete tasks, such as defeating enemies or speaking to NPCs, and allow you to level up and acquire new gear, like armor, weapons, pals, and resources like Silver, B-Ingots, and more. Those resources allow you to upgrade your character and gear to become stronger and learn new abilities so you can face more challenging enemies.
You can earn some items and resources instantly by using in-game codes. Developers get out codes for players to receive free items that help them get a headstart in their experience. You can earn more free rewards for other games like this, such as Genshin Impact Codes – 3.6 Livestream Codes! or Goddess of Victory Nikke Codes.
All Avatars Saga Codes List
Avatars Saga Codes (Working)
Here is a look at all the working Avatars Saga codes (you will need to complete the beginning quests and reach level 30 before unlocking the exchange menu).
WELCOME—Redeem for free 50 B-Ingots, 50.0K Silver, 1.5X EXP Potion, Offline Grinding Card (2 Hours), and Junior Stunt Essence rewards!
ST777—Redeem for free 50.0K Silver, 2 1.5X EXP Potions, Offline Grinding Card (5 Hours), and 2 Individual Boss Challenge Tokens rewards!
VIP777—Redeem for free 60 B-Ingots, 50.0K Silver, 1.5X EXP Potion, 3 Protoss Upgrade Boluses, and 3 Junior Wings Essences rewards!
GIFT777—Redeem for free 50 B-Ingots, 60.0K Silver, 3 Mount Upgrade Boluses, 3 Junior Stunt Essences, and Offline Grinding Card (5 Hours) rewards!
BFF777—Redeem for free 120 B-Ingots, 2 Offline Grinding Cards (5 Hours), Boss Refresh Card (All-purpose), and 2 Level 2 Cold Jadestones rewards!
CM777—Redeem for free 288 B-Ingots, 50.0K Silver, and 2 Probe Tokens rewards!
Avatars Saga Codes (Expired)
These Avatars Saga codes are no longer working.
There are currently no expired Avatars Saga codes.
Related: World of Tanks Codes
How to redeem Avatars Saga codes
Redeeming codes for Avatars Saga is a quick and easy process.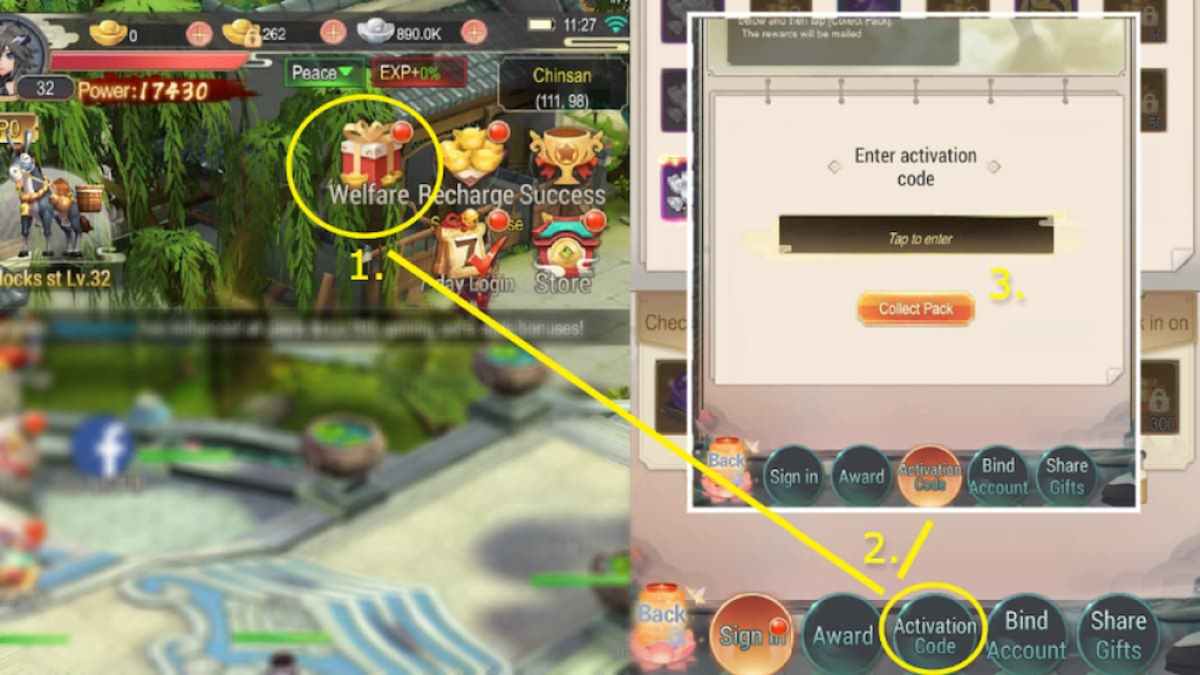 In the game, open the Welfare menu, symbolized by the gift icon, on the top right of the screen.
In the Welfare Menu, press the Activation Code button at the bottom of the screen.
Enter your codes into the text box exactly as shown in the list above.
Press Collect Pack to redeem your codes.
Exit out of the Welfare menu and open your Mail menu at the bottom left of the screen, symbolized by the letter icon.
Press Collect All to enjoy your rewards!
How can you get more codes for Avatars Saga?
Developers usually give out codes during an update, event, or as a goal is met, such as a specific number of likes reached. Some developers will place them directly in the game's image or description to notify players when they are available. However, other developers might require you to follow them on their social media accounts, such as Twitter or Discord, to stay updated. You can follow this experience on their Facebook, @avatarssagaglobal, or their Discord, Avatars Saga. For your convenience, you can also bookmark this page and check back whenever to see when new codes are added.
Why aren't my Avatars Saga codes working?
There are various reasons why your codes may not be working correctly. The most common reason is that the codes have already expired. Since codes are regularly cycled in and out of the game, they can expire with little to no notice. We try to keep our lists updated, but if you notice a change before us, feel free to leave a comment below, and we will try to fix it as soon as possible.
It is also important to double-check your spelling when entering codes. They are almost always case-sensitive, meaning the slightest typo could make them appear invalid. Ensure you are entering them exactly as shown in the list above, or if the game allows, copy and paste to avoid any issues.
Other ways to get free rewards in Avatars Saga
You can earn more free rewards by collecting your seven-day login rewards, located at the top right of the screen. This is a daily check-in that allows you to earn unique items like materials, gear, and even pals or mounts occasionally. You can also earn free rewards by entering the Welfare menu at the top right of the screen and completing the monthly check-in, which is essentially the same as the 7-day but can hold even greater rewards the further you get into it. Don't forget to switch to the Award tab and collect level prizes as well for more free goodies.
What is Avatars Saga?
Avatars Saga is an MMO-styled RPG game where you select a class, create a character, and begin completing quests around the world. As you complete quests for various NPCs and reveal the story, you will level up, gaining new abilities, gear, pets, and more that strengthen your character and prepare them to face more challenging dungeons and enemies. Unlock special CHI abilities to take down enemies with ease and forge powerful gear that boosts your stats immensely. There is so much to discover in this Avatar-inspired experience.
If you're looking for codes for other games, we have a ton of them on our General Games Codes page! And in the meantime, take a look at the latest news to stay up-to-date with all things entertainment.