In Azur Lane, you use special materials and currencies to build Ships that all different rarities and contain various abilities you can utilize in battle against opponents. You can also purchase skins and different upgrades and ammunitions with gems and coins. You can earn some from completing quests and continuing the main story.
You can also collect some items instantly by using promo codes. Developers give out codes for players to earn free items that can give them a headstart in their experience. You can claim more free rewards for other games like this, such as Panilla Saga Codes or Eversoul Codes.
All Azur Lane Codes List
Azur Lane Codes (Working)
Here is a look at all the working Azur Lane codes.
There are currently no working Azur Lane codes, but some could be added in the near future. We will update this page as soon as some become available, so check back again soon!
Azur Lane Codes (Expired)
These Azur Lane codes are no longer working.
100K
NEWSERVER
EVENT
UPDATE
250K
A88LANE
AZUR2023
50KGEMS
58Favs
New Sever
AZUR2022
Related: Genshin Impact Codes – 3.4 Codes!
How to redeem codes in Azur Lane
Redeeming codes for Azur Lane is a quick and easy process.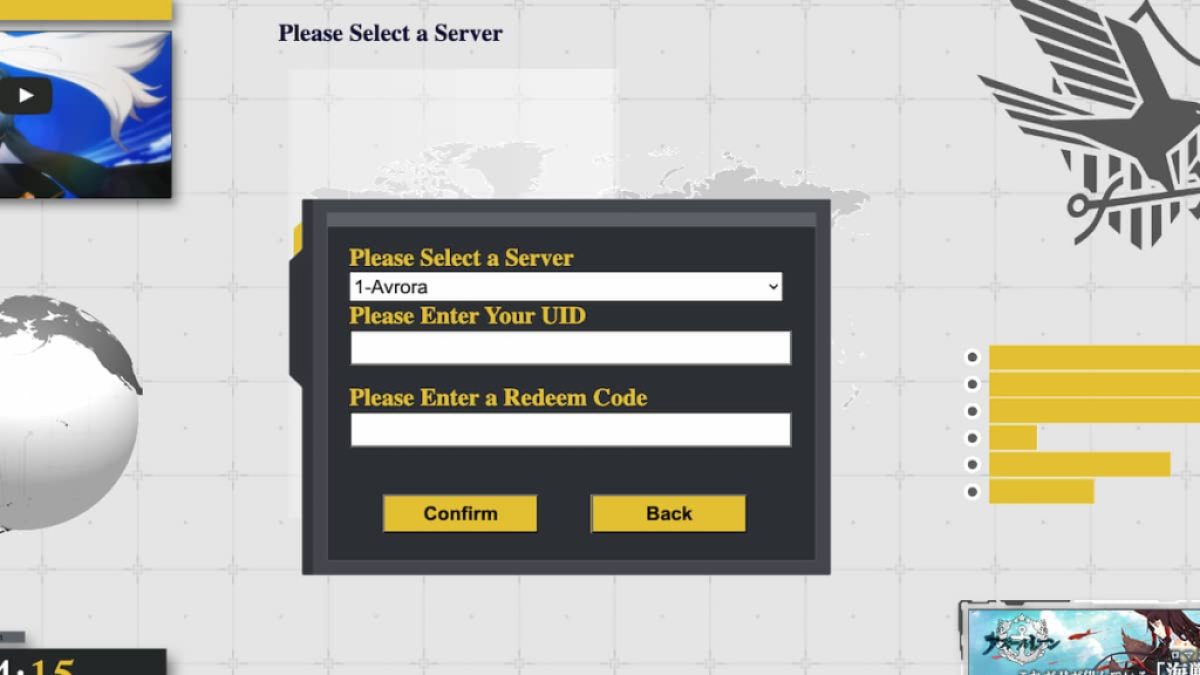 First, navigate the official Azur Lane redemption page and select your language.
Enter your server and your username ID, which you can find by clicking your character icon in the upper left corner of the game, and looking under your name in the Resume section.
Type your code into the text box as shown in the list above.
Swipe the puzzle piece into the right spot and press Confirm to enjoy your rewards!
How can you get more Azur Lane codes?
Developers usually give out codes during an update, event, or as a goal is met, such as a specific number of likes reached. Some developers will place them directly in the game's description or image to notify players when they are available. However, other developers might require you to follow them on their social media, such as Twitter or Discord, to stay updated. You can follow this experience on their Twitter, @AzurLane_EN, or their Discord, Azur Lane Official. For your convenience, you can also bookmark this page and check back whenever to see when new codes are added.
Why aren't my Azur Lane codes working?
There are various reasons why your codes may not be working correctly. The main reason is that the codes may have already expired. Since codes are regularly cycled in and out of the game, they can expire with little to no notice. We try to keep our lists updated, but if you notice a change before us, feel free to leave a comment below, and we will try to fix it as soon as possible.
It is also important to double-check your spelling when entering codes. They are almost always case-sensitive, meaning the slightest typo could make them appear invalid. Ensure you are entering them exactly as shown in the list above, or if the game allows, copy and paste to avoid any issues.
Other ways to get free rewards in Azur Lane
You can claim more free rewards by heading to the Events pages in the game. These are a collection of minigames or small tasks you can complete to earn coins, crafting materials, and sometimes special skins for your characters. Some tasks only require you to log in daily to collect. Don't forget to keep an eye on the Azur social media pages to participate in contests and events to earn more items for free.
What is Azur Lane?
Azur Lane is a side-scrolling shooter game where you collect various humanoid Ships and utilize their unique abilities to battle the sirens threatening the world. Each Ship-girl has different abilities she can use in battle, some more effective for various aspects of the battle. You can collect all rarities of warriors and their skins of them, as well as decorate your own home base. Upgrade your girls with your collected materials and XP, and take down more powerful enemies as you go.
If you're looking for codes for other games, we have a ton of them on our General Games Codes page! And in the meantime, take a look at the latest news to stay up-to-date with all things entertainment.