Black Skylands is an interesting beast. It's a top-down open-world adventure game with a heavy emphasis on the skies. You play as a girl named Eva, one of the Earners, whose main airship known as the Fathership comes under attack from species of creatures known as the Swarm. After the prologue, the skies are yours to roam and venture out into the unknown, on your airship, and of course, your trusty grappling hook.
The Sky and your Ship
You quickly feel that the sky is yours to command, to wander freely among the clouds and reign over the clouds. That thought is swiftly shot down by the number of islands, enemy ships, and obstacles in your path—this is not going to be easy.
The airship you control handles like an airborne tank, which honestly makes sense as its flight capability is entirely based on air balloons and a single propeller. It's hard to control at first but becomes second nature over the course of the game.
When you glide through the sky, the view and space around you aren't very vast, so quick turns are needed to avoid anything that can damage your ship. Luckily, your ship has a cargo hold which needs to be filled with repair kits, fuel, and ammo for your cannons. If this is empty, you're going to plummet to the ground faster than a meteor.
The Fathership and Exploration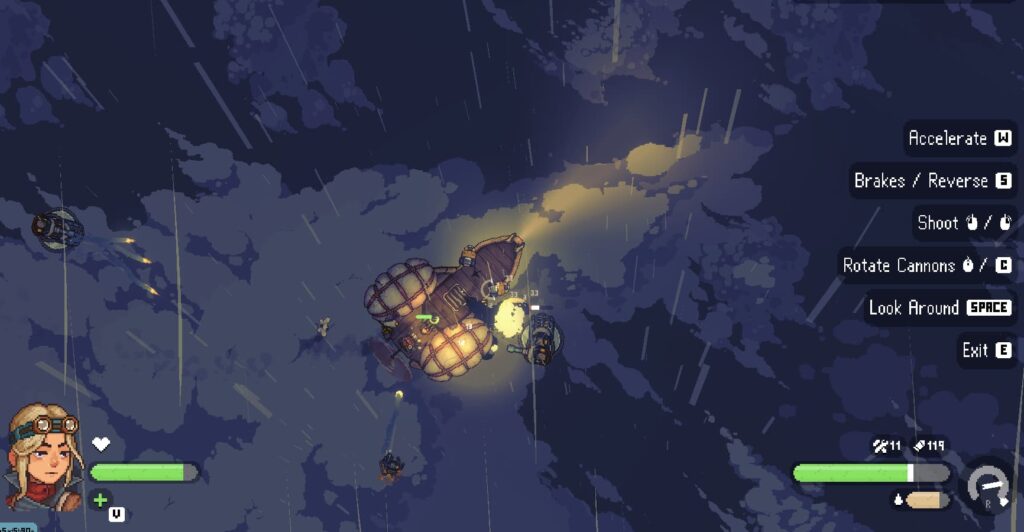 On your Fathership, you can start constructing buildings that are integral to your survival. With these buildings, you can farm resources or food that you can sell. Assemble an armory to craft weapons and armor, or a ship workshop to improve your ship. Even in early access, there is a lot to complete, and the desire to go out in the sky to acquire resources is incredibly compelling.
The Fathership is your main base that you'll always come back to, but alas, exploring needs to be done. To get anywhere wouldn't be possible with your grappling hook. This is how to hook onto islands and your ship and go wandering around. It's enjoyable rolling over into the unknown to then, at the last second, grapple yourself back onto the island opposite. You can even hook yourself onto abandoned ships for loot. Exploration and resource management is something Black Skylands has nailed.
Air Combat
The main premise of the game is up in the skies, so air travel and ship combat are high on the agenda of priorities. Your starting ship is equipped with two cannons, and these are your damage dealers. But when flying an airborne tank and trying to swivel your guns up, down, and rotating to hit moving enemies, this becomes quite cumbersome yet satisfying when enemies are destroyed. The combat is incredibly simplistic, and that is not a bad thing.
Yet, there are more downsides to combat than there are positives. When your ship gets hit, it rotates. This happens with every impact, but the ship also rotates upon firing your own cannons. So you end up fighting two bouts of rotations while also trying to take down enemies, making sure you're not overheating your guns. If one overheats, you have to rotate to use the other while also fighting off impact rotation. It's extremely jarring.
Enemy ships seem to be unmanned, so there is no abandoning your ship if you run out of ammo to take on the enemy face to face—Mano a Mano. If you are out of supplies, it's best to flee at fast as you can. Though, if you die, not much is lost.
With the upgrade mechanics, getting bigger and better ships, it's a pull to get the best things that you can. You want to become the lady of the skies, to protect your Fathership.
Island Combat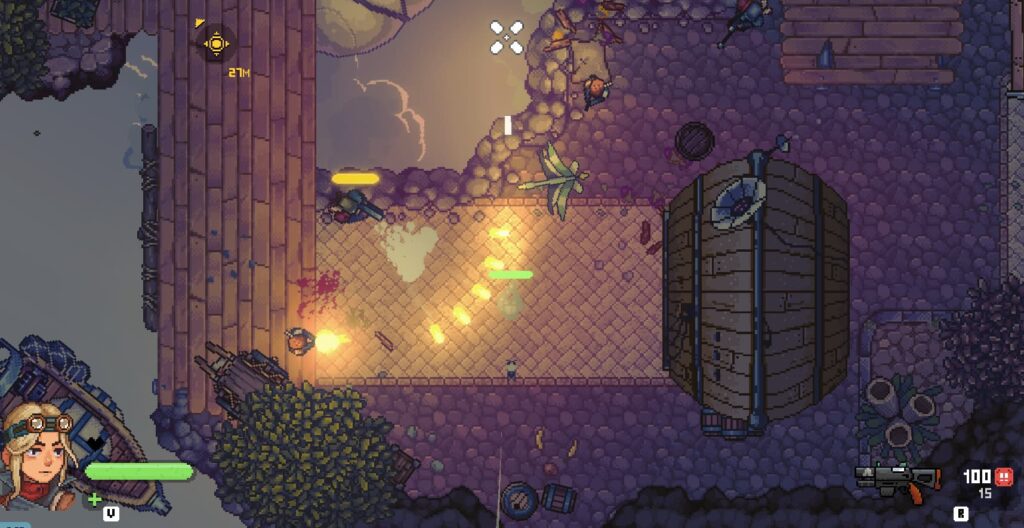 Combat is very akin to Enter the Gungeon but not quite as refined. There are multiple types of enemy encounters, wielding different guns or melee weapons. You can dodge and use your grappling hook to knock enemies off islands to their grizzly doom, which is oh so satisfying. You, of course, can fire back. You can equip three guns: one always is a pistol, but the other two can be anything you find—aka a shotgun or a machine gun. On your adventure you'll start finding more and more weapons, and can even craft them yourself.
It's pretty fun but incredibly unfair. Enemies do not have to reload, so if you come across two opponents with a machine gun the game practically becomes a bullet hell where you are forced to fire potshots off whenever you can. You can easily get overwhelmed.
Ammo and health can be found on the corpses of your enemies, but killing enemies in certain ways can guarantee an ammo-type drop. Buffs can be found in the islands in the form of plants. These can increase your damage to a certain type of species for 90 seconds or even restore your health. But there is at least a couple of seconds to wait to do this, and if you get hit once, you come out of the animation and have to start again.
Island Liberation
There are many islands to conquer in the sky, all with their own combat and ship power level. If the levels are higher than your own, you probably shouldn't explore them yet. Of course you can try, but you'll be met with being blown out of the sky.
Both combat and ship power levels can be increased. The weapon power level: by finding better weapons, weapon mods, and crafting armor. And the ship's power level: by upgrading your ship.
To liberate an island, you must eliminate all the enemies. But what the game doesn't tell you? All enemies includes nearby ships, along with gun turrets. Some islands are massive, and there is no way to see enemies on the map, so you can spend ages trying to locate one person to kill. It's pretty frustrating. Fireworks explode once everyone is dead, and the island is now yours. This, in turn, gives you a population that grants an array of buffs—like instant kill on an enemy if hit from behind.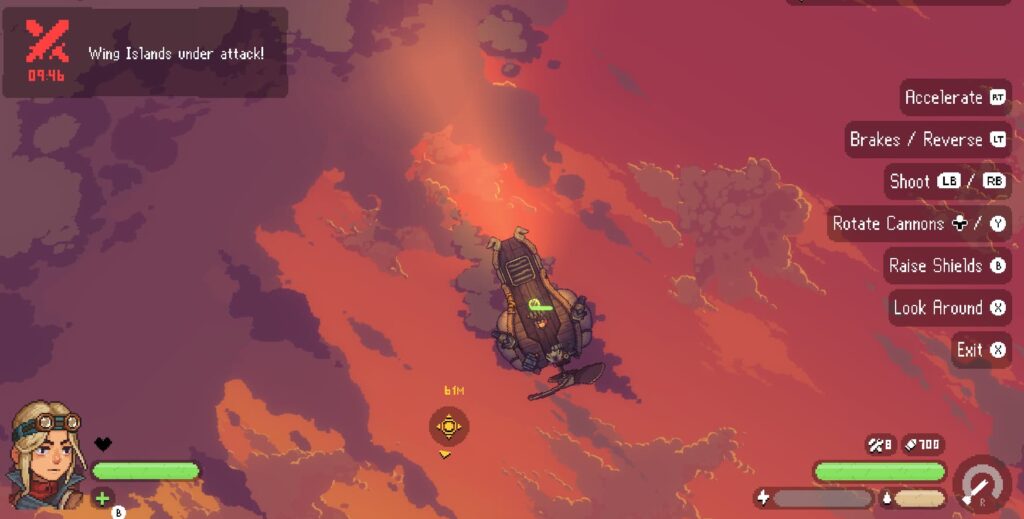 However, your islands can also be reclaimed by the enemy. It can happen at any point. You could be liberating another island or locating resources to craft an item, and a notification appears that you have 15 minutes to get to an island and kill everyone on it...again. There is fast travel from your ship, but only to your Fathership. Fast travel any other way requires finding fuel supply ships, and from there, you can travel to any other fuel supply you have discovered.
Yet this is one of the game's worst mechanics. It makes complete sense, don't get me wrong, but it interrupts your sense of exploration and story whenever forced to travel across the map, locate enemies that could be anywhere on an island you've already conquered—and all with no reward. Ignoring the warning, however, can lose the entire population and any boons you have equipped.
It's exactly like the Fallout 4 settlements, a mechanic that removes the player from the immersion.
Verdict
For an early access title, Black Skylands is very ambitious. It attempts to be multiple genres all in one, but not everything fits together. It has potential, that much is obvious. However, the game has spread itself way too thin in areas where it could benefit from polish and focus.
The implementation of enemies on the map. Pulling the camera back more during ship navigation would help the player see dangers before crashing into them. A complete overhaul of the Island Liberation mechanic—where going back to help an island feels rewarding rather than a chore, or, a punishment.
Black Skylands is playable and enjoyable in its current state with easily over 20 hours of story content and is more about exploration and discovery. However, with updates and refinements, it could easily become a hidden indie gem.