Brawl Stars is now out globally and a lot of people are trying it out. Let's take a look at how to best get Gems in the game, so you can purchase Brawl Boxes and Skins for your Brawlers! Coins are also an important currency in the game, and they will allow you to level up your character.
Gems in Brawl Stars
Gems are the premiere currency in Brawl Stars. They are generally obtained by purchasing with real money. However, you can also get them through Brawl Boxes. These are essentially the loot box of the game, and there's multiple sizes. There's the standard Brawl Box that you get for playing the game and earning 100 Tokens, daily as a freebie, and via Trophy Road. There's the Big Box which you can purchase for 30 Gems, 10 Star Tokens, or through leveling up via Trophy Road. Finally, there's the Mega Box! This can be purchased for 80 Gems, in bundles, and very late into Trophy Road (starting at 4,000 Trophies).
Keep in mind that it is rare to get Gems from one of these boxes. For each draw, you have a 9% chance to get some Gems. The Big Box gives you three draws, and the Mega Box gives you ten draws.
If you want to spend money on Gems, here's a look at what the prices are for the amount you will get.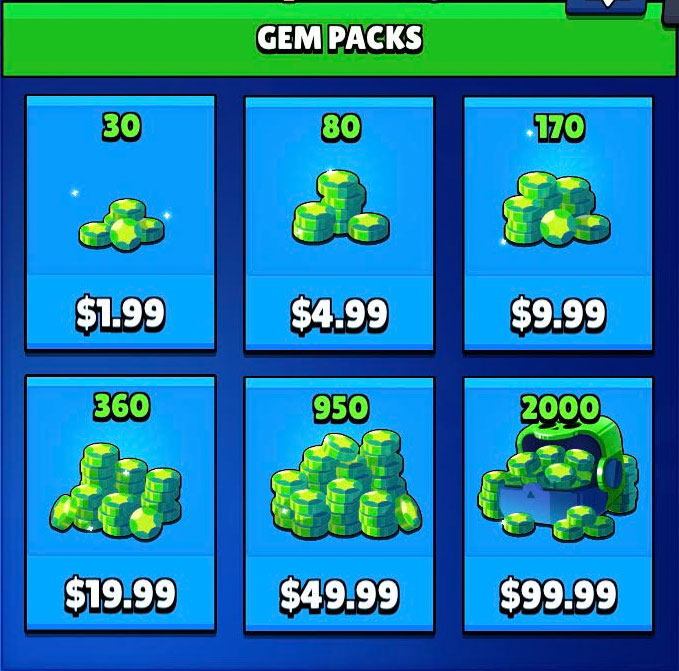 Gem Real Money Prices
30 Gems: $1.99 USD
80 Gems: $4.99 USD
170 Gems: $9.99 USD
360 Gems: $19.99 USD
950 Gems: $49.99 USD
2,000 Gems: $99.99 USD
Special Offer Packs
Special offers happen when you reach a specific level. You will be able to purchase a pack that includes Mega Boxes and Gems. These can be purchased only once each, and will only be available for real money. You also have a limited time to purchase these, if you plan on spending money, these are going to be some of the best bang for your buck!
| Pack | Experience | Price (USD) | Items |
| --- | --- | --- | --- |
| Level 5 Special Offer | 5 | $1.99 USD | 1 Mega Box + 80 Gems |
| Level 10 Special Offer | 10 | $4.99 USD | 1 Mega Box + 170 Gems |
| Level 25 Special Offer | 25 | $9.99 USD | 3 Mega Box + 350 Gems |
| Level 35 Special Offer | 35 | $19.99 USD | 5 Mega Box + 360 Gems |
What can you purchase with Gems?
Brawl Boxes are a big one and they can get you a lot of the items, such as Power Points, Coins, Brawlers, Event Tickets, Gems, and a Token Doubler. You can also purchase Coin Packs, Power Points, or Token Doublers. Plus, you can just flat out purchase Brawlers when they are part of Featured Offers. These will often come with Skins. You can also just purchase skins for the Brawlers you already own.
Coins in Brawl Stars
If you want to upgrade your Brawlers then you are going to need coins. It's important to save your coins for upgrading the specific Brawlers you want to play. Don't upgrade a Brawler that you aren't playing, because as you level them up the price increases and you won't be able to afford the upgrades.
Here's a break down of how many Power Points and Coins you will need to upgrade your Brawler to max level. You can only upgrade a Brawler when you get enough Power Points for that particular Brawler.
| Level | Power Points | Coins |
| --- | --- | --- |
| 2 | 20 | 20 |
| 3 | 30 | 35 |
| 4 | 50 | 75 |
| 5 | 80 | 140 |
| 6 | 130 | 290 |
| 7 | 210 | 480 |
| 8 | 340 | 800 |
| 9 | 550 | 1250 |
| Total | 1410 | 3090 |
The coins can only be obtained from Brawl Boxes, Trophy Road, and from the Shop with Gems. Coins can also be used to purchase items from the Daily Deals portion of the shop, but these are usually just Power Points and you aren't going to necessarily want to waste them on that. If you find yourself low on Coins, you can purchase them with Gems.
150 Coins: 20 Gems
400 Coins: 50 Gems
1,200 Coins: 140 Gems
Best Ways to Get Gems & Coins in Brawl Stars
Your standard ways of getting Gems and Coins is just going to be playing the game a lot. As you level up your character and earn more trophies you will naturally earn rewards through Trophy Road. However, if you really want to maximize your ability to obtain them, then you are going to want to focus on the Token Doubler or Tickets.
The Token Doubler gets you double the Tokens you can earn per match, and that means you will get more and more Brawl Boxes each time you play. If you get lucky, you'll get Brawlers, Power Points, Gems, and Coins through these boxes. You will need all of these items to progress quickly. You especially want a Token Doubler active for the weekend event which is explained next!
Tickets are for the weekend events where you can bet a certain amount of Tickets and will be given Tokens based off of how well you do. The amount of Tickets you bet, will multiply your Tokens, and if you have the Doubler enabled will give you even more. You can bet up to 20 Tickets per match, so you can earn over 1,000 Tokens which would give you 100 Brawl Boxes to open. You can see how efficient this method is for gaining all that you need in the game.
Gems & Coins Tips
Don't spend Coins on Power Points. You will get plenty of them as you open Brawl Boxes, so save your Coins for leveling up your Brawlers.
As mentioned before, save your Gems for the Token Doubler and the Tickets. This is the best way to gain the most amount of Tokens that will allow you to open a bunch of boxes.
Do not trust anything that says you can get "ALL FREE GEMS BY DOING XYZ!" These are very likely scams, and even if you see a YouTube video with a bunch comments and views, they are likely bots making the comments. You are just going to get banned on your account, or you will end up downloading malware or some other insidious thing onto your device.