G-43 is one of the best Marksman Rifles in Call of Duty: Vanguard. It competes with the SVT-40 and M1 Garand and has a unique feature that none of those two weapons have. You can turn the G-43 into a full-auto weapon.
Although the G-43 Marksman Rifle is meant for distant engagements, you can turn it into a powerful close-quarters Assault Rifle. This guide demonstrates how to build the best G-43 loadout and class setup in Vanguard based on viability.
Best G-43 Loadout Vanguard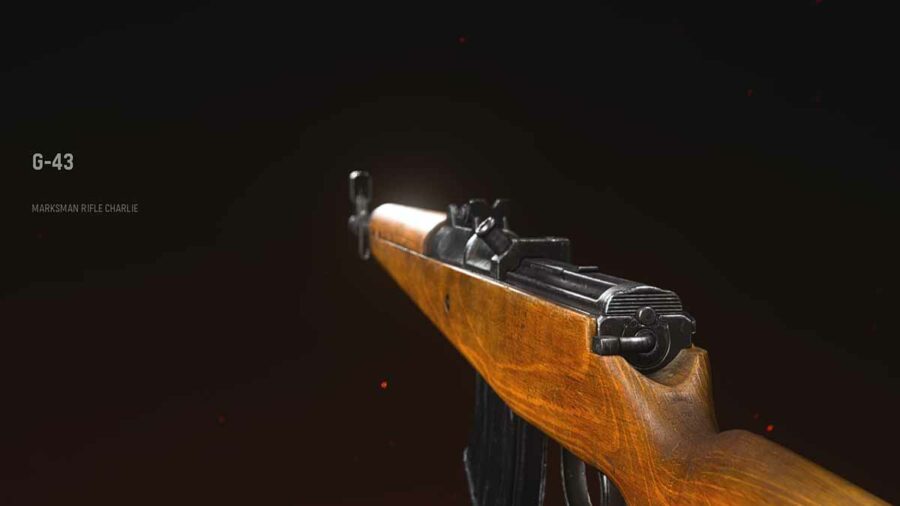 Here's the most underrated full-auto G-43 build in Vanguard:
Muzzle - L Brake
Barrel - Wyvern 570mm Full-Auto
Optic - Slate Reflector
Stock - Wyvern Skeletal
Underbarrel - SMLE Pistol Grip
Magazine - 6.5mm Sakura 20 Round Mags
Ammo Type - FMJ Rounds
Rear Grip - Fabric Grip
Proficiency - Tight Grip
Kit - Fully Loaded
The G-43 full-auto class performs exceptionally well in close to medium range. This specific build improves the fire rate, accuracy, and mobility of the weapon. The Wyvern barrel is the main highlight here. It turns the G43 into a fully-automatic weapon while increasing the recoil control and ADS speed.
If you are uncomfortable with the recoil, make sure to swap the SMLE Pistol Grip for the Carver Foregrip. However, SMLE Grip is useful as it helps improve the sprint-to-fire speed significantly.
Related: Best M1 GARAND Loadout and Class in Call of Duty: Vanguard
If you intend to use the Marksman Rifle for mid to long-range, here's another G-43 class for you:
Muzzle - MX Silencer
Barrel - ZP 770mm Precision
Optic - ZF4 3.5x Rifle Scope
Stock - ZP MS02 Custom
Underbarrel - M1941 Hand Stop
Magazine - 8mm Klauser Round Mags
Ammo Type - Lengthened
Rear Grip - Rubber Grip
Proficiency - Quickscope
Kit - Fully Loaded
You can use this particular G43 build to two-shot kill enemy players from across the map. The attachments used here aim to boost the accuracy, bullet velocity, and range of the Marksman Rifle. If you want even better damage and range at the cost of accuracy, switch to the .30-06 10 Round Mags.
Players can easily find the detailed statistics of all the aforementioned best G-43 attachments in Vanguard Gunsmith. Feel free to modify these attachments to make the weapon more suitable for your playstyle.
Stay tuned to Pro Game Guides for more Call of Duty: Vanguard content. In the meantime, head over to our article on – How to complete Call of Duty Secrets of the Pacific Warzone event challenges – Explained.