In Call of Duty Modern Warfare 2, players can choose from various graphics options to experience the game with the best visuals. Graphics settings for any game are entirely dependent on your PC build. Some setups allow seamless ultra-high definition gameplay, while others necessitate the game running on lower visual presets. Here are the best PC graphics settings for CoD Modern Warfare 2 Campaign.
Best PC graphics settings for maximum quality in CoD Modern Warfare 2 Campaign
Display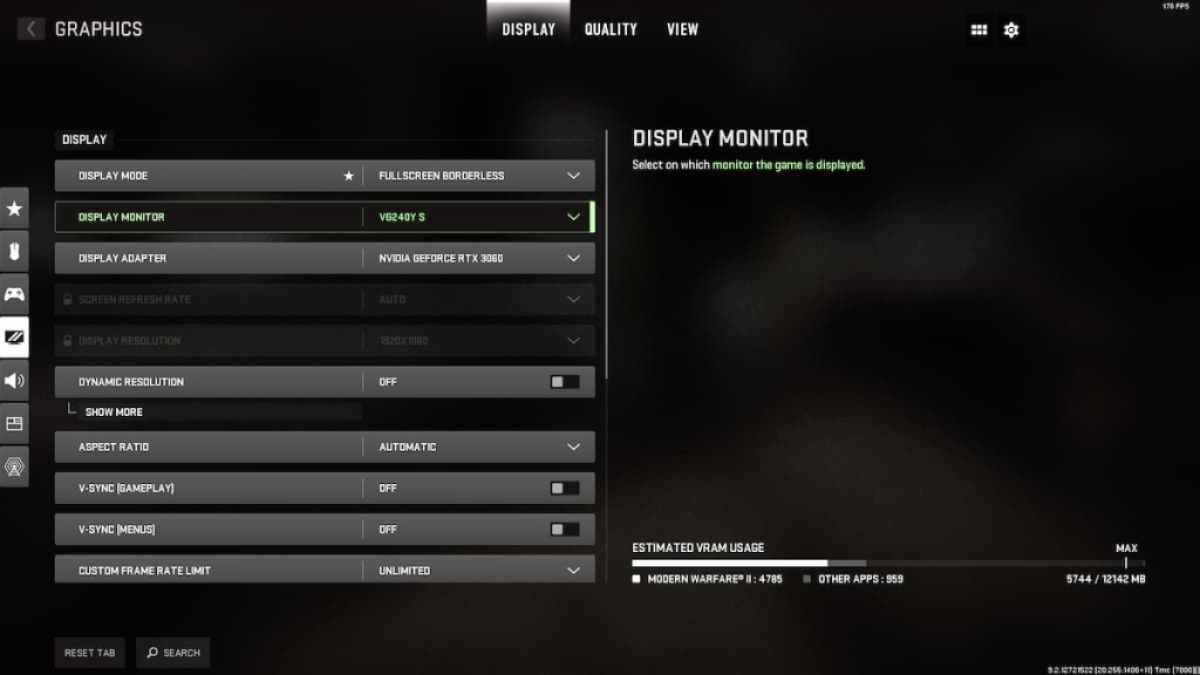 Display Mode: Fullscreen Borderless or Fullscreen Exclusive
Constrain Mouse to Game Window: Off
Display Monitor: Your Monitor
Display Adapter: Your GPU

We ran this on NVIDIA GeForce RTX 3060

Screen Refresh Rate: Monitor Default
Display Resolution: Monitor Default
Dynamic Resolution: Off
Aspect Ratio: Wide 16:9
V-Sync (Gameplay): Off
V-Sync (Menus): Off
Custom Framerate Limit: Unlimited

For Custom Framerate set Gameplay 300, Menu 120, and Out of Focus 30

Restart Shaders Optimisation: Use settings to delete Cache Shaders, and reoptimize all Shaders
Display Gamma: 2.2 SRGB
Brightness: 55
Focused Mode: OFF
HDR: OFF

Select Automatic to set your Operating System's settings
Quality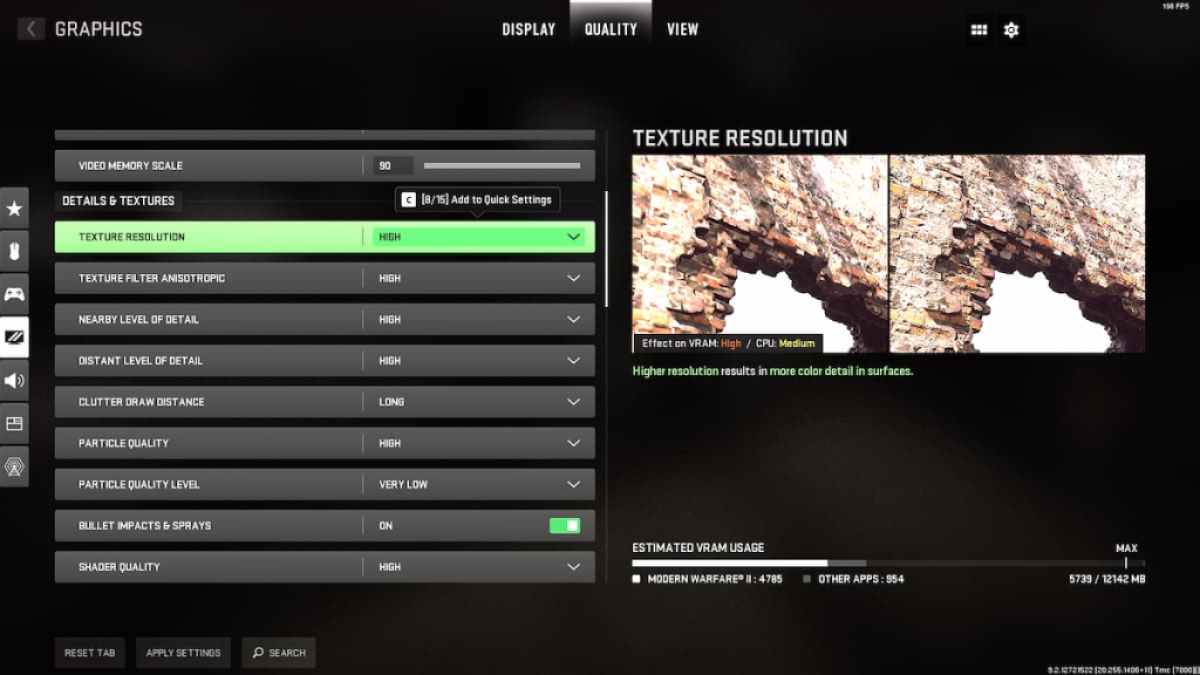 Quality Presets: Custom
Render Resolution: 100%

Or 200% if your GPU can take the load

Upscaling/Sharpening: NVIDIA Image Scaling or FidelityFX Cas

NVIDIA Image Scaling set to Quality

FidelityFX Cas set at 60%

Anti-Aliasing: Filmic SMAA T2X
Anti-Aliasing Quality: Ultra Quality
Video Memory Scale: 90
Texture Resolution: High
Texture Filter Anisotropic: High
Distant Level of Detail: High
Nearby Level of Detail: High
Clutter Draw Distance: Long
Particle Quality

: High

Particle Quality Level: High
Bullet Impacts and Sprays: On
Shader Quality: High
Tessellation: All
Terrain Memory: Max
On-Demand Texture Streaming: Off
Streaming Quality: Normal
Shadow Map Resolution: Ultra
Screen Space Shadows: High
Spot Shadow Quality: High
Cache Spot Shadows: On
Spot Cache: Ultra
Cache Sun Shadows: On
Particle Lighting: Ultra
Ambient Occlusion: Both
Space Screen Reflection: High
Weather Grid Volumes: On
NVIDIA Reflex Low Latency: On + Boost
Depth of Field: On
World Motion Blur: On
Weapon Motion Blur: On
Film Grain: 0.25
View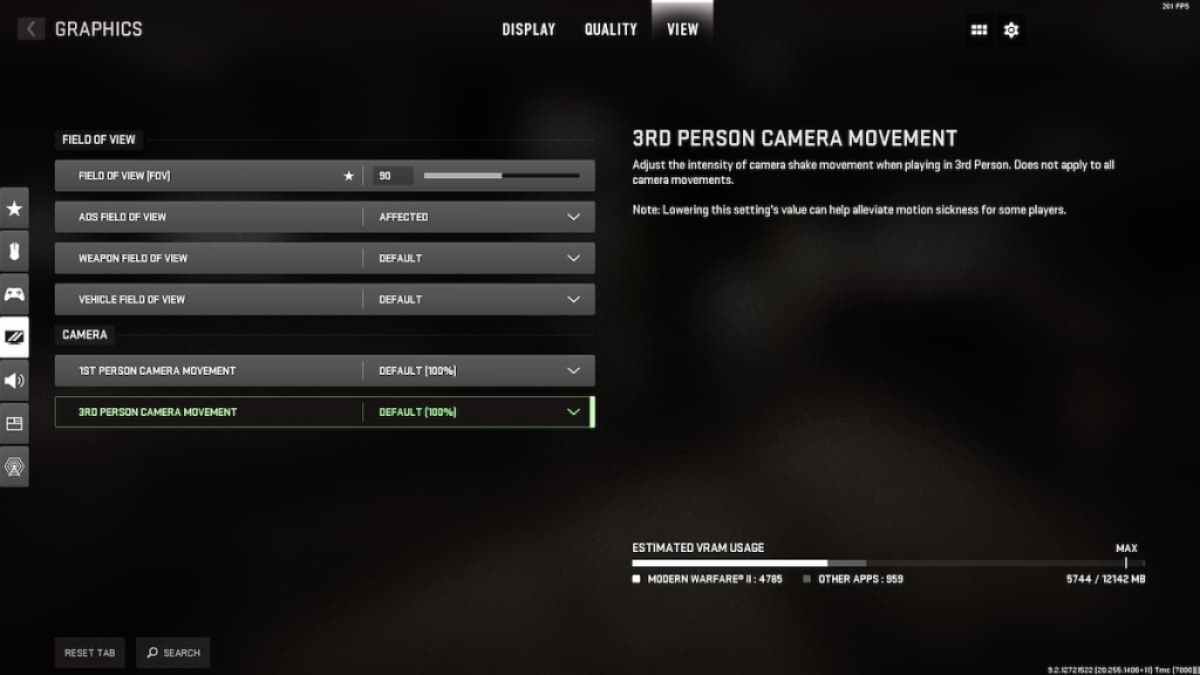 Field of View: 90 to 100
ADS Field of View: Affected
Weapon Field of View: Default
Vehicle Field of View: Default
1st Person Camera: Default
3rd Person Camera: Default
As always, the best graphics settings for CoD Modern Warfare 2 Campaign will depend on your PC build. For instance, the above settings are best for NVIDIA 30 series graphics cards. Running the game on a lower visual setting is recommended if you have an older-generation graphics card or system-integrated graphics.
If your graphics card and other components are up-to-date, enjoy the game at its best with maximum quality. CoD Modern Warfare 2 has a visually stunning campaign with extremely high-octane visual effects that can slow down older devices. Experiment with the settings to determine the best graphics options for your PC.
Wondering which loadouts are the best in Warzone? Check out Best Lienna 57 Loadout and Class in Warzone and Best BP50 Loadout and Class in Warzone on Pro Game Guides.