Signal 50 is the only semi-automatic Sniper Rifle in Call of Duty: Warzone 2. Unlike its bolt-action counterparts, this weapon can fire shots in rapid succession unless you run out of bullets in your magazine. Here's a guide to the maximum range Signal 50 build in Warzone 2.
Best Signal 50 Loadout Warzone 2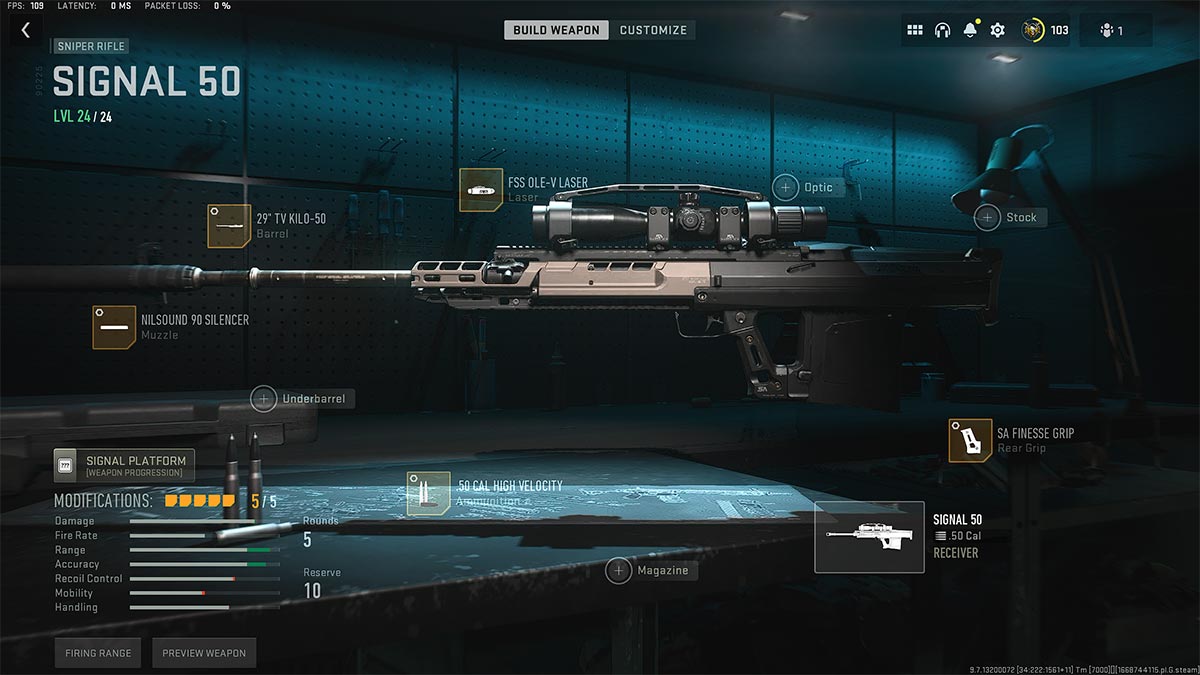 Muzzle: Nilsound 90 Silencer
Barrel: 29" TV Kilo-50
Laser: FSS OLE-V Laser
Ammunition: .50 Cal High Velocity
Rear Grip: SA Finesse Grip
Attachment Tuning

Muzzle: For max Aim Down Sight Speed and Bullet Velocity
Barrel: For max Aim Down Sight Speed

Ammunition: For max Damage Range and Bullet Velocity
Rear Grip: For max Aim Down Sight Speed and Sprint To Fire Speed
Related: Best Victus XMR loadout and attachments in Warzone 2
To improve the weapon's damage range and bullet velocity, equip the Nilsound muzzle, the 29" barrel, and most importantly, the High-Velocity ammunition. These attachments significantly boost the sniper's effectiveness over the range while sacrificing some of its mobility. Thereafter, we used the OLE-V laser and the Finesse rear grip to retake the lost aim-down-sight speed and improve the overall mobility stats.
Best Signal 50 Class Setup Warzone 2
Primary Weapon: Signal 50
Secondary Weapon: Minibak
Tactical: Stim
Lethal: Semtex
Perk Package: Equip the Weapon Specialist perk package if you want two primary guns in your loadout, else choose from Commando, Specter, or any other package of your preference
Stay tuned to Pro Game Guides for more Call of Duty: Modern Warfare 2 and Warzone 2 content. In the meantime, head over to our article on Best MCPR-300 loadout and attachments in Warzone 2.