The Victus XMR Sniper Rifle was added to Call of Duty: Warzone 2 with the Season 1 update. It is the most hard-hitting sniper in the game and has phenomenal range. With a key attachment, it becomes the only weapon in the game that can one-shot kill players if you hit a headshot.
Best Victus XMR Loadout Warzone 2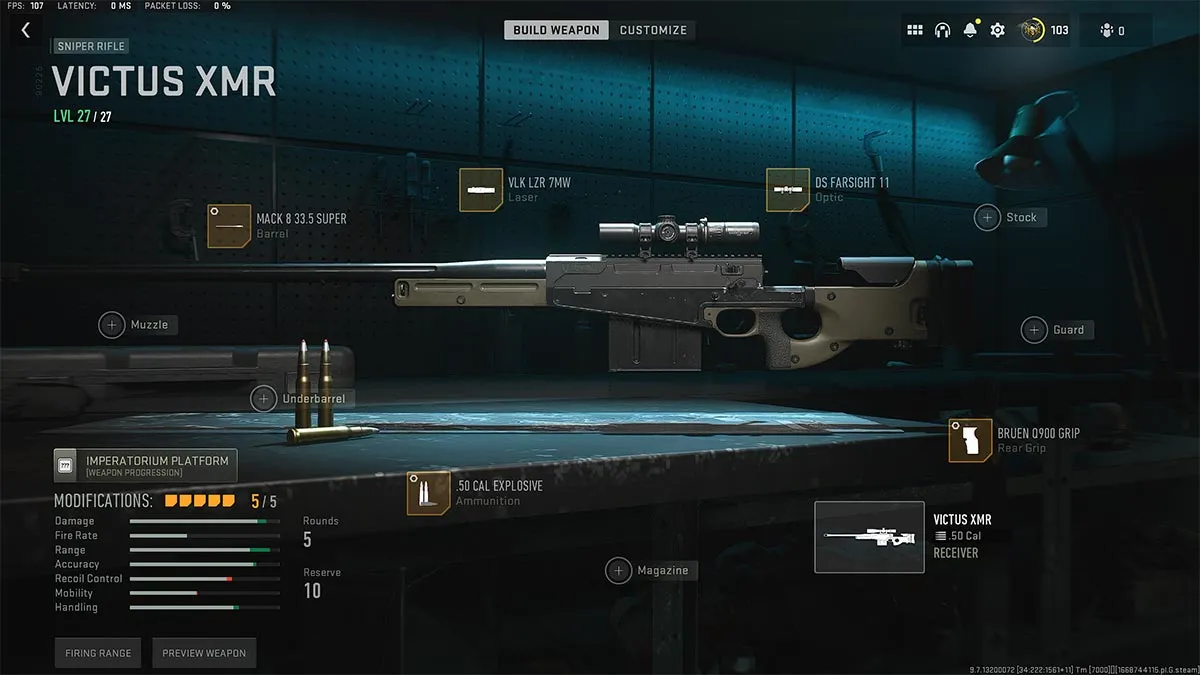 Barrel: Mack 8 33.5 Super
Laser: VLK LZR 7mW
Optic: DS Farsight 11
Ammunition: .300 Cal Explosive
Rear Grip: Bruen Q900 Grip
Attachment Tuning

Barrel: For max Aim Down Sight Speed

Ammunition: For max Damage Range and Bullet Velocity
Rear Grip: For max Aim Down Sight Speed and Sprint To Fire Speed
Since the Victus XMR Sniper Rifle already has great range, we've only used one attachment, the Mack 8 barrel, to improve its bullet velocity. The laser and rear grip equipped in this build help boost the weapon's aim-down-sight (ADS) speed, sprint-to-fire time, and aiming stability. The most important attachment that makes this sniper a one-hit kill weapon is the .300 Cal Explosive ammunition. Finally, you can equip the DS Farsight 11 scope for the fifth slot of any other clean optic. If you keep the default scope, fill the empty attachment slot with the XRK Rise 50 stock for better mobility.
Best Victus XMR Warzone 2
Primary Weapon: Victus XMR
Secondary Weapon: M13B
Tactical: Stim
Lethal: Semtex
Perk Package: Equip the Weapon Specialist perk package if you want two primary guns in your loadout, else choose from Commando, Specter, or any other package of your preference
Stay tuned to Pro Game Guides for more Call of Duty: Modern Warfare 2 and Warzone 2 content. In the meantime, head over to our article on How to get the 'Steel Ghost' X13 Auto Blueprint in DMZ.