It looks like Call of Duty is getting into the Battle Royale arena with their upcoming game mode Blackout! Learn all there is to know about COD's new battle royale mode with our guide below. We've got information on the upcoming features, map, vehicles, and weapons.
Blackout Features
Here are some of the features that have been confirmed for the new battle royale mode in Call of Duty: Black Ops 4. A lot of new information is coming out, so we'll be updating this guide often!
These numbers are subject to change before before the game launches.
3 Tiers of Health and Armor
8 Primary Ammunition Types
12 Equipment Items
17 Consumable Perks
17 Weapon Attachments
24 Different Weapons
125 Items
Here's a quick list of other features you can expect to find in the game.
Player count will be 80, but they are testing up to 115 players at once.
You enter the map via helicopter.
ZOMBIES - There will be at least four locations where Zombies will spawn.
Helicopters spawn at Helipads or similar locations (dirt patches, etc.)
Wingsuit - You will always have your wingsuit on, so you can jump from tall buildings or helicopters if you are being pressured.
You will be able to hold two primary weapons.
There will be 20 characters to choose from at Blackout launch.
Learn all about the Zombies in the game with our Blackout Zombies Guide!
Blackout Beta Platform Dates
The beta is coming soon to a platform near you. I've included the dates below, if you want to know check out our Blackout Beta Release Date Guide!
PlayStation 4 (Exclusive): September 10th at 10am PT - September 14th at 10am PT
PlayStation 4 & X-Box One: September 14th at 10am PT to September 17th at 10am PT
PC (Early Access - Pre-Order): September 14th at 10am PT to September 17th at 10am PT
PC (Open Access): September 15th at 10am PT to September 17th at 10am PT
Official Blackout Description
In Blackout, Black Ops comes to life in one massive battle royale experience, combining Black Ops signature combat and the biggest map in Call of Duty history. Play as fan favorite characters and battle through iconic settings from the Black Ops universe. It's a collision course bringing together the worlds of Black Ops in an all-out survival and elimination experience featuring weapons; equipment; land, sea, and air vehicles; RC-XDs; traps; and even Zombies in an experience that is uniquely Black Ops.
Blackout Introduction Video
Blackout Perks
There perks are consumable, so they have a limited duration after they've been used. Check out a full list of these with our Call of Duty Blackout Perks List Guide!
Paranoia: Gives an audio alert when you're targeted by an enemy
Skulker: Move faster while crouched and prone
Stimulant: Increases max health by 100 points
Outlander: Reduced damage from circle. Increased speed while taking damage from circle.
Looter: Reveal nearby stashes and items
Iron Lungs: Hold your breath longer while shooting sniper rifles or diving underwater
Consumer: Reduces times it takes to use items, heal, or revive teammates by 20%.
Mobility: Move and swap weapons faster. take no fall damage. Fire weapons and use Equipment while sprinting. Move faster when reloading.
Brawler: Increases melee damage. Gain 50 health per each successful melee attack.
Blackout Map
We have finally gotten a full look at the map for Blackout. You can see the full thing below, it might look small but this map is very zoomed out. The map was revealed via the Call of Duty Official Twitter Channel.
Blackout Locations
Construction Site
Estates
Train Station
Hydro Dam
Nuketown Island
Array
Firing Range
Rivertown
Asylum
Cargo Docks
Fracking Tower
Turbine
Factory
Map Image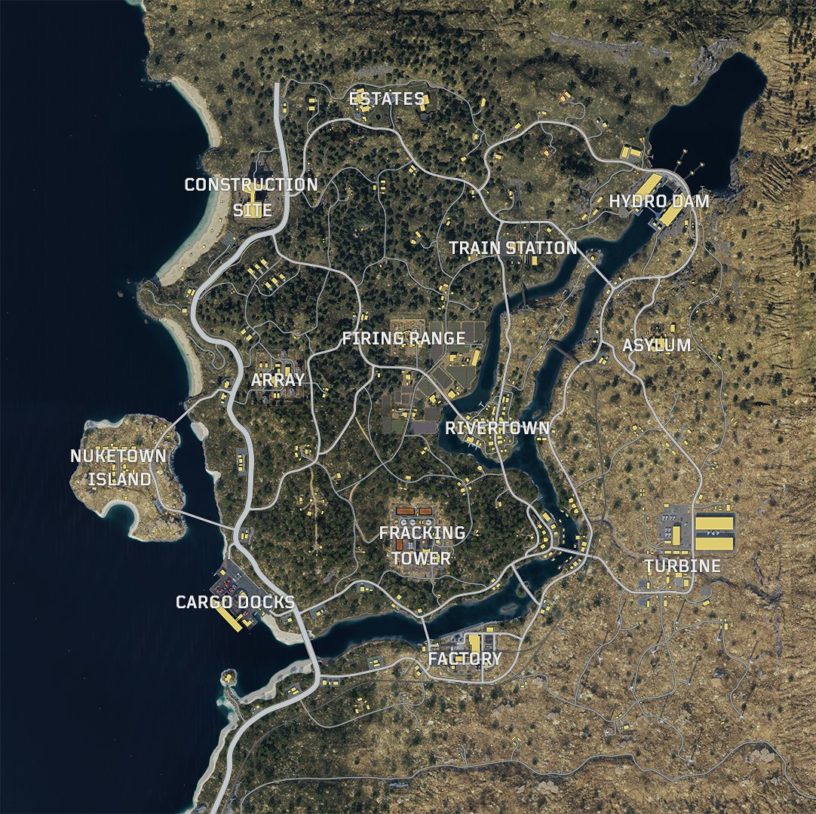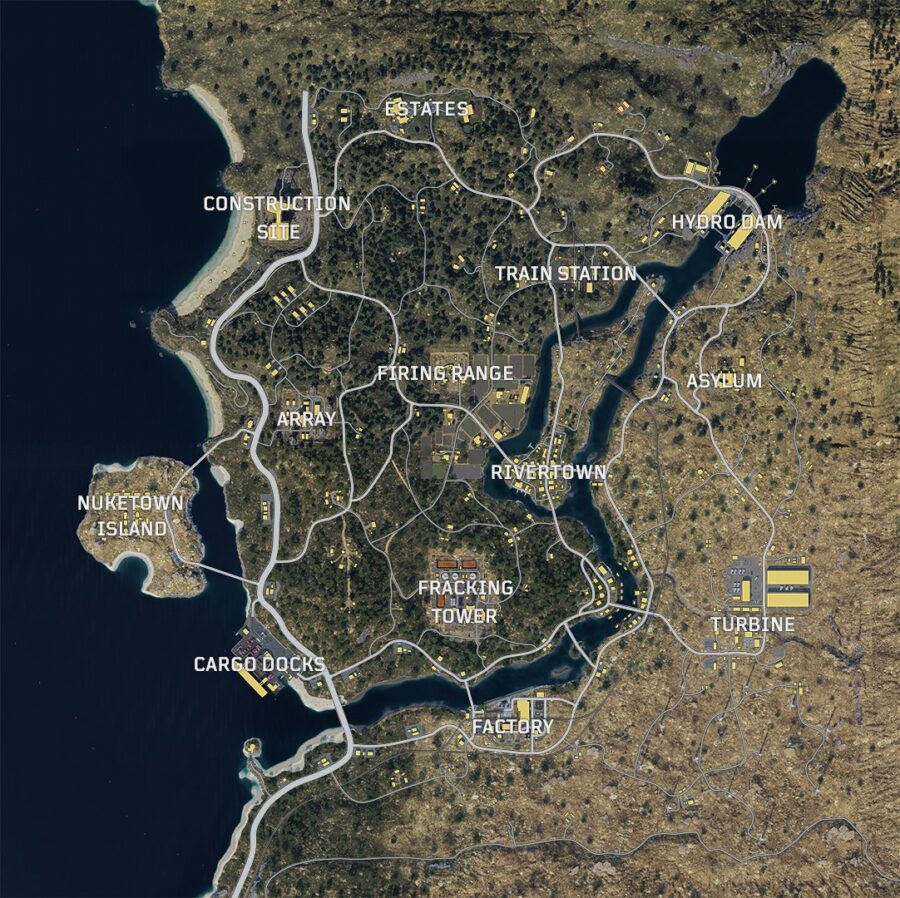 Asylum Helicopter Battle
Asylum will be one of the spots where Zombies can spawn. You can see the image below representing how a possible battle will look. Credit to Gameinformer for the images.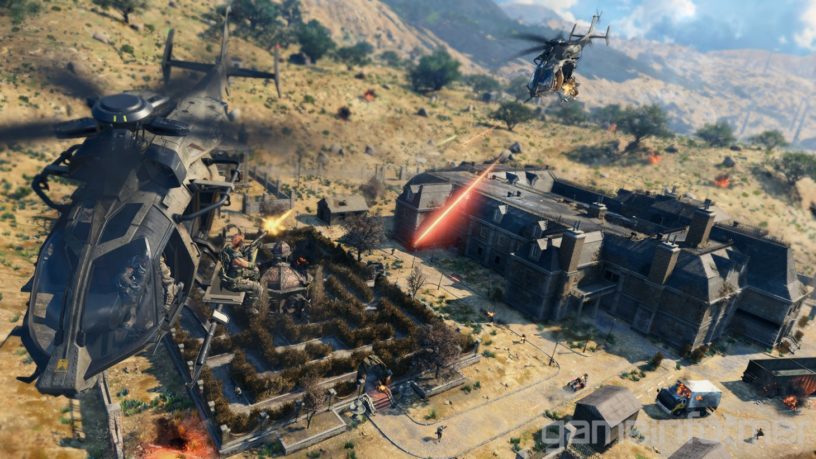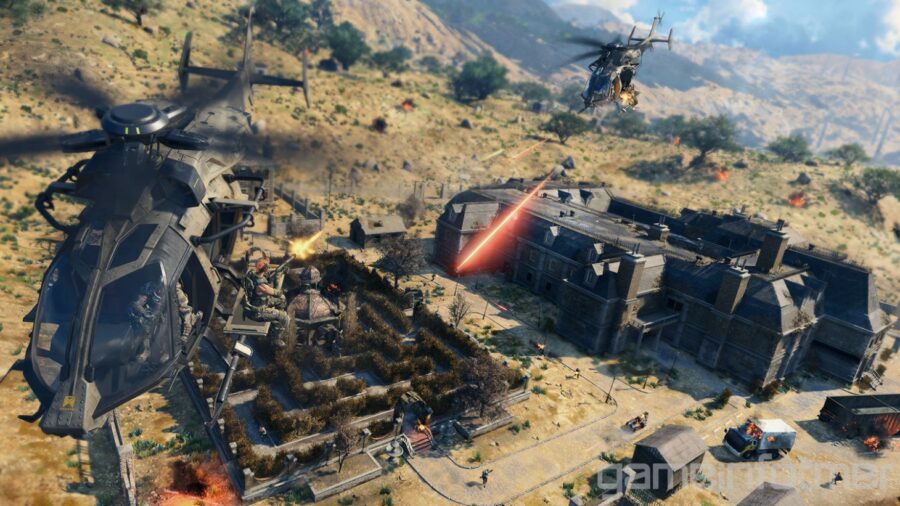 Nuketown Island