The latest CoD Next Showcase gave us a glimpse of all the new things in Modern Warfare 2, Warzone 2.0, and Warzone Mobile. Warzone Mobile will be a free-to-play game with unique Operators, Maps, Vehicles, and Weapons. There is also a range of pre-registration rewards that players can earn by signing up for Warzone Mobile. One of the rewards includes the M4 - Archfiend Blueprint, and here's how players can earn this in Warzone Mobile.
How to get the M4 Archfiend Blueprint in Warzone Mobile?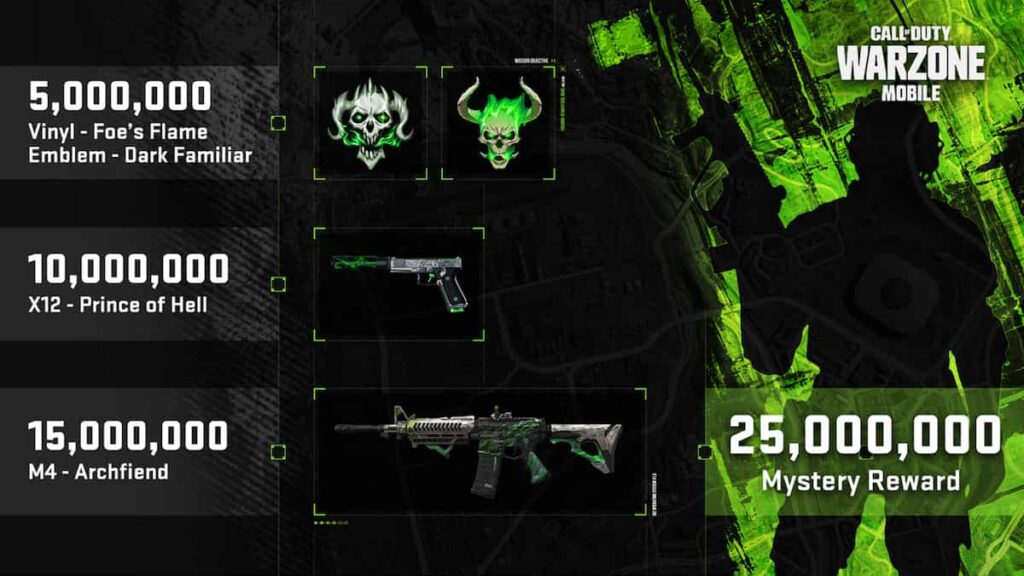 The M4 - Archfiend Blueprint is a pre-registration reward players will get in Warzone Mobile. There are four global pre-registration player milestones, and you will get various cosmetic items in-game if these are met. For instance, players will get the M4 - Archfiend Blueprint in Warzone Mobile if the community meets the 15 Million pre-registration milestone. The best way to ensure this is to ask all your friends to sign up for the game. Call of Duty: Mobile has a huge player base and fans, and expect several to transition into Warzone Mobile.
Related: How to pre-register for Call of Duty Warzone Mobile
Warzone Mobile all pre-registration rewards
The thrilling experience of CoD Battle Royale will transition into mobile devices for players all across the globe. Players on Android and iOS devices will experience the brilliance of Warzone Mobile. The following list features all the pre-registration rewards and player milestones in Warzone Mobile.
5 Million pre-registrations: Emblem - Dark Familiar and Vinyl - Foe's Flame
10 Million pre-registrations: X12 - Prince of Hell Blueprint
15 Million pre-registrations: M4 - Archfiend Blueprint
25 Million pre-registrations: Mystery Reward
What is the Warzone Mobile pre-registration Mystery Reward?
As announced by the developers, there is a Mystery Reward that players will receive if the 25 Million pre-registration milestone is met. While no official teasers are related to this Mystery Rewards, community experts and fans speculate that it will be a brand new Operator skin. The game will have a ton of new content, and it will be interesting to see a cosmetic line designed exclusively for Warzone Mobile players.
Wondering what else is coming to Modern Warfare 2? Check out All 6v6 Modes in Modern Warfare 2 and How to get the Oni Operator in Modern Warfare 2 on Pro Game Guides.