Once you have leveled up your Launchers in Call of Duty: Modern Warfare 2, you should be ready to go for the camo challenges for these weapons. There are four Launchers in the game: PILA, Strela-P, JOKR, and RPG-7, and each features one base camo challenge and four mastery camo challenges.
How to get all the Camos for Launchers in Call of Duty Modern Warfare 2
Base camo: This challenge for each Launcher can be accessed after you've ranked up that weapon to level 11. To unlock the base camo for any of the four Launchers, you need to get 40 operator kills using that weapon.
Gold camo: Now that you have unlocked the base camo for your Launcher, you can attempt the first mastery, or completionist camo challenge, i.e., the gold camo. This requires you to get two kills without dying five times for the PILA, Strela-P, and RPG-7. As for the JOKR, you need to get two kills without dying 10 times to unlock gold.
Platinum camo: The platinum camo challenge unlocks after you've acquired gold for all four of your Launchers:

PILA: Destroy 15 enemy killstreaks (UAV, Counter-UAV, VTOL, etc.), equipment (Proximity Mine, Claymore, C4), or vehicles.
Strela-P: Destroy 25 enemy killstreaks, equipment, or vehicles.
JOKR: Destroy 10 enemy killstreaks, equipment, or vehicles.
RPG-7: Destroy 10 enemy killstreaks, equipment, or vehicles.

Polyatomic camo: The third mastery camo challenge becomes available once you've unlocked platinum camo on 51 weapons in Modern Warfare 2. The polyatomic challenge for Launchers requires you to get 15 double kills using the weapons.
Orion camo: You'll automatically unlock this final mastery camo for your launchers once you've unlocked polyatomic on 51 weapons.
Related: Modern Warfare 2 – Skill-Based Matchmaking, Explained
Tips for unlocking Launcher mastery camos in MW2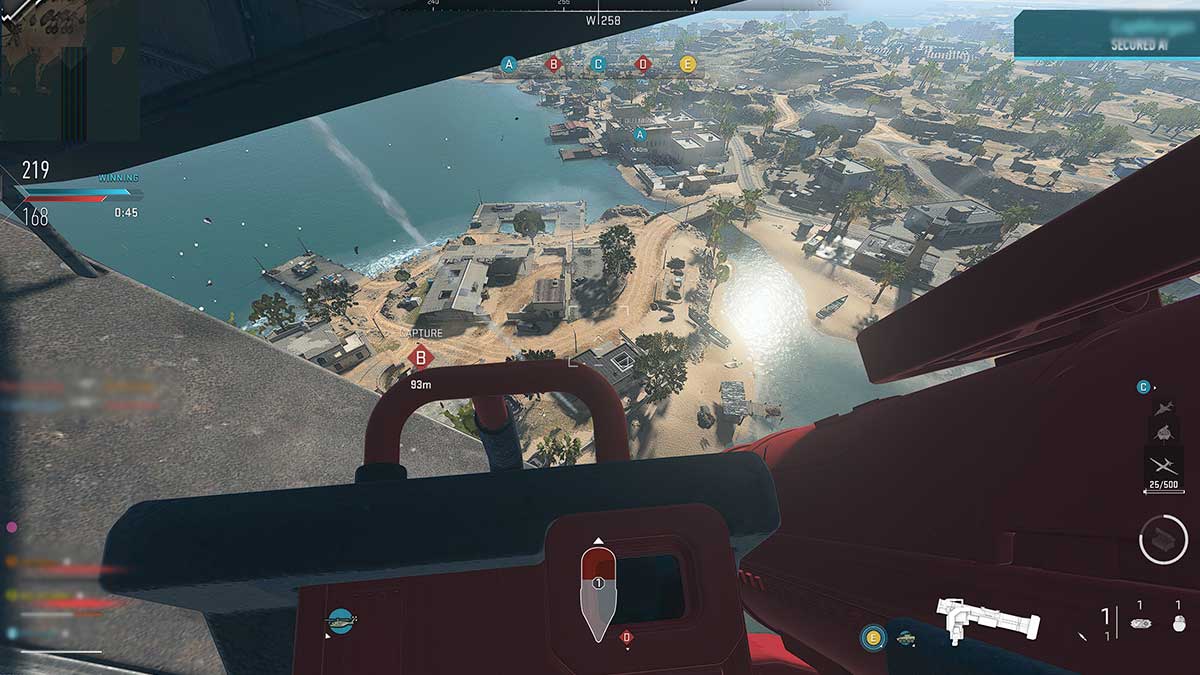 Game Modes: The best game modes in which you can unlock the gold, platinum, and polyatomic camos for your launchers are Ground War and 6v6 objective-based modes like Hardpoint and Domination. These modes let you get multiple kills at the objectives. One special technique to get Launcher kills in Ground War is shooting down rockets from the back of the Transport Heli as shown in the image above. This strategy will help you get kills with the JOKR, which is difficult to do otherwise.
Melee: Punching enemies with your Launcher also counts towards the challenge, so you might as well do this once you're out of ammo or have somehow managed to sneak behind the enemies.
Perks: The right Perk Package will actively help you towards getting the camos with relative ease. Our recommended perk selection is:

Basic Perks: Double Time and Tracker
Bonus Perk: Fast Hands / Spotter (for platinum camo challenge only)
Ultimate Perk: Overclock

Field Upgrades: Equip Munitions Box so that you can refill your ammo once the Field Upgrade is available.
If you're finding it frustrating to complete these challenges, you can always ask for help from your opponents via text chat. Most of the times, players will be eager to help you out. As a last resort, you can just wait until Season 1 for Modern Warfare 2 and Warzone 2 drops. It brings the fan-favorite close-quarters map, Shipment, which should make your grind way easier.
Stay tuned to Pro Game Guides for more Call of Duty: Modern Warfare 2 content. In the meantime, head over to our article on How to Get Kills From Behind in MW2.