Final Fantasy VII Crisis Core is an action JRPG, so there is a lot to learn when starting out. Between managing combat, Accessories, Materia, and more, it is easy to get overwhelmed. One thing that can be confusing is understanding your stats. This may leave you wondering what all stats mean in Crisis Core Final Fantasy VII Reunion.
What do Stats affect in FF7 Crisis Core?
There are various stats in Final Fantasy VII Crisis Core, each one affecting a different aspect of Zack's combat prowess. Knowing what these stats mean and how they affect your playstyle is important. Here are all stats explained in Final Fantasy VII Crisis Core.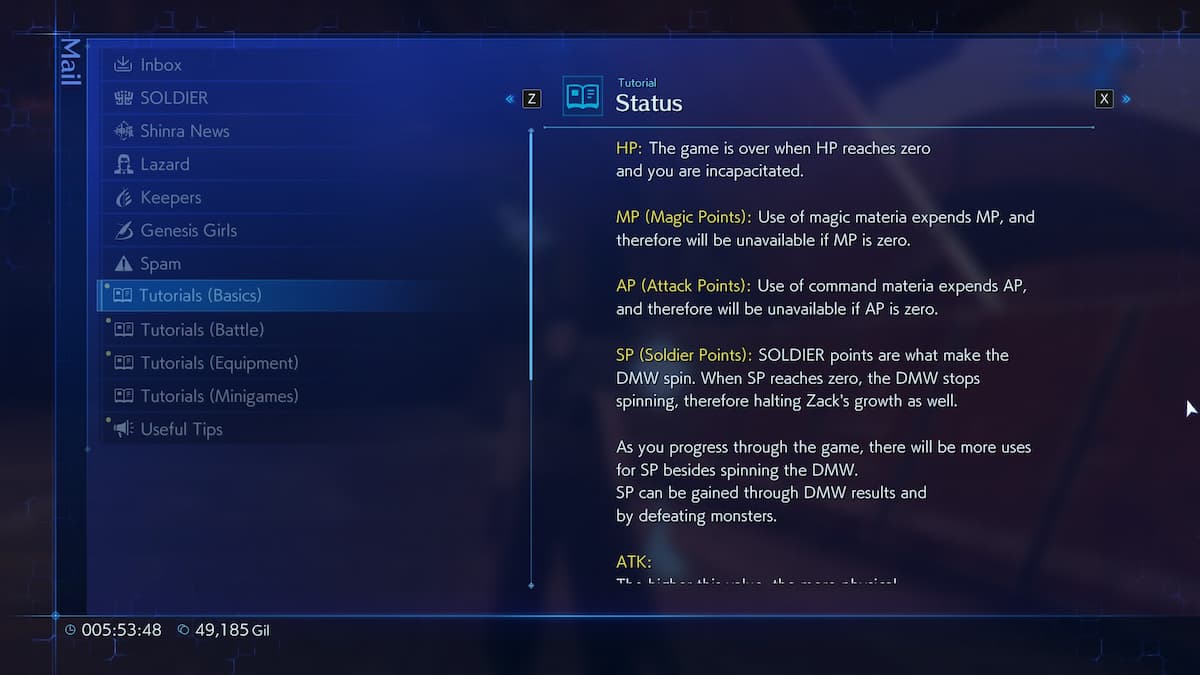 HP:

HP represents your health. You will die if you run out of HP.

MP (Magic Points):

MP represents your magic, which is depleted by using Materia. If you have no MP, you cannot cast Materia.

AP (Attack Points):

AP represents Action Points. Certain Materia, such as Command Materia, will expend AP instead of MP. When you reach zero AP, you cannot cast Command Materia.

SP (Soldier Points):

SP represents Solder Points. This makes the DMW spin and will stop spinning when this reaches zero. The use of SP will expand as you progress through the game. Defeating monsters and some DMW results will increase this.

ATK:

ATK affects the damage of your physical attacks. The higher this is, the more damage your sword swings will inflict.

VIT:

VIT affects how much physical damage you take. This is useful against that who attack with physical moves.
Related: All Final Fantasy VII characters in FFVII Crisis Core
MAG:

MAG affects the damage of your Materia. The higher this value is, the greater the damage Materia inflicts will be.

SPR:

SPR affects the amount of magic damage you suffer. Increasing this will prevent damage from enemies who attacks with magic.

LCK:

LCK directly affects critical hits and item drops. The higher this is, the more likely you are to receive both.

Buster Sword Proficiency:

This is unlocked later in the game. This is increased by using the Buster Sword in combat. As it increases, you will unlock more useful skills and abilities.
How to check your stats in FF7 Crisis Core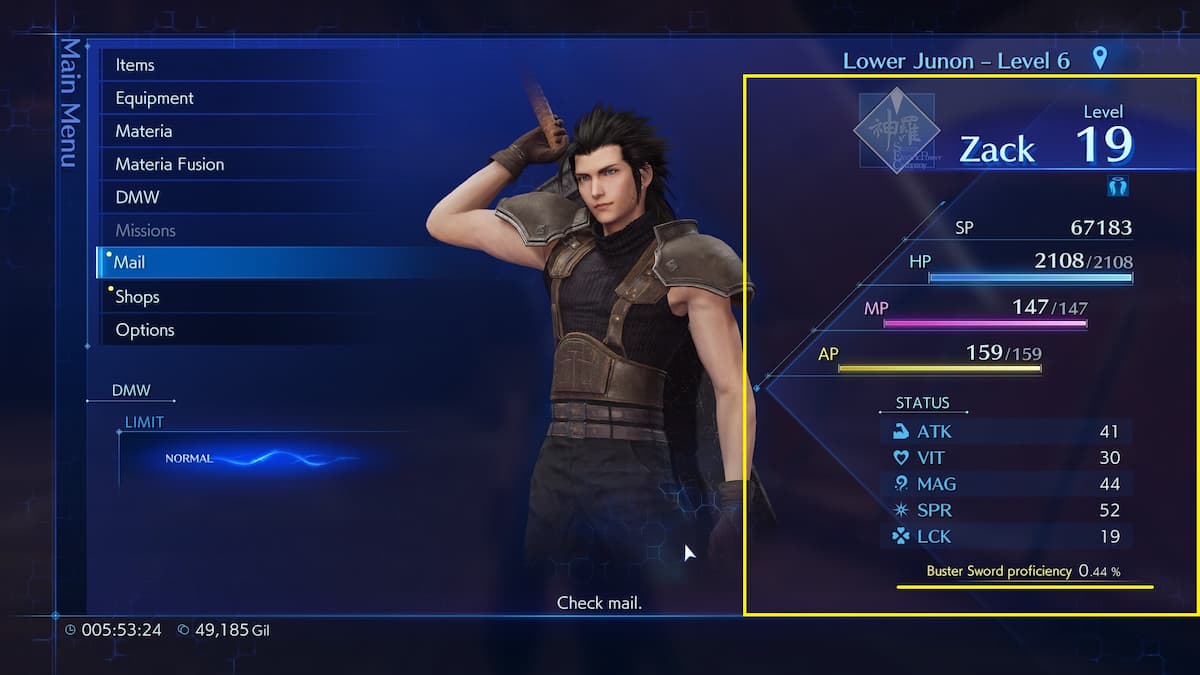 You can check your stats at any time by opening the main menu. They will be shown on the right-hand side of the screen. You can influence these with certain Accessories and Materia. We recommend increasing the stats you use most often in combat.
For more information on Final Fantasy, check out Can you turn off the Combat Announcer in Crisis Core? and Is Final Fantasy VII Crisis Core canon? on Pro Game Guides. Also see How Crisis Core FFVII Reunion Buster Sword Proficiency Works from our sister site, Siliconera.