Yarr! In a season all about pirate booty and buried treasure, rumored treasure just might be the best yet. Word tells that yer crew aboard Spider's ketch knows about some treasure that might not be on any maps or star charts. So fire up Destiny 2 me hearties and invest some of that Repute into yer Pirate Crew for a chance at more loot in this sci-fi looter shooter.
What is the Rumored Treasure Map in Destiny 2?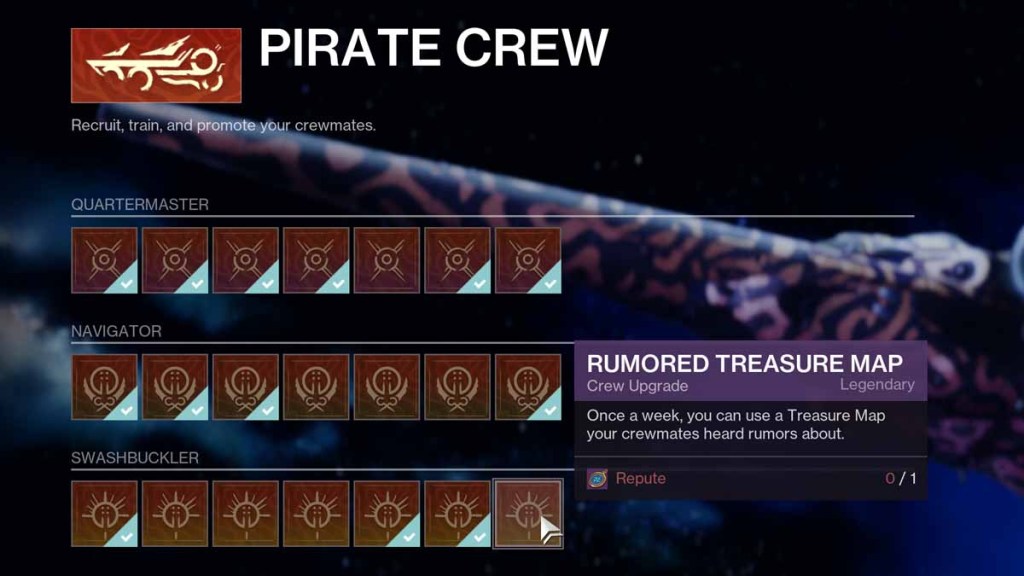 The Rumored Treasure Map is an upgrade that can be obtained at the Star Chart in the H.E.L.M. Once unlocked it grants the following effect: Once a week, you can use a Treasure Map your crewmates heard rumors about. This can then be socketed into the Captain's Atlas for free and grant buried treasure at the end of an Expedition run.
Related: All Destiny 2 materials that will be unobtainable in Season 19
The community isn't happy about this, but honestly, that's partly on them for building it up in their heads about what this would actually do. Expedition might not be as good as the Menagerie was for farming loot, but it's not awful. As such, there wasn't going to be some big secret hidden behind this upgrade. It does what it says: your crewmates can source a treasure chest once a week instead of you investing your resources in it. Besides, those looking for more of an actual treasure hunt will be much better served pursuing the Cryptic Quatrains map fragments.
For more Destiny 2 goodies, check out Destiny 2 Festival of the Lost 2022 – Armor, dates, and details on Pro Game Guides.