The Chaperone Shotgun is an Exotic that can be obtained in Destiny 2: Forsaken! If you are wondering how-to get it, we've got a full Chaperone Guide that will you through step-by-step on how to complete of the quest steps with some tips and tricks along the way.
Before beginning, you are going to need to enjoy some PVP to obtain this exotic. The Chaperone quest requires playing through quite a bit of Crucible and Gambit. Even with that, shotguns can be very powerful in the right hands, so obtaining this unique weapon is worth some the time and effort.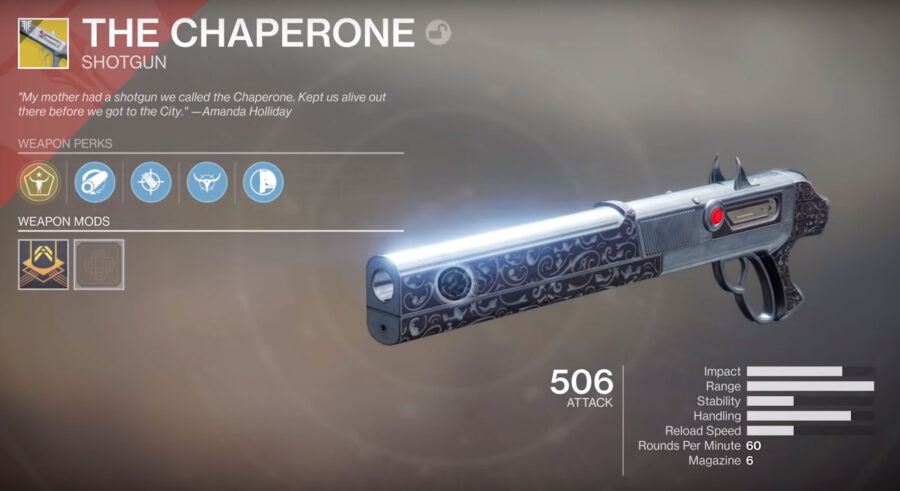 "My mother had a shotgun we called the Chaperone. Kept us alive out there before we got to the City." -- Amanda Holliday
The biggest uniqueness factor that The Chaperone brings to the table is that it has Precision Slug. Instead of the typical shotgun spread you get with your standard weapon of this type, it fires a single slug that concentrates that damage and allows for some big damage when aimed precisely.
Step 1: Get Lucky... Complete Events
This is really unfortunate, but to even start your journey to getting The Chaperone you are going to just flat out have to get lucky. It appears that you have a chance to receive the quest you need to start this journey is a random reward from completing and participating events. There's been reports of getting it after entering The Dreaming City, playing Crucible, dismantling armor/weapons, or completing/entering a Strike. There's also some thought that it might be tied to being in a fireteam, so if you are depserate for it you might want to make sure you are playing as a team. The one positive in this experience is that if anyone gets it on your fireteam, the whole team should receive it as well.
Step 2: Holliday Family History - Quest Step
Visit Amanda Holliday
The Holliday Family History is the Quest Step item you are looking to receive to start on your way to that new shotgun. Once you've obtained it from one of the various methods above, you will need to go to The Tower and visit Amanda Holliday.
Step 3: Crucible Tournament - Part 1
Defeat opponents using a Shotgun in the Crucible.
Once you visit Amanda Holliday you will receive this next quest step. You will need to get 20 kills with a shotgun in Crucible to complete it. The best recommendation is to just equip a shotgun in both of your weapon slots and run around trying to take people out with them. This should be pretty fast, I don't think it should be too problematic unless you don't have a shotgun already.
Step 4: Crucible Tournament - Part 2
Defeat Guardians with Arc, Solar, and Void damage in the Crucible. Being defeated in the Crucible sets back your progress.
After you've gotten all 20 of those shotgun kills in the Crucible you will need to defeat Guardians with Arc, Solar, and Void damage. This one can be done with multiple different options, but the best way is to just mix up all your weapons (you don't have to use shotguns for this one) with the various elemental tags. You can also get credit using your Super which is probably the most efficient way to do it. You won't be able to rely on one single element, you need to complete each one separately. So, you'll need to get kills with Solar, Void, and Arc to complete the quest. It appears that you get 3 - 4% per kill, but the big catch is that you will lose percentage if you die. So, don't be going crazy reckless to get kills because that will only slow you down.
Step 5: Gambit Kills
Defeat enemy Guardians in Gambit.
Once you've done all of those elemental kills, you will then have to leave the Crucible and head into Gambit. To complete this quest step, you will need to eliminate 15 Guardians. Either jump over and invade into the enemies area, or defend your team from enemy invaders to get these kills. You are obviously going to be able to do it faster if you invade, so maybe jump in with some friends that will allow you to do most of the invading.
Step 6: Holliday Family History
Visit Amanda Holliday in the Tower.
And believe it or not that's just about all you need to do! Your last task will just be heading back to Amanda Holliday in the Tower and receiving your sweet new Exotic Shotgun.