We're taking a look at the Python Energy Shotgun, which is one of Destiny 2: Shadowkeep's new Ritual Weapons that can be obtained in the Season of the Dawn! You'll need to complete a small quest to obtain this brand new Shotgun.
Ritual Weapons have replaced the old Pinnacle Weapons that were popular among collectors. These new weapons will no longer have special perks and will instead feature curated rolls. This seems to be a way to keep things more fair across the board, and will make it easier to balance in the future.
Python Perks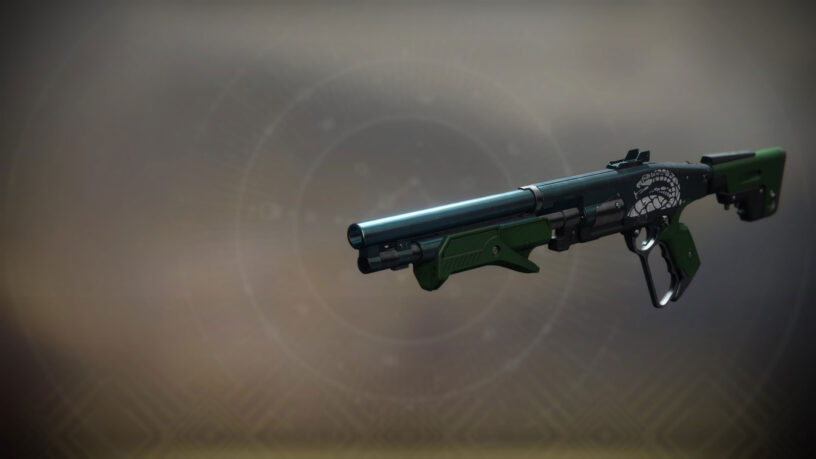 "If they let you get that close, they deserve it." —The Drifter
Aggressive Frame - Hard-hitting, high recoil. Increases rate of fire after kill.
Choice of Overflow or Feeding Frenzy

Overflow - Picking up Special or Heavy ammo reloads this weapon to beyond normal capacity.
Feeding Frenzy - Kills with this weapon increase reload speed for a short time.

Choice of Shield Disorient or One-Two Punch

Shield Disorient - Energy matched shield explosion disorients nearby combatants.
One-Two Punch - Hitting an enemy with every pellet in a shot increases melee damage for a short duration.
Python Lore
"If they let you get that close, they deserve it." —The Drifter

"Trust is a hell of a thing. Some people think they can earn it. Others think they can buy it. But that's the thing about trust: It's not real. You can't hold it, squeeze it, or put it in your pocket. It's intangible.

"You have to believe in it. I don't know about you, but I don't care much for fairy tales. I like real things that I can feel.

"This isn't to say I haven't used trust before. To get close. Close enough to use something real, that I can hold, squeeze, and tear 'em down to pocket size with.

"Up to you what you do with trust. We all have choices to make."

—The Drifter
Python Quest Steps
If you want to earn the Python Energy Shotgun, you'll need to head on over to The Drifter and receive the Get Closer quest:
Complete the following objectives in Gambit matches to recieve the Python. Both combatants and Guardians grant points. Guardians grant the most efficient progress.

"Don't go thinking this means anything more than it is. This is an arrangement, not a bond." —The Drifter
You'll need to complete the following objectives to complete this quest:
[Shotgun] Close-range final blows: 150
[Shotgun] Final blows: 500
Infamy rank "Heroic": 1
Once you've completed those objectives, you'll just need to return to The Drifter at the Tower and receive your reward!