Bungie and Destiny 2 are getting into the Halloween spirit! The annual Festival of the Lost has returned to the game, and there is a brand new activity you can engage in. This is called The Haunted Forest, and you will be able to complete weekly challenges inside of it for Powerful Gear. It also features treasure caches to be found, and you will be facing off against some creepy enemies that are haunting the area. It is a relatively simple process to get into the area, which we will go step-by-step through in this guide.
Where is the Haunted Forest?
To find the Haunted Forest in Destiny 2, you will need to head to your Director and look for The Tower. Once you arrived there, head over to Eva Levante who is next to the big spooky tree and talk to her. She will give you a few options for masks, pick the one you like, and then put it on. You will then need to talk to the Spider at The Tangled Shore. He will tell you that you need to complete a Strike, Gambit, or Crucible to obtain a Cipher Decoder. Once you obtain that item, you can then open up your map to The Tower and look for the new blue node that has appeared there called the Haunted Forest!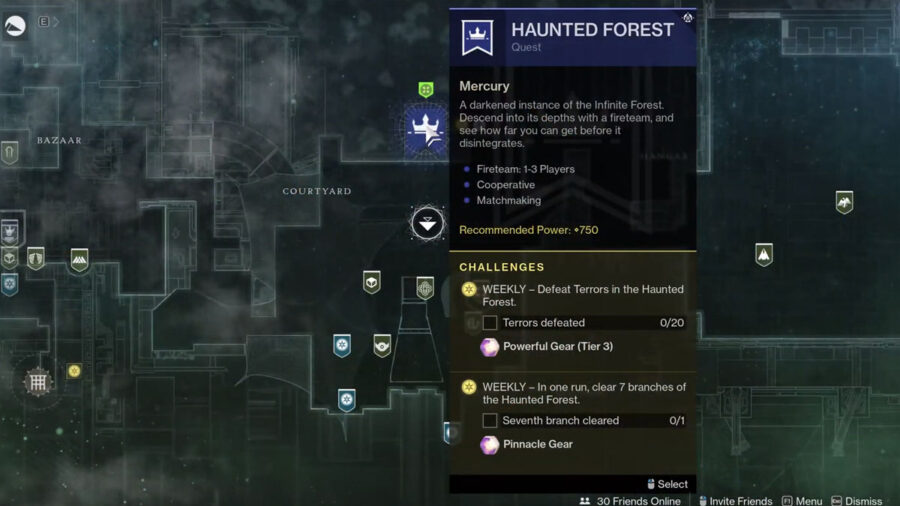 A darkened instance of the Infinite Forest. Descent into its depths with a fireteam, and see how far you can get before it disintegrates.
Now, you will want to be at least Power Level 750 to participate in the quest, but this is a pretty low bar if you've been doing much playing of the game recently. Heading into these modes will give you the Candy currency, this can be used to purchase some pretty sweet new cosmetics for your Ghost, Sparrows, and Ships! You will get Candy by slaying through the level, and at the end in the chests you get to open depending on how far you got through the forest.
If you are having trouble locating the area, you can check out this video tutorial: