Lost Sectors serve as bite-sized dungeons where Guardians fight their way through a swarm of enemies to collect their guarded loot at the end. With the release of the Beyond Light expansion, Bungie introduced Legend Lost Sectors. Rotating on a daily basis, each solo completion on Legend or Master has the chance to award an Exotic armor piece.
Skydock IV Lost Sector Location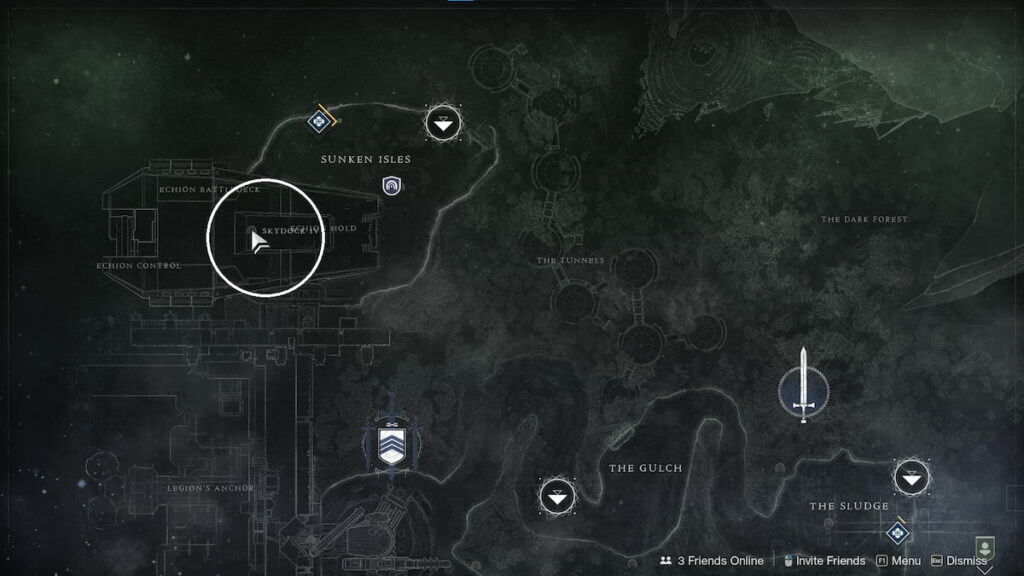 Skydock IV can be found in the EDZ north of Firebase Hades in the west. Guardians should spawn at the Sunken Isles and head under the docked Cabal Ship. Simply head west and look for the tunnel under the ship. The entrance will be on the right, facing westward.
Related: How to get The Infinite Prismatic emblem in Destiny 2 – Pride 2.0 Pin reward
Skydock IV Master Lost Sector Exotic Drops
Dawn Chorus: Exotic Warlock Helm
Mask of Bakris: Exotic Hunter Helm
Precious Scars: Exotic Titan Helm
Blight Ranger: Exotic Hunter Helm
Loreley Splendor Helm: Exotic Titan Helm
In terms of time commitment, this Lost Sector can be done in about five minutes when running solo on Legend. There will be Barrier and Unstoppable Champions, so bring the appropriate mods to counter them. Unstoppable is easily countered with The Enigma glaive, and Barrier can be shut down with a reliable heavy and pulse rifle like Bad Juju to pop the bubble. By the time you reach the last room, you should have a Super ready to shred the final boss.
For more Destiny 2 goodies, check out All Calus Bobblehead locations on the Derelict Leviathan in Destiny 2 – #1 Fan Triumph on Pro Game Guides.