Dinkum is an Australian-inspired life simulator where you try to survive the harsh Australian Outback while building up your town and villages. Dinkum has a large number of activities to participate in each day, including fishing. Here is our Beginner's guide for Dinkum, with tips and tricks to get you started.
Dinkum General Tips & Tricks
Collect and sell Bugs and Fish every day. Money is a significant progression hurdle.
Buy the tools from John each day, so always have a spare. Later in the game, you can repair tools.
Buy every license ASAP. These unlock new materials and crafting recipes.
Cook and craft food to restore more energy.
Turn on 'Mouse Always Move Camera' (Press Esc, Settings, Gameplay Tab). This allows the camera to move freely as you move the mouse.
How to Fish in Dinkum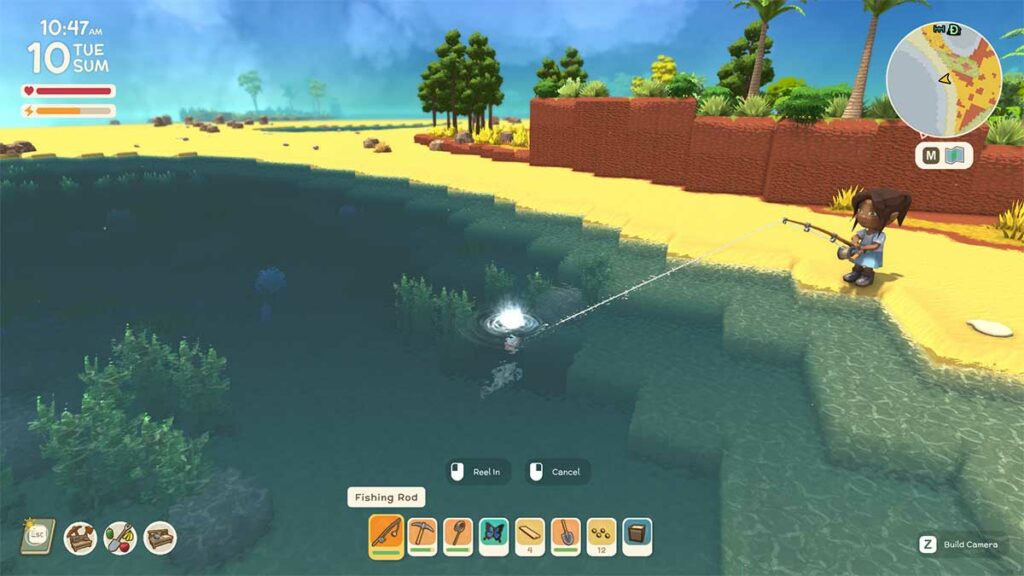 Fishing is a great way to earn Dinks early in the game. To fish, you will need to purchase the Fishing License from Fletch and the Fishing Rod from John afterward. Once your set, head to the river or ocean and find a fish. Throw the line in near the fish.
Wait for the fish to get hooked.
Left click to hook the fish once the sinker is underwater.
Wait for the fish to calm down. Reeling while the fish is fighting will cause the line to break.
Reel the fish until it fights the line again.
Repeat this action until the fish is caught.
It is possible to reel the fish while it's fighting; you can do this by rapidly pressing left click (do not hold it down). Keep an eye on your fishing line's health, though.
How to plant seeds in Dinkum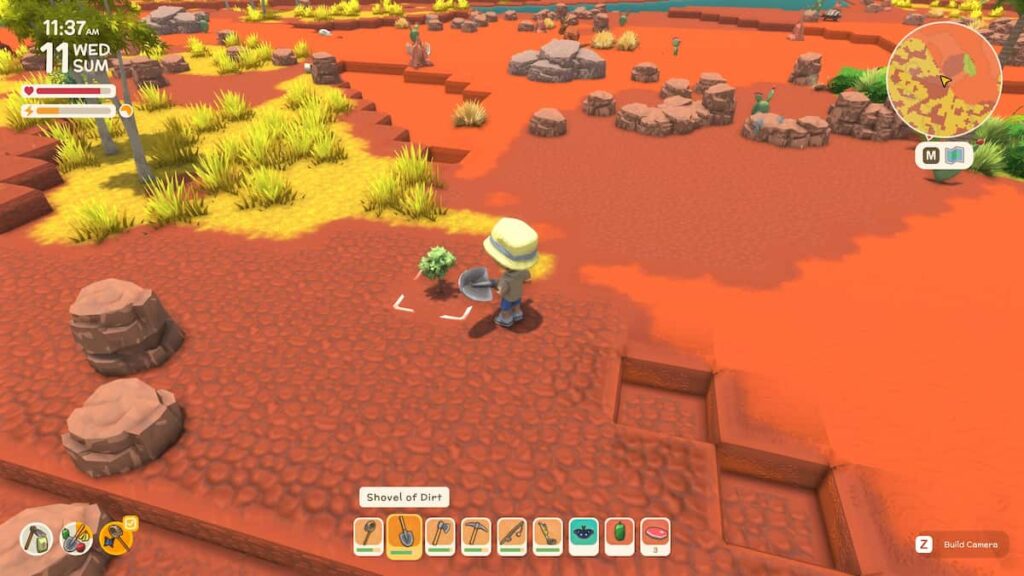 To start growing your own fruit trees and crops, you will need to purchase the excavation license from Fletch and the Shovel from John.
Create a hole. The soil will remain on your shovel.
Place a seed that has the 'bury' attribute in the hole. You can drop items by pressing 'Q.'
Fill the hole with the soil on your shovel.
Fruit will only grow natively in specific biomes. Collecting the different fruit and growing fruit trees at your base is a great way to have a steady supply of energy-restoring fruit.
How to earn Dinks fast in Dinkum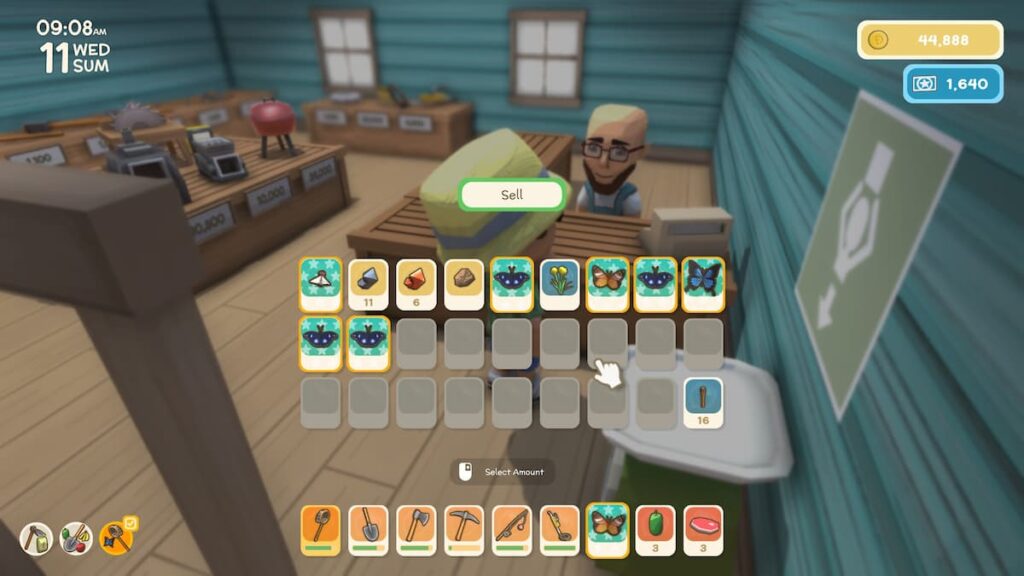 Dink (Money) is a hugely important resource that you will constantly need to pay off your debts to Fletch and progress your town and house. The best way to farm Dinks at the beginning of the game is to hunt bugs and fish constantly and sell them to John. When out exploring, always have your bug net ready to catch bugs as you go.
How to get better tools in Dinkum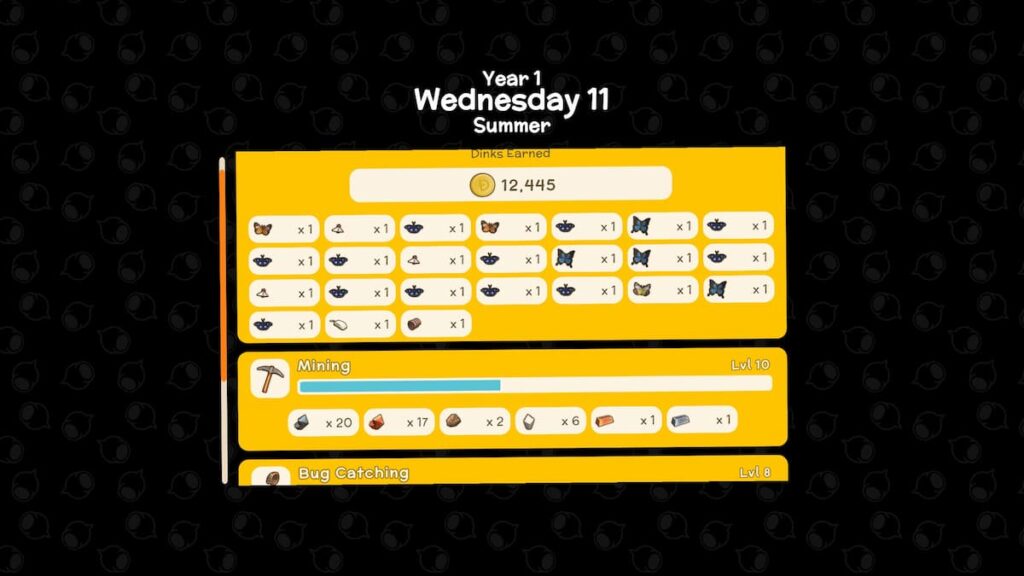 At the end of each day, you will get a recap of your day's actions. This will also show you your level with a specific license. To unlock better tools, you will need to progress each license to level 10 and buy the License Level 2. This will unlock the crafting recipe for a Copper Version of the tool.
For more on Dinkum guides, check out How to get Cement in Dinkum and Where to find Palm Wood in Dinkum here on Pro Game Guides.