Disney Dreamlight Valley is a magical life-sim experience where players get to interact with some of the best Disney characters and more exciting upcoming characters with each update. Updates also guarantee more fun content added to the game, such as a bunch of new recipes to cook up. Boba Tea is a great recipe with a few easy base ingredients and four other variant flavors you can create as well. Here's how you can easily whip up these tasty treats.
How to make Boba Tea in Disney Dreamlight Valley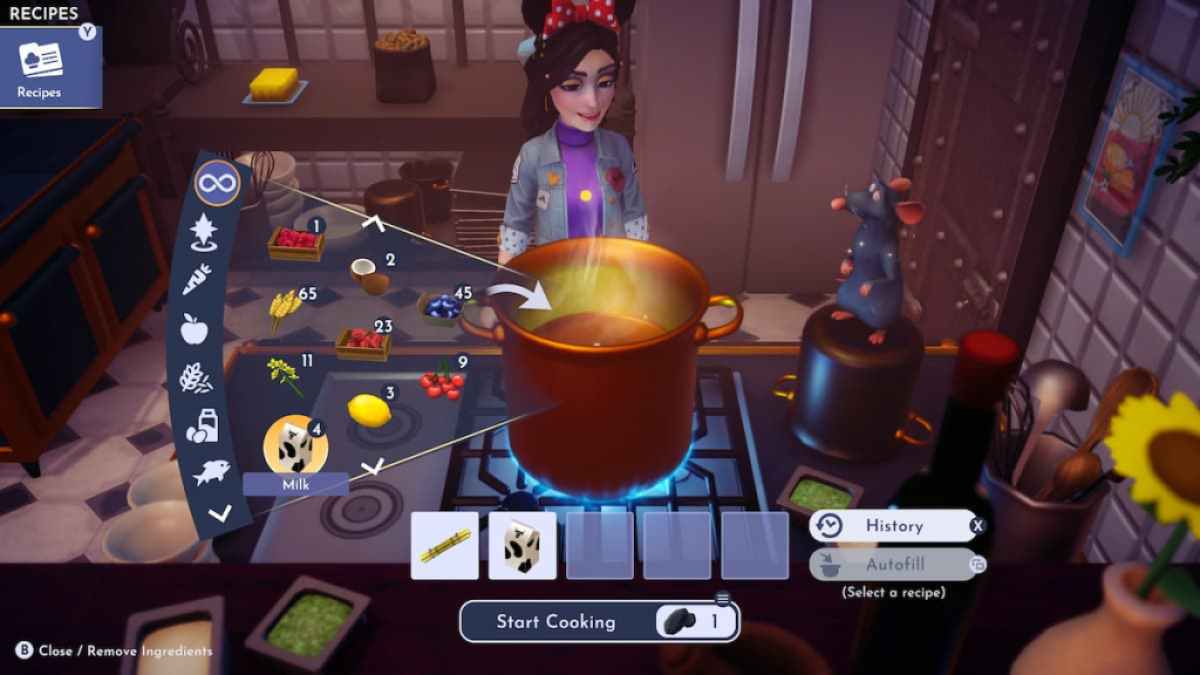 Boba Tea is a two and three-star recipe with five different flavors you can create by adding a touch of various flavor ingredients. This is a simple and great recipe to make to restore energy, gift to a friend, or earn a few extra star coins. The base Tea can restore 714 energy or sell for 323 Star Coins at any Goofy Stall. Three-star flavors can restore up to 1,800 energy when consumed or sold for approximately 450 Star Coins, depending on the recipe. Here's how to make each flavor:
All Disney Dreamlight Valley Boba Tea Recipes
Plain Boba Tea Recipe
This is the most basic Boba Tea recipe with no extra flavoring, simply the base ingredients, which are super quick and easy to acquire. You'll also use these two ingredients for all the other recipes, so you might want to stock up.
Here's where you can find these crucial ingredients:
Milk: Chez Remy, bought at Remy's Pantry for 230 Star Coins
Sugarcane: Dazzle Beach, bought at Goofy's Stall for 29 Star Coins (5 for seeds)
Coconut Boba Tea Recipe
This tropical, fresh Boba recipe simply needs some added Coconut to create this flavored tea. You can find your coconut at Dazzle Beach, harvestable from palm trees.
Milk x1
Sugarcane x1
Coconut x1
Gooseberry Boba Tea Recipe
Add Gooseberry to create this fruity and tart-flavored Boba Tea recipe. You can find some Gooseberries at Frosted Heights and Forgotten Lands, harvestable from Gooseberry bushes.
Milk x1
Sugarcane x1
Gooseberry x1
Mint Boba Tea Recipe
A dash of Mint always makes for a refreshing and cool treat and some yummy Boba. You can find some Mint harvestable in Frosted Heights.
Milk x1
Sugarcane x1
Mint x1
Raspberry Boba Tea Recipe
Another fruity flavor for Boba includes the sweet and sour Raspberry. You can find some in Peaceful Meadow and the Plaza, harvestable from Raspberry bushes.
Milk x1
Sugarcane x1
Raspberry x1
You can create these quick and easy Boba Tea recipes and flavors at any nearby cooking station. Since most of the added ingredients are harvestable, it will hardly cost you a penny besides the necessary milk. Make this for yourself to restore some energy, or gift it to a character around the Valley for a boost of friendship.
Looking for more Disney Dreamlight Valley recipes? Pro Game Guides has plenty of tips and tricks for meals you can prepare in your Valley, such as How to make a Yule Log in Dreamlight Valley or How to make a Gingerbread House in Dreamlight Valley!