Disney Dreamlight Valley has made way for yet another cheerful character, Vanellope, to join the villagers. Ready Player Fun is one of the quests for Vanellope, but you cannot unlock it unless you have reached friendship level 4 with her. Here's how you can complete the Ready Player Fun quest in Disney Dreamlight Valley.
How to complete the Ready Player Fun quest in Disney Dreamlight Valley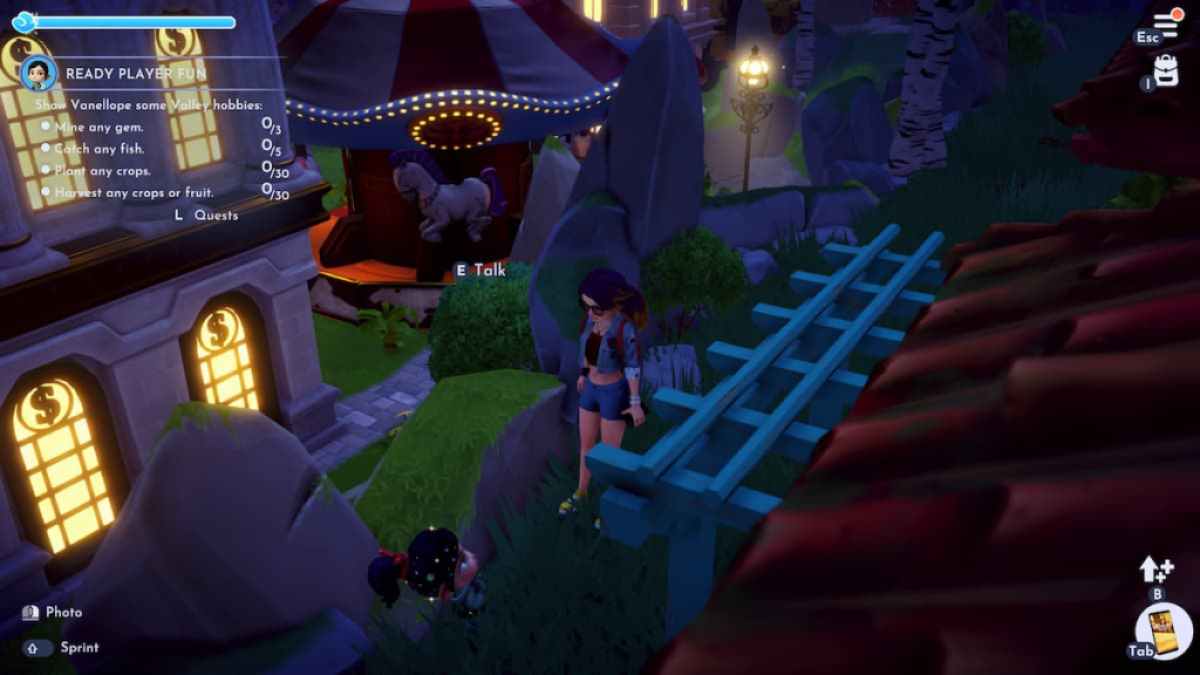 To complete the Ready Player Fun quest, you need to speak to Vanellope, and after that, you will be tasked with the following:
You need to mine any three gems.
You need to catch any three fish.
You need to plant any 30 crops.
You need to harvest any 30 crops or fruits.
Although it seems pretty straightforward, it can be pretty time-consuming, and you will need to run or sprint, which I did a lot. Firstly, you cannot use the gems or fish that you may have previously stored in your house or inventory.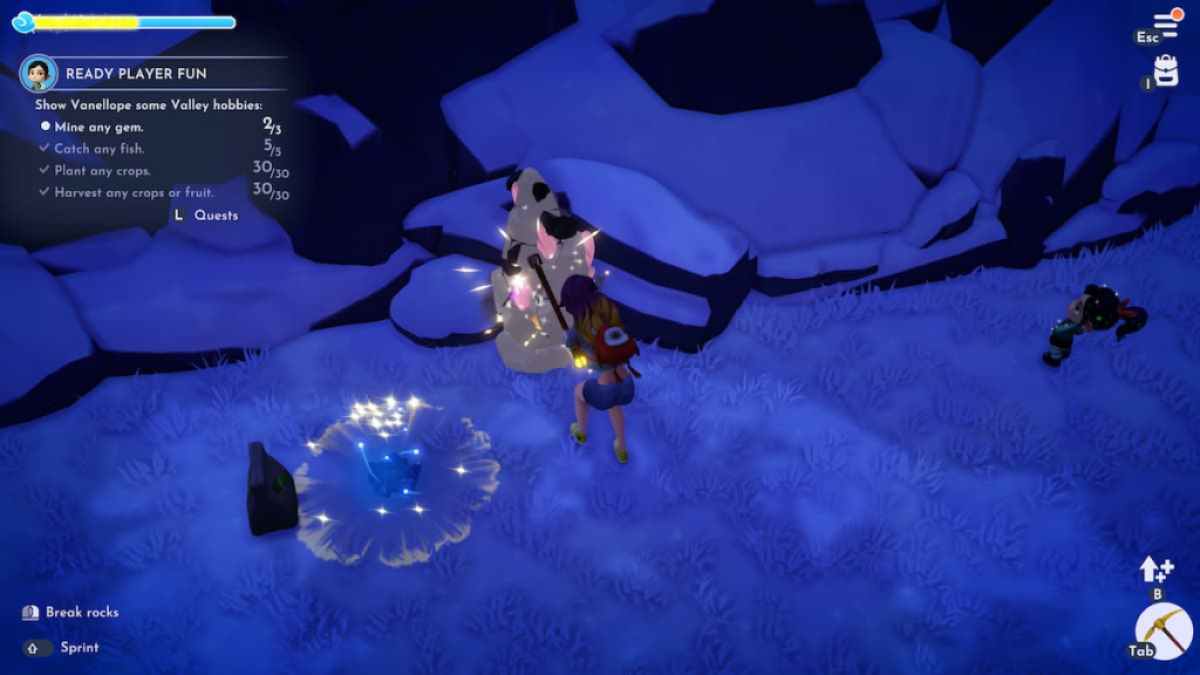 So, you have to look around the valley to mine gems and catch fish using the fishing rod. I got all three from the same pond that's located at the Peaceful Meadow. Try fishing from the blue ripples, as they give you plenty of fish required for the quest. For mining, I had to look around the Frosted Heights, Plaza, and Peaceful Meadow. Since gems are scattered across the biomes, they shouldn't be very tough to collect.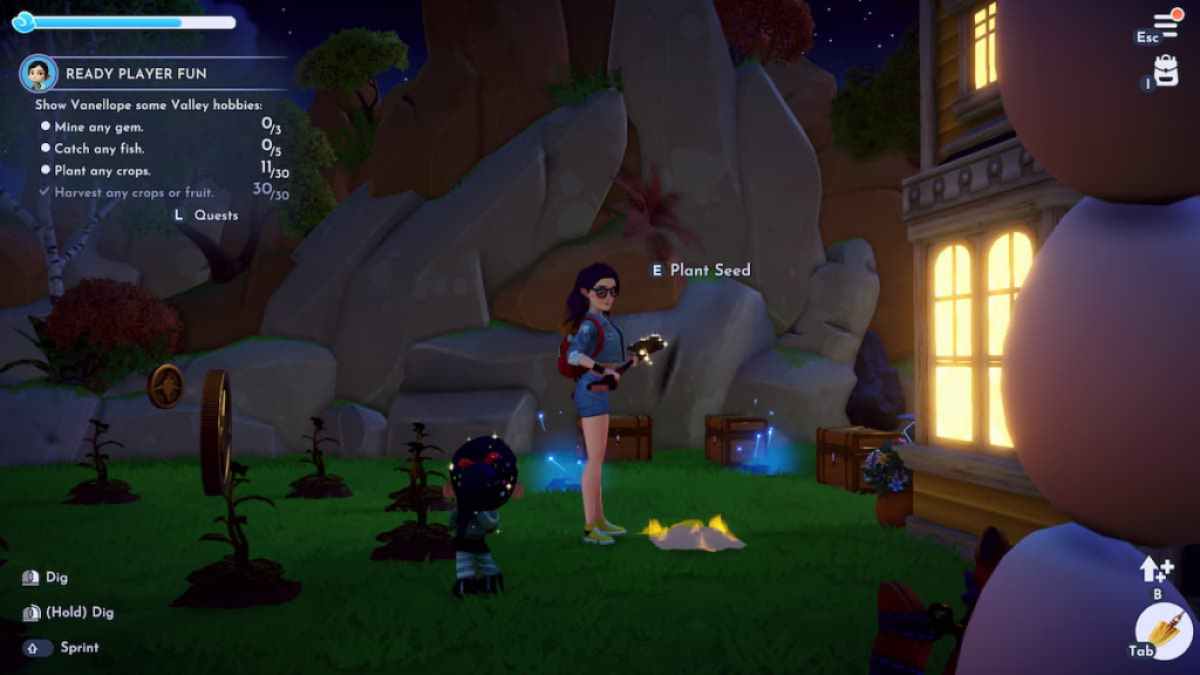 After this, you need to plant 30 crops anywhere in the valley. You can plant any seeds, and for this one, I used plenty of Wheat seeds from my inventory. Additionally, I had to buy some from Goofy's Stalls in exchange for Star Coins. So, if you do not have any, feel free to do the same.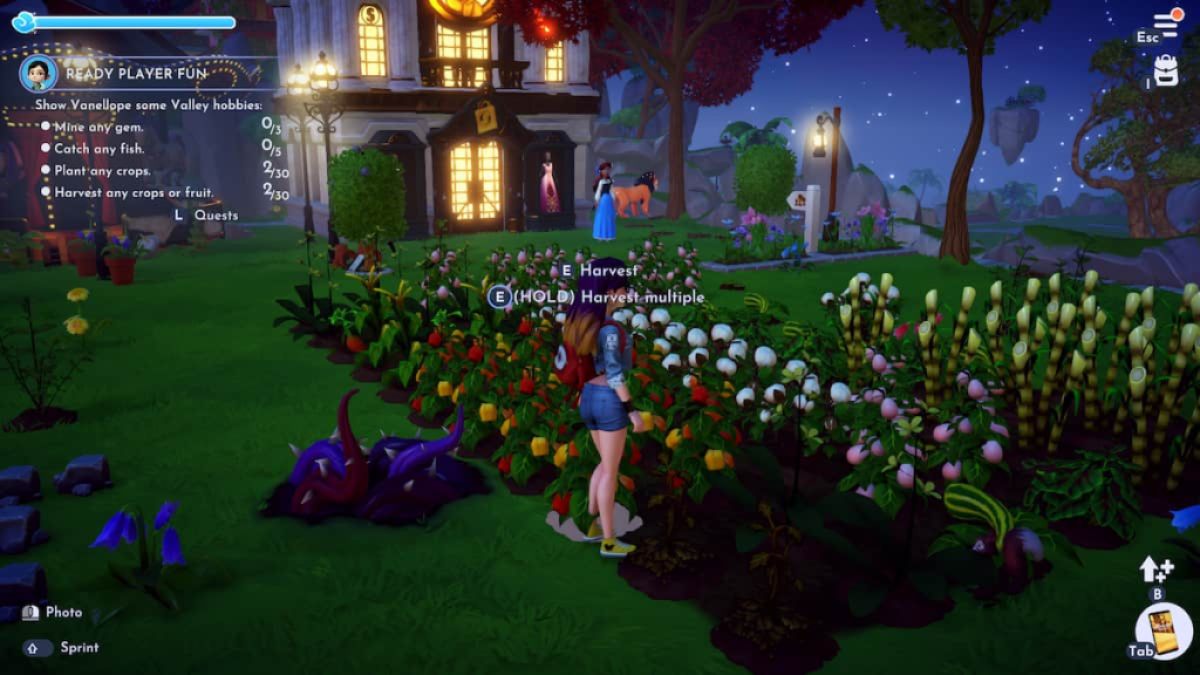 Lastly, you need to harvest 30 crops or fruits, so feel free to harvest any. To do this, I harvested Wheat, Carrots, and Sugarcane. I maintained a large garden right outside my house where I religiously plant various crops, which made this part easier. However, you can buy Wheat seeds and plant them. It takes about a minute for them to grow, so harvesting them can be fairly easy than looking for 30 crops around the valley.
After you are done with this part, head to Vanellope, who will tell you to find her from her dark and dangerous hiding spot.
Where is Vanellope hiding in the Ready Player Fun quest in Disney Dreamlight Valley?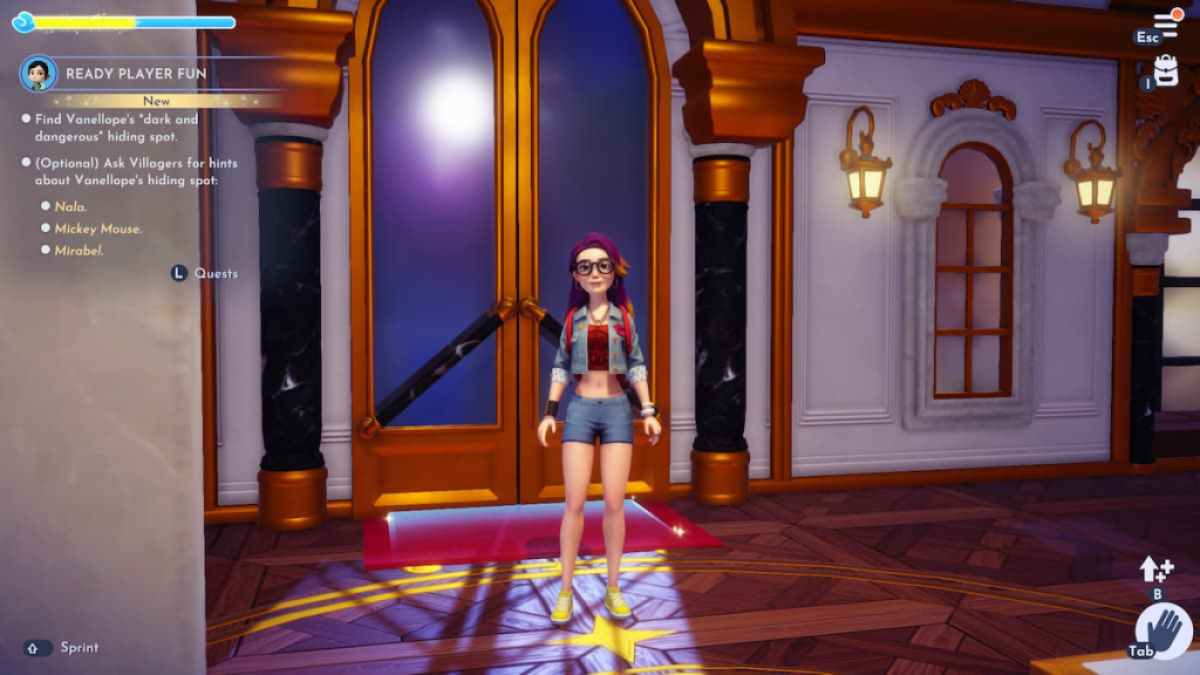 After talking to Vanellope, she will play a game of hide-and-seek, and you will need to head to Scrooge's store to let her hide. Once you have entered his store, the next part of the quest will trigger where you need to find her. You need to head to the Vitalys Mines in the Sunlit Plateau. You can also speak to other villagers like Nala, Mickey, and Mirabel to get hints on where Vanellope might be hiding, but that's optional. Enter the mines. Take the first left, and look for her by following the candy trail she's left behind. You should find her behind the mine crates.
Once again, speak to her, and she will ask you to race with her. Run to the entrance of the mines and talk to her. Vanellope will ask you to catch three fish in under three minutes, and this is the final task. You can use your fishing rod and do it pretty easily from the waterbodies around the Vitalys Mines in the Sunlit Plateau. After doing it all, go and speak to Vanellope to conclude the Ready Player Fun quest in Disney Dreamlight Valley.
To find more useful guides on Disney Dreamlight Valley, check out How to complete Faith, Trust, and Pixel Dust in Disney Dreamlight Valley on Pro Game Guides.