In Disney Dreamlight Valley, players will come across various enchantments and potions that they can use for different purposes. The Miracle Fishing Bait is a new enchantment added to the game, allowing players to find rarer fish from every ripple of water. Players need to know how to craft this enchantment to get the rarest fishes from every biome. Here's how to prepare the Miracle Fish Bait in Disney Dreamlight Valley.
All ingredients needed to craft Miracle Fishing Bait in Disney Dreamlight Valley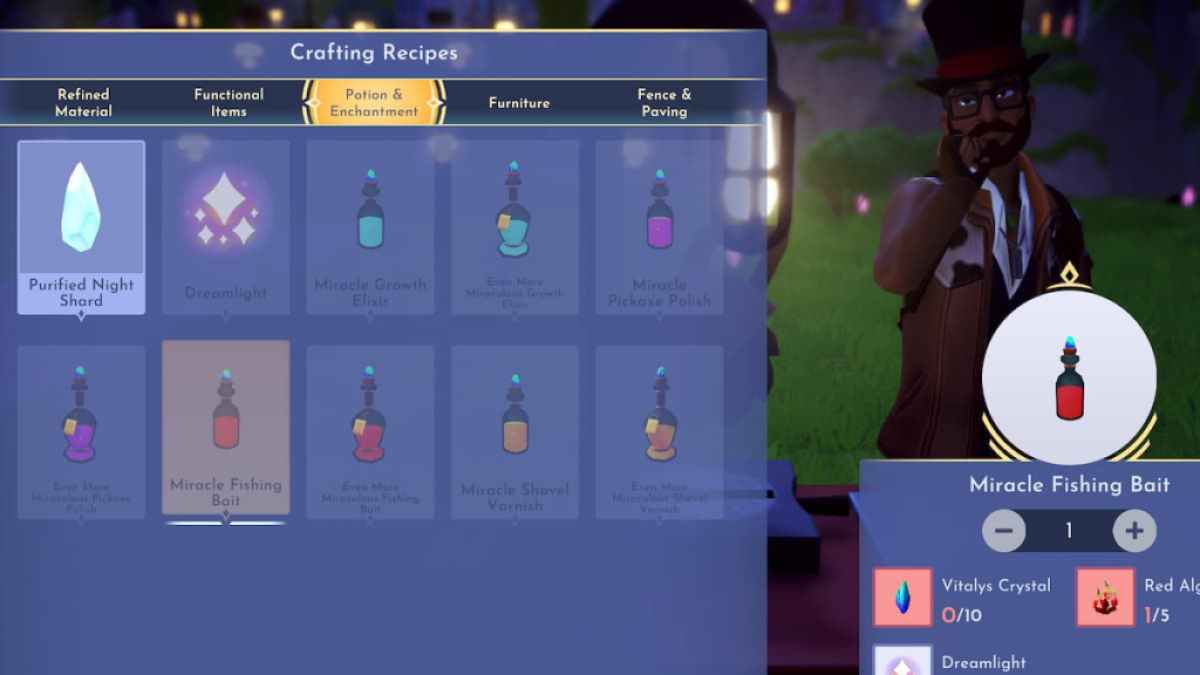 The Miracle Fishing Bait enchantment will be given to players by Merlin once they get in the game after the Toy Story update. You can instantly use it on the Fishing Rod tool to collect rarer fish from every water body. However, you can only use this enchantment for a limited number of times, and you must craft more after it finishes. To craft the Miracle Fishing Bait, players need five pieces of Red Algae, 10 pieces of Vitalys Crystal, and 1,000 Dreamlight.
Vitalys Crystal can be found by mining at different nodes at the Vitalys Mine located in the Sunlit Plateau biome. You can acquire red Algae from fishing at any water body. This item was introduced in the game with the Toy Story update, and you can find it only from fishing. We recommend visiting the Dazzle Beach biome and fishing at the waterbodies to get Red Algae.
Once you have all the ingredients, head over to the crafting station and click on the Miracle Fishing Bait enchantment. Craft the item, and you can then select it from the inventory to use it on the Fishing Rod tool. The Red Algae is the toughest ingredient for this enchantment, and it's best to go fishing with a companion with a fishing hangout bonus activated.
Wondering how to invite Buzz Lightyear to the valley? Check out How to get to the Toy Story realm in Disney Dreamlight Valley on Pro Game Guides.