Players can find items around Dreamlight Valley that they can store in the inventory or home storage space. Many items can be stored, including food, chests, shards, and more. If you fill up your inventory, there are a couple of ways to get more space, but you will have to spend some hard-earned coins.
How to get more inventory space in Disney Dreamlight Valley
Your inventory space is the number of items you can hold at once. You start with 21 inventory slots, but that can be upgraded. Items do stack in slots, but the many different items you can find in Dreamlight Valley will quickly fill your inventory space.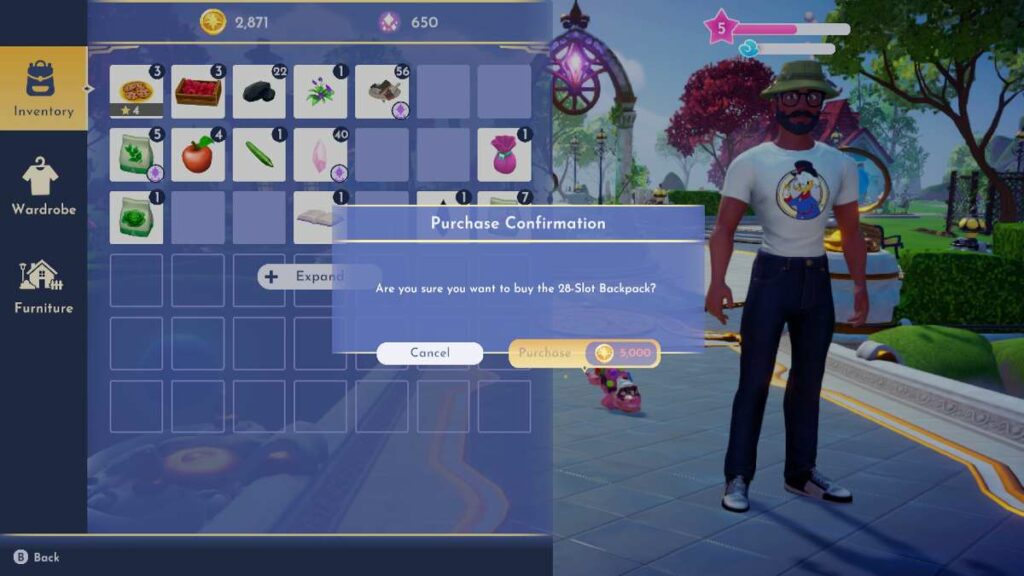 To upgrade your inventory space, go to your inventory by pressing Y (Xbox), Triangle (PS), or X (Switch). Scroll down to the Expand button and select it. You will have to spend 5,000 coins to unlock the 28-slot backpack. The second upgrade will give you a 35-slot backpack but costs a whopping 20,000 coins.
How to get more Storage Space in Disney Dreamlight Valley
You can also upgrade your home storage space to hold more items. Your storage chest can be found in the left corner of your house but can be moved using the interior edit tool. To upgrade your home storage, you must first progress through the Scrooge McDuck missions until you get to one that requires you to sell seven gems. After completing that, Scrooge McDuck will give you access to house upgrades. Your storage is upgraded along with the house, and further upgrades can be made using the new elevator in your house.
For more Disney Dreamlight Valley guides, check out the Best ways to develop Friendships in Disney Dreamlight Valley on Pro Game Guides.