In Disney Dreamlight Valley, players can prepare over 160 unique recipes. You'll need to find ingredients to cook these meals, which you can find across all the biomes in the game. While most ingredients can be harvested, a few are only found in specific biomes. The Pickled Herring is one of the popular recipes in the game, and you'll need to know which ingredients are needed to prepare it. Here's how to make the Pickled Herring recipe in Disney Dreamlight Valley.
Disney Dreamlight Valley Pickled Herring Recipe
The Pickled Herring is a four star recipe, and it requires four unique ingredients to prepare. You can cook Pickled Herring in Disney Dreamlight Valley with one piece of Herring fish, one piece of Onion, one piece of Lemon, and one part of any Herb. Every recipe has certain mandatory and versatile ingredients. The mandatory ingredients for the Pickled Herring are the Herring fish, Onion, and Lemon. Likewise, the versatile ingredient in this recipe is Herbs, which means you can use any Herb to prepare it. The Pickled Herring recipe can be consumed to replenish 1,742 Energy. You can also sell this meal for 431 Star Coins.
Related: How to make Meringue Pie in Disney Dreamlight Valley
Lemon cannot be farmed and needs to be harvested from the Forest of Valor biome. Look for the bushes with yellow fruits. Each Lemon harvest gives players three pieces of the ingredient. Similarly, Onions can be purchased from Goofy's Stall in the Forest of Valor for 255 Star Coins. You can also purchase Onion seeds for 50 Star Coins, plant and harvest them at a different location. As for Herbs, you'll find them growing across all the biomes, and you can use any Herb since it's a versatile ingredient in this recipe.
Where to find the Herring fish in Disney Dreamlight Valley?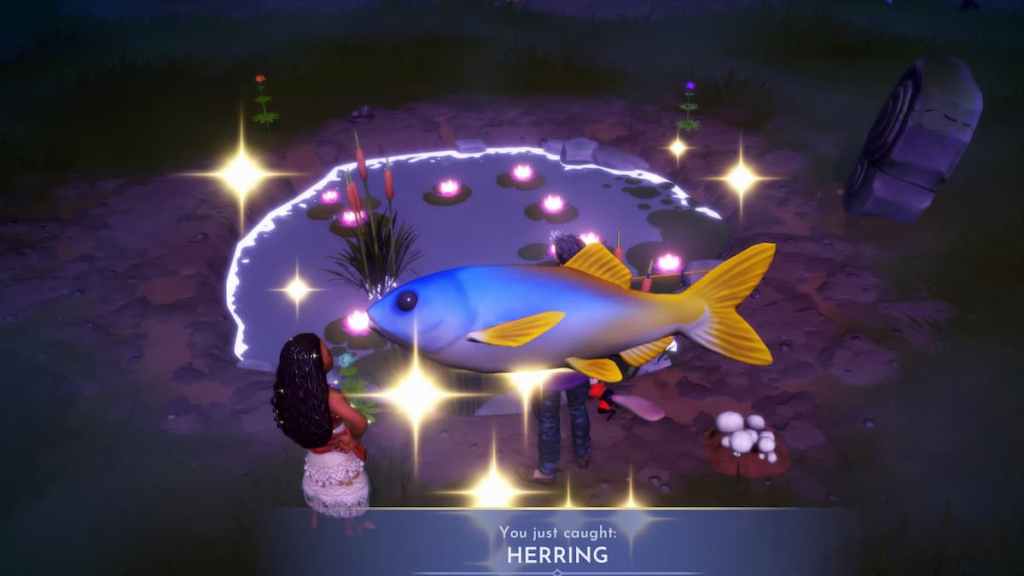 The Herring fish is found in two biomes: the Glade of Trust and Dazzle Beach. You'll need to use the Fishing Rod to catch this fish from any water bodies found in these biomes. Check for white ripples and bubbles at these water bodies, aim with your Fishing Rod, and cast a line inside these ripples. We recommend bringing along a companion who has Fishing Boost while searching for the Herring fish. Once you have all four ingredients, head over to a Stove. You'll need a piece of Coal Ore to prepare the Pickled Herring recipe.
Wondering how to cook exquisite salads in Dreamlight Valley? Check out How to make Mediterranean Salad in Disney Dreamlight Valley on Pro Game Guides.