Disney Dreamlight Valley's Pride of the Valley update brought several new elements to the game, including new characters, recipes, Quests, and more. One of the new Quests you'll come across is Merlin's Secrets & Schemes. To start this Quest, you'll need to find Merlin's Notes and bring it to him. Here's where to find Merlin's Notes to complete the Secrets & Schemes Quest in Disney Dreamlight Valley.
How to complete Secrets & Schemes in Disney Dreamlight Valley
A piece of paper saying Merlin's Notes can be found at the Glade of Trust biome, near Mother Gothel's house. Check the yellow circle on the map image above to see the exact location where you can find Merlin's Notes.
After collecting Merlin's Notes the Secrets & Schemes Quest will start. You'll need to return to Merlin and give him the Notes. After a short discussion, Merlin informs you that Mother Gothel and Ursula are up to something. These two characters will be having a clandestine meeting, and you must listen to their conversation at the Dazzle Beach biome. However, to attend this meeting you'll have to wait for a day in-game.
Related: How to complete The Great Gathering Quest in Disney Dreamlight Valley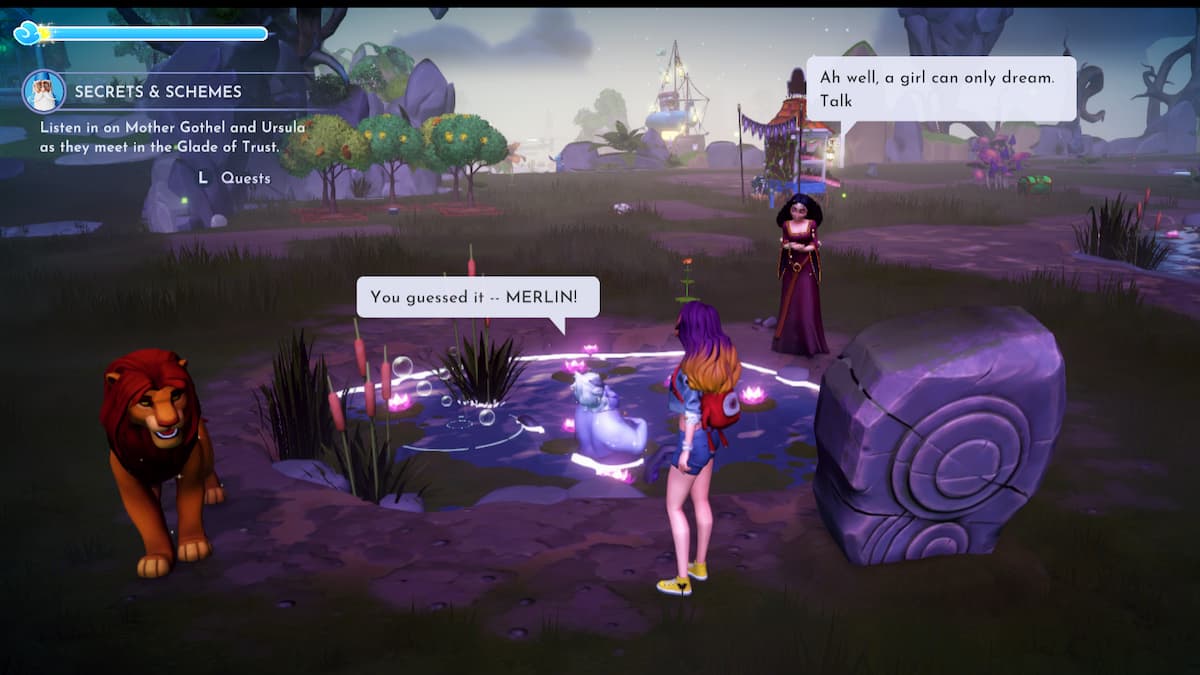 On the next day, visit Dazzle Beach to overhear Ursula's and Mother Gothel's conversation. You'll hear them scheming about removing Merlin from the village. After their conversation is over, you need to confront Ursula about her evil plans against Merlin. Convince Ursula to stop plotting against Merlin, and visit Merlin to inform him of their evil plans. Merlin is furious at Ursula and comes up with a scheme of his own to teach them a lesson. He also rewards you with Dreamlight for foiling Ursula's plan. This is how to complete the Secrets & Schemes Quest in Disney Dreamlight Valley.
Looking for more Disney Dreamlight Valley Guides? Check out Where to find Buzz's Little Green Men in Dreamlight Valley here at Pro Game Guides.