In Elden Ring, players will come across various key items and accessories that enhance specific attributes, and provide other abilities to the Tarnished. The Moon of Nokstella is a legendary Talisman, and it increases Memory Slots allowing players to equip more Sorceries and Incantations.
The Moon of Nokstella Talisman is hidden in a treasure chest in the main Castle of Nokstell, Eternal City. To reach this talisman, players must take the elevator down from Ainsel River Well located east of the Church of Vows Site of Grace at Liurnia. Make your way past the Uhl Palace Ruins to reach Nokstella, Eternal City.
Head north from the Nokstella Site of Grace to find steps leading up to the main Castle. Players will find a bridge guarded by a giant ball enemy—defeat it and enter the building on the right. Here you will find the Moon of Nokstella Talisman hidden inside a treasure chest. Nokstella will be one of the underground areas players can unlock quickly during the early phase of the game, after defeating Godrick.
Related: How to defeat Dragonkin Soldier of Nokstella in Elden Ring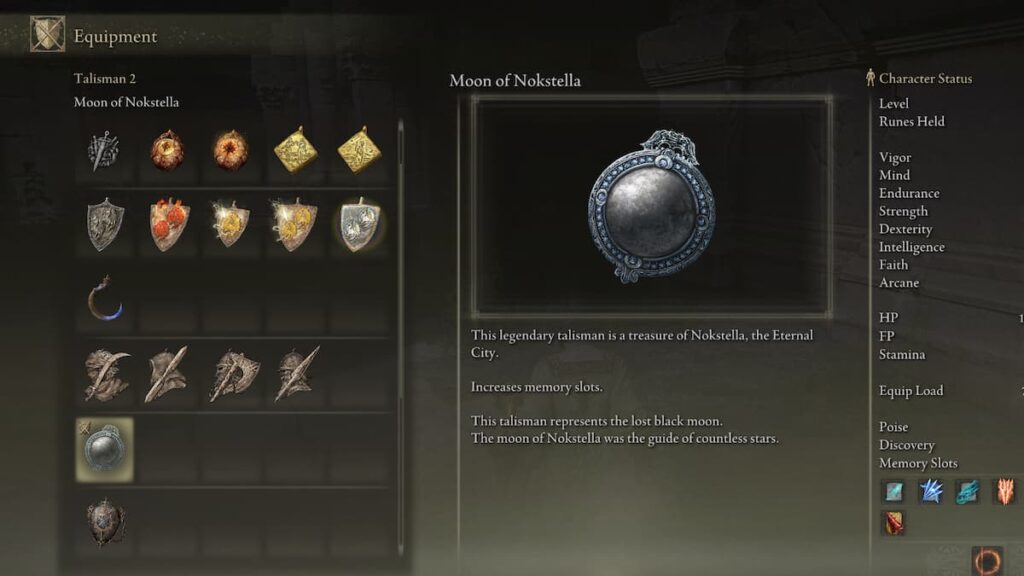 The Moon of Nokstella can be sold off in exchange for 2000 Runes, but we recommend using this talisman. Players will need to have more Memory Slots to perform higher-level Sorceries and Incantations.
Equipping this item adds two extra Memory Slots for more Sorceries and Incantations. If players are running a Faith, Intelligence, or Mind build, then this talisman will be the key to having more magic in their arsenal.
Wondering where to restore Rykard's Great Rune? Check out How to reach the Divine Tower of West Altus in Elden Ring? on Pro Game Guides.