Our Fortnite Baller Guide will walk you through where to find, how-to use, and some tips and tricks on getting the most out of this newly added vehicle to Fortnite! The Baller is an interesting new addition as a vehicle, and most people no doubt remember it from Jurassic Park. It's a fairly slow vehicle on its own, but once you master the ability to plunger swing around, you can pick up quite a bit of speed.
This is a pretty interesting vehicle, but I'm not sure it will see much legitimate play unless you are playing just for fun. The Quadcrasher and Driftboard are better vehicles for traversing large swaths of terrain due to their ability to boost in the air and cover a lot of ground. While you can get some pretty good distance with The Baller, you won't be able to travel nearly as far with it compared to those two vehicles. However, The Baller is a better vehicle for attacking and closing distance against enemies. It can take quite a beating and unlike the other two vehicles, it doesn't leave you open to enemy fire.
How-to Use The Baller
The Baller has a few different controls that you'll need to know. The first is the Boost option, this gives you a short burst of speed and can be used pretty frequently. The cooldown seems to be as long as the boost lasts, so be sure to jam on the boost key. The second is the Shoot/Retract option. This fires out a plunger towards where ever you are aiming at the time. You need to hold this down to stay connected and you will be pulled towards the plunger. If you let go, then the plunger will retract and return to you and you can fire it again immediately. The third button is a bit different then the others, and is only available if you have sent out your plunger and are grappled to something. This one is called Extend. What this does is gives you more cable to work with while you are connected to something. You can then let go of the Extend key, and the line will retract and bring you to the plunger. This can be used to whip yourself around objects in certain situations.
Baller Locations
If you want to jump into a ball, you'll find them at the bigger outposts pretty much guaranteed.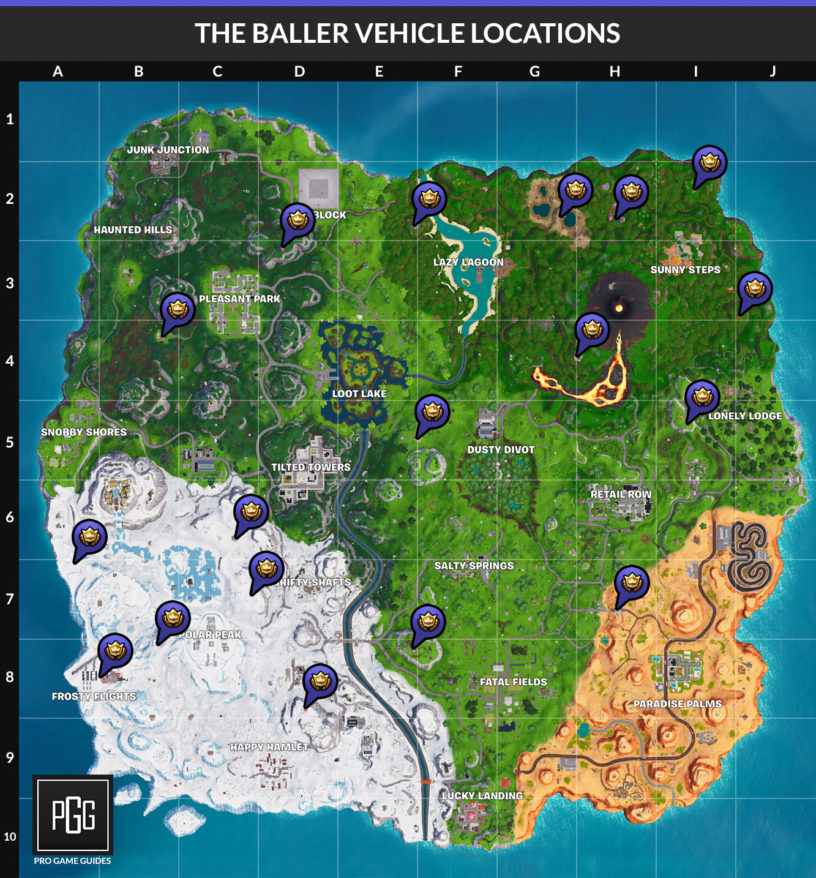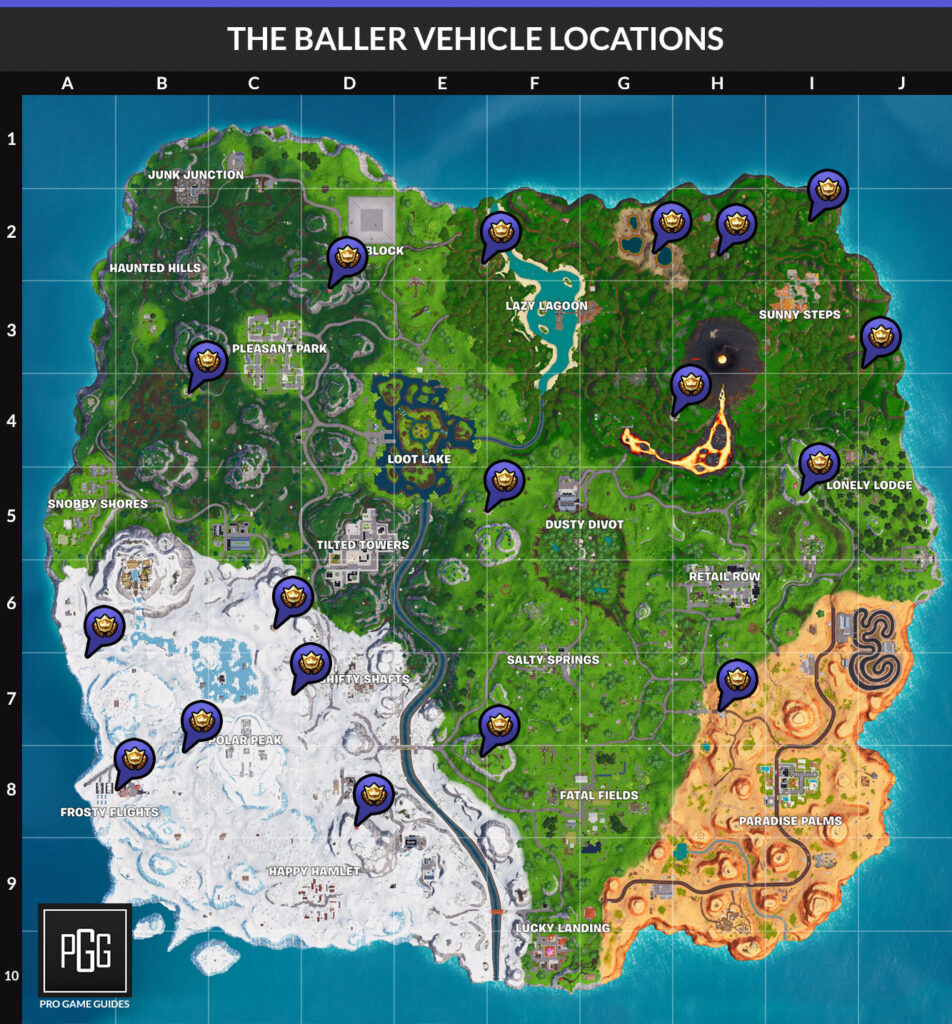 The Baller Tips & Tricks
The ball will start showing crack as it takes damage. This is important to take note of if you are having to damage down someone in a ball.
There's no way to deal damage to a player that is inside the ball.
You don't take fall damage while inside the ball.
You do take damage from the storm while in the baller.
You can't grab weapons or things you have to interact with to loot, but you can rollover stuff like ammo, resources, and traps to pick them up.
While you technically can't jump in these, but when you hit your boost it will pop you up a bit.
You can grapple onto a lot of different things and that includes enemies, teammates, and players occupying other Ballers. You can even grapple onto a teammate, have them jump into a cannon and fire themselves out and go along for the ride! While this isn't exactly a practical use of the vehicle, it's still an awesome thing to do for fun!
Ballers do damage to structures and enemies if you are moving quickly enough. If you are close to a target and hit the boost you will deal damage to it. If you can swing around and gain a bunch of momentum, you'll be able to deal more damage to the target.
The plunger can be used repeatedly and immediately once it retracts. You can swing from tree to tree and get a bunch of momentum, or just make crazy plays by swinging awkwardly around structures.