It's time to celebrate Fortnite Battle Royale's third birthday! This event will add some changes to the game, as well as bring some new challenges that you can complete to earn yourself a spray, wrap, emoji, back bling, and get some XP for your Battle Pass. According to the leaks, it looks like these challenges are pretty much the same as the previous year's tasks, and you largely get similar rewards. However, getting some pretty easy free cosmetics is nothing to scoff at!
Fortnite Battle Royale was released on September 26th, 2017, so you can expect that will be right around when these challenges are available. Epic didn't originally celebrate the birthday of the release of BR, so these events were a bit all over the place for when they'd happen or not. It looks like now that STW is getting less support, Battle Royale is going to be the mode that will receive all of the birthday love going forward.
Fortnite Birthday Challenges List
Here's a look at the Birthday Challenges you can complete to earn the rewards:
Play Matches (10)
Dance in front of different Birthday Cakes (10)
Outlast Opponents (500)
Gain health or shield from Birthday Cake (50)
If you weren't around for the birthday events in the past, then you likely aren't familiar with how they went down. Well, large birthday cakes are going to be placed around the map. You'll see slices of cakes in front of them that you can eat that will replenish your health and shields. These are also the cakes that you will want to dance in front of to get credit for the challenge! There will be at least 10 of these cakes, so knowing where to go will be important. We will have a map available as soon as they are added to the game.
Birthday Cake Locations Map
You will need to head to the 10 different birthday cake locations that can be found across the various POIs. Here's a map displaying where you will need to go!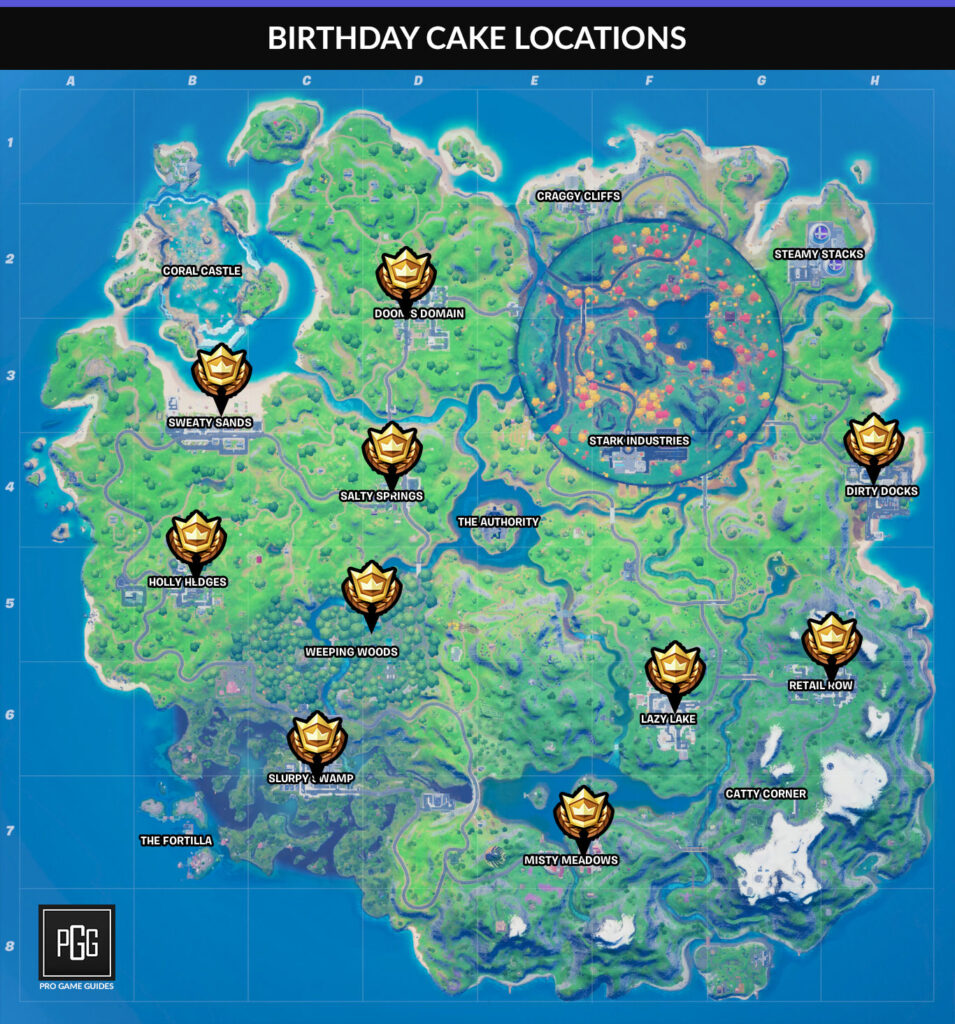 Login Reward
You will get yourself the Take The Cake emote for free just for logging in during the event.
Fortnite 3rd Birthday Rewards
Here are the cosmetics you can earn during the Fortnite 2020 birthday event. The fourth challenge gives you XP, but once you complete all four challenges you will earn the Cake! Back Bling.