XP Coins are back, Fortnite fans! They have disappeared for a few Seasons, with plenty of people wondering and asking where they were. And all of a sudden, they sprung back into the game, and they should be here to stay until the end of Chapter 2 Season 5!
Fortnite Chapter 2 | Season 5 | Week 11 | XP Coins Locations
There are 10 XP Coins located over the Zero Point map each week, and they come in four different colors, Green, Blue, Purple, and Gold. The XP received from finding these coins depending on the rarity they are colored, so getting the Gold XP Coin will net you a lot more than finding the Green Coins.
Out of the 10 XP Coins on the map, four are Green Coins, three are Blue, two are Purple, and only one Gold Coin. For those who remember the Blue Coins, you no longer need to break an object to locate them; they all now spawn in water.
Green Coins are worth 5000 XP
Blue Coins are worth 6500 XP
Purple Coins shatter into multiple coins but in total are worth 10,300 XP
The Gold Coin is worth 15,000 XP
Total: 75,100 XP
Below you can see the Zero Point map, with all 10 locations on. The circle of the radar is what color the XP Coin will be. Thanks to Fortnite GG for the use of the drawing function.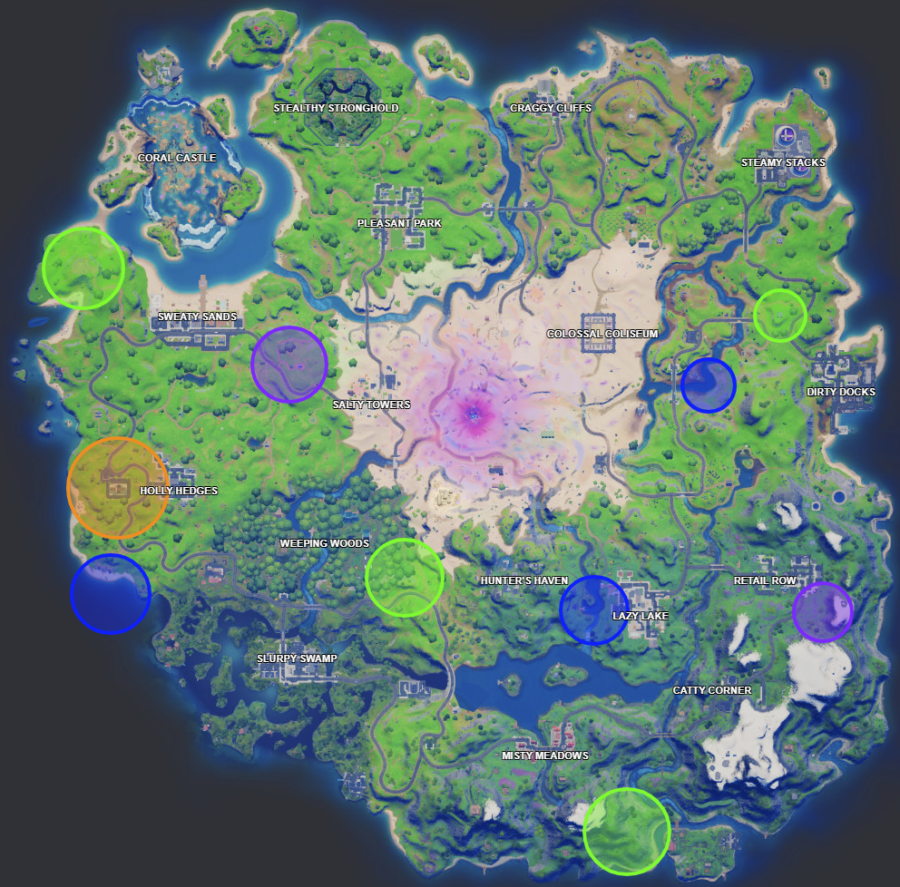 Green Coin Locations

Coin #1— Head to Fort Crumpet, southwest of Coral Castle.
Coin #2— The second Green Coin is located on a hill, north of where the road begins to curve, southeast of Weeping Woods, and east of Hunters Haven.
Coin #3— On a mountain, slightly to the southeast of Base Camp Foxtrot POI, or southwest of Camp Cod.
Coin #4— Head to the Pylon to the northwest of Dirty Docks.

Blue Coin Locations

Coin #1— Head to the Rainbow Rentals POI, northwest of Shanty Town, and in the water just to the south is the Blue Coin.
Coin #2— To the west of Lazy Lake is a dock; in the water is a Blue Coin.
Coin #3— Head to Green Steel Bridge, which is just to the northeast of The Razor Crest. In the water to the east of the bridge is the Blue Coin.

Purple Coin Locations

Coin #1— Between Sweaty Sand and Salty Towers is a decrepit house. Just to the west of his house is the Purple Coin.
Coin #2— Just to the southeast of the southern entrance to Retail Row, there is a lone tree next to a hill.

Gold Coin Location

Head to Viking Vessel, west of Holly Hedges, and the Gold Coin is located inside the ship.
Head on over to our Leaked Skins page and see what will be coming in the future. The full list of information is here at our Fortnite Chapter 2: Season 5 Guide – Challenges & Information article!