We're taking a look at some tips for Fortnite Chapter 2: Season 1 (Season 11)! There's a ton of new stuff that has been added, we'll be going over what you should know before you head into the game. I'm also hoping to add a few additional bits of information that you might not know just yet.
Fortnite Chapter 2 Tips & New Additions
I'm going to rattle off some interesting tidbits about the big new patch that was recently added to the game. If you've got something I didn't cover here that you thing everyone should know about, leave a comment below!
Fishing is Actually Useful
Believe it or not, fishing is a pretty good thing to do in Fortnite. This is a recently added mechanic that requires you to find a fishing rod, and then toss out your line to catch fish, weapons, or resources! There's two fish in particular you will want to find. The first one is the Flopper, it heals you for 50 hp immediately and only takes 1 second to consume! The best fish, however, is the Slurpfish. This is an epic rarity fish that gains you 50 effective health immediately (same consume time as the Flopper). Now that Slurp Juice is gone, the Slurpfish is the new hotness in terms of healing.
If you want to get yourself some of those fish, you'll need to make sure you fish in an active fishing spot. These are the foamy areas you'll see in the water, you might even see some fish swimming around them!
Avoid Fall Damage by Jumping Into a Hideout
Hideouts are a new addition to the game, they allow you to hide inside of certain environmental objects around the map. You can jump into dumpsters and haystacks which will keep you completely hidden. You can then wait for an opponent to happen by and jump out to hopefully get a quick elimination. Keep in mind that when you jump out, there's a bit of a delay to bring out your weapon, so make sure they aren't aware of your presence. These hideouts can be destroyed, so don't think you've got an impenetrable disguise.
As for the tip, you can jump from any height and land in one to avoid fall damage! This isn't always practical, but it could be useful if you happen to be near a haystack or dumpster and you are running out of options. You don't have to press a button, you will just enter it automatically!
Gain Shields and Heal in New Ways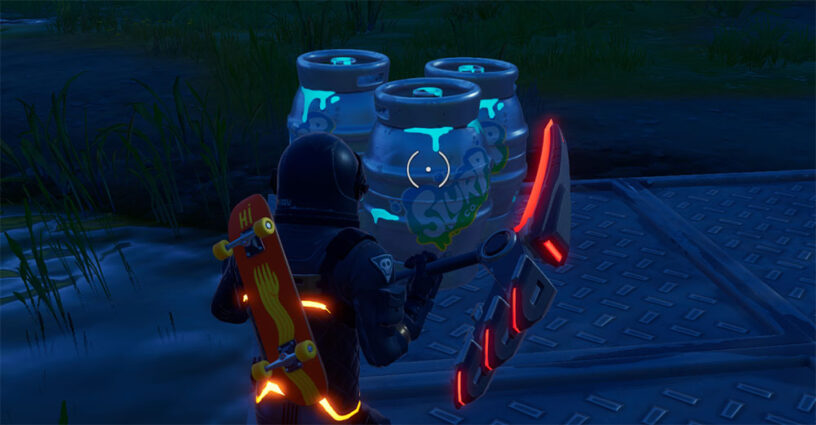 There are some new environmental ways to gain health and shield. One of them is pictured above, you'll find Slurp barrels around the map, particularly at the factories in Slurpy Swamp. You can bust these open, and for each of them you break you will gain 10 effective health. There's also additional objects around that contain Slurp, so look for anything that has the signature blue slime on it and break it for some healing!
If you take a look at the Slurpy Swamp area on the map, you'll notice some bright blue highlighting that looks like Slurp in the river. Well, this is Slurp runoff from the plant, and while that's kind of depressing, it's good for you in-game because you can wade around in it for some healing and shield! You will slowly gain health/shield by standing in the blue liquid, so if you're nearby, feel free to take a swim.
Look for Improved Chests & Ammo Boxes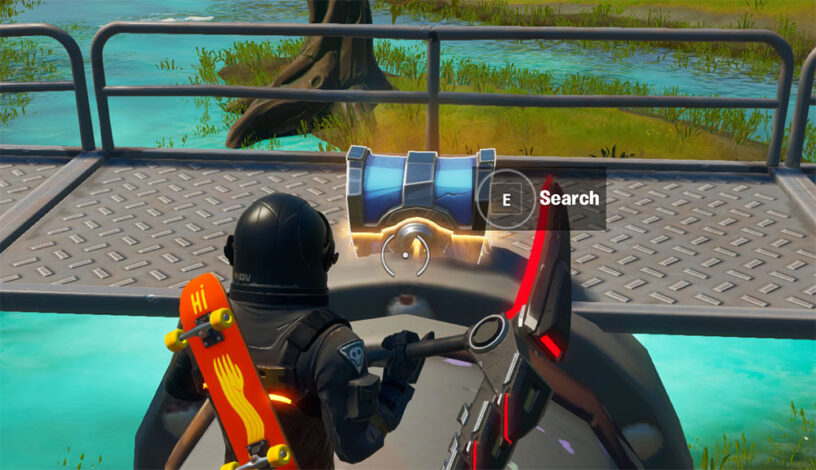 There are now improved chests and ammo boxes in Fortnite. The chest will give you an epic or legendary weapon pretty much guaranteed! The ammo boxes give you a great deal more ammo and sometimes healing or shields.
Break Structures Below Chests & Ammo Boxes for Quick Loot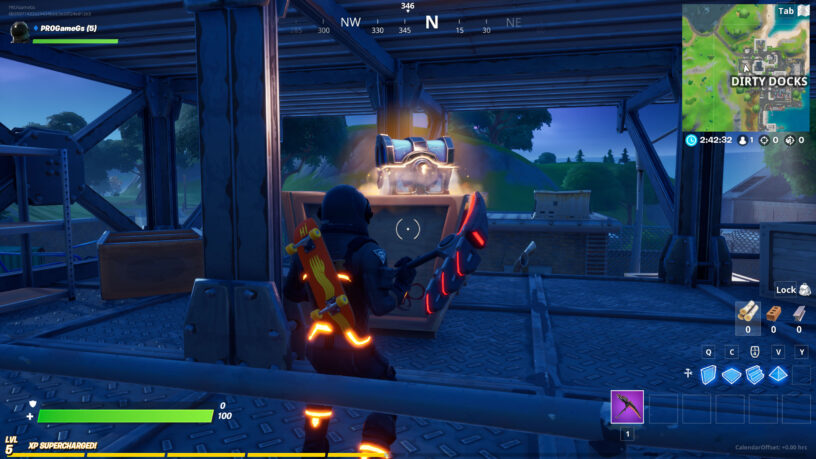 This was added pretty recently, so you might already know about it. However, if you're returning to the game, it used to be a big no-no to break below a chest because it would disappear. This is no longer the case, and it is actually better to break the structure below it! If it's a weak structure, you'll just instantly break it and the loot will drop out faster than it would have if you had opened it. If it's not weak, it still might be worth breaking it just for harvesting purposes!
Harvest Materials From Player Built Structures!
This is a great new addition to the game, you can now harvest materials from player built structures. This was not the case at all in Chapter 1 of Fortnite, so you can now make use of this if you are low on materials.
Boats Work On Land
Motorboats are now in the game and they are great for traveling around the map. You would think they'd be pretty bad on land, but they are actually not as slow as you'd think. Now, I wouldn't make it a habit to take them on the road, but if you need to cross an area on land to get to some additional water, it's not too bad of a trip.
Swimming is Surprisingly Fast
Yes, there's now swimming in the game! Before, all the water was only knee deep apparently, so there was no need to swim. Those days are over and you can now paddle around the map if you desire. If the water is moving, you will go slower if you attempt to swim upstream, so be aware of that!
Loot Has Been Streamlined
Epic has done a great job taking out a lot of the crazy items from the game and streamlining the loot pool. There's a good mix of weaponry right now, so if that was putting you off from the game, you will be happy with what has been done in terms of loot.
You Can Upgrade Weapons
Another new addition to the game is Weapon Upgrade Stations. These are spots where you can select a weapon in your inventory and pay materials to have it be upgraded to the next rarity level. The higher the rarity of the upgrade, the more it will cost. I don't see this being super useful, but if you've got a surplus of materials and some weak weapons, it might be worth doing!
You Can Carry Teammates and Enemies!
One of the pretty interesting things they added was the ability to carry a player on your back. Now, you might be used to doing that with your friends, but you can literally do it in the game now. This isn't just for teammates though, you can grab opposing players and fling them off of high places or just kidnap them for fun!
Use the Bandage Bazooka
The Bandage Bazooka is one of the new items you can find in the game. It's very unique because not only can you fire healing off to your teammates, you can shoot it at the ground and heal yourself as well! This can be quite useful, but it does have one big downside. The Bandage Bazooka takes up two slots in your inventory, so you're really going to need to find it useful to keep it. There's one more thing you should know about it as well! This gun recharges its ammo passively, giving it unlimited ammunition. It does take sometime to recover the ammo, but you don't have to get rid of it after you hit 0 on your magazine.