Our Fortnite Fishing Guide will quickly teach you all you need to know about this new mechanic! You'll learn how-to fish, why you would want to fish, and a list of what unique items you can find by participating in this new activity. I know fishing seems like an odd thing for a battle royale, but it's worth picking up a rod and trying it out due to the useful loot you can find!
NEW: Mythic Goldfish
The new Mythic Goldfish might actually be in the game. It was found by iOllek on YouTube, but it's unclear if it was glitched in somehow or it is just incredibly rare. You can hurl this item at enemies and it will deal 200 damage to them.
How-to Fish
You'll need to find yourself a fishing rod first. Those can be found pretty much all over the map, including in treasure chests! Any area that has a dock or looks like you'd want to fish there will likely have a fishing rod nearby. They spawn in the world in barrels you can open, and you'll see them leaning up against walls.
Once you've got your fishing rod, you'll need to select it in your inventory. It takes up a spot like most weapons and items. Find some water and then press and hold your fire button. You'll get a range meter that allows you to target where you want to place your bobber. Release the button and you will cast your line towards the spot you targeted!
Catching Fish & Items
Once you've cast, you will need to wait for the little bobber at the end of your line to dip under the water. Once it does, you'll want to hit your fire button again and you will reel in what you caught! If you wait too long you'll lose whatever you had caught, so make sure to press the button right after!
There's two ways to fish, you can fish at an active location or in calm waters. You are more rewarded for fishing in active locations because you can get fish that give you health/shield and pretty high quality weaponry. However, you can also get some decent stuff just fishing the water normally.
Active Locations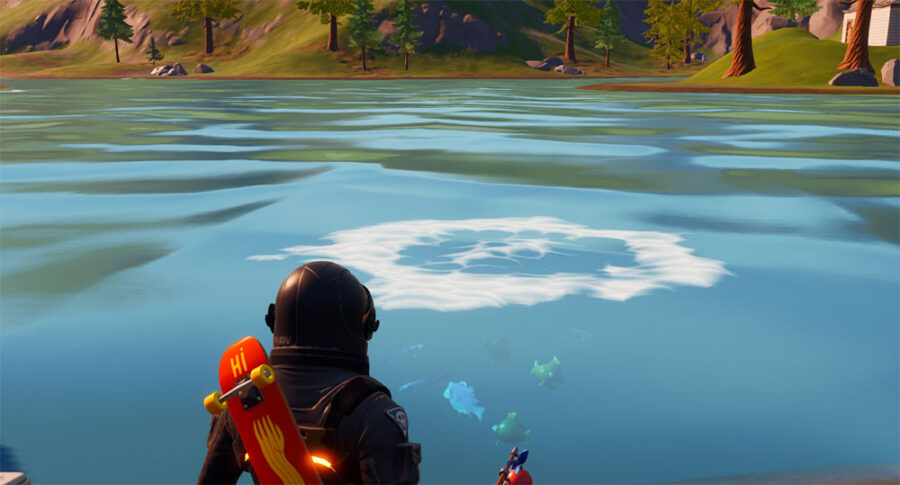 Above displays an active location you can fishing at! The white churning water and fishing swimming around give the area away. You can catch two different fish types and get rare or better quality weapons! Active fishing holes will be consumed after you've caught a certain amount of items from them. The number is random, it can be anywhere from 1 - 3 items per active area.
You can absolutely get Legendary weapons by fishing these spots, but it is pretty rare and shouldn't be something you're expecting to find consistently.
Calm Waters
You can also fish in calm waters! It probably isn't worth it to do this, but you can catch common fish as well as random resources (Wood, Brick, or Metal), common weapons, and random ammo. You can also get a Rusty Can that you can hurl at people for 20 damage if you can hit them with it.
Fish List

There's currently four types of fish you can catch. The higher rarity fish can mostly only be caught from active fishing holes (I'm pretty sure I've gotten a Flopper from open water), and the common fish can be caught in general waters. Each of the consumable fish has a 1-second consume time which makes them some of the best options for healing and gaining shield in the game.
Mythic Goldfish (Legendary) - Super rare item that can be thrown at an enemy to deal 200 damage.
Slurpfish (Epic) - Heals for 50 effective health. It's basically like the old Slurp Juice, but it heals you instantly. If you have full health it will give you 50 shields, or if you are partially missing health it will heal you to full up to 50 and give the rest to shields.
Flopper (Uncommon) - Gives you 50 health.
Small Fry (Common) - Heals for 25 health, up to 75 health. Pretty much the same as bandages. You can carry 6 Small Fry in a stack!
Fishing Tips
Try to find a spot that isn't out in the open. I would focus on active fishing holes and not bother fishing in calm waters.
You can move while you have your line cast, so do this as much as possible so you don't get sniped!
Slurpfish are really good. So, if you're a serious player, you are going to want to have a stack of these heading into the late game.
You can cast your line on a friend or enemy and if you hit them with it, you will pull them towards you. This has some very fringe usages, but it would be possible to pull someone out of their build or out of danger.