Well, this was supposed to be in the week 8 challenge of the battle pass, but instead has been moved to week 9 to make room for dance floor locations. If you are ready to get your snack on, we've got all of the taco shop locations on the Fortnite map below!
Taco Shop Locations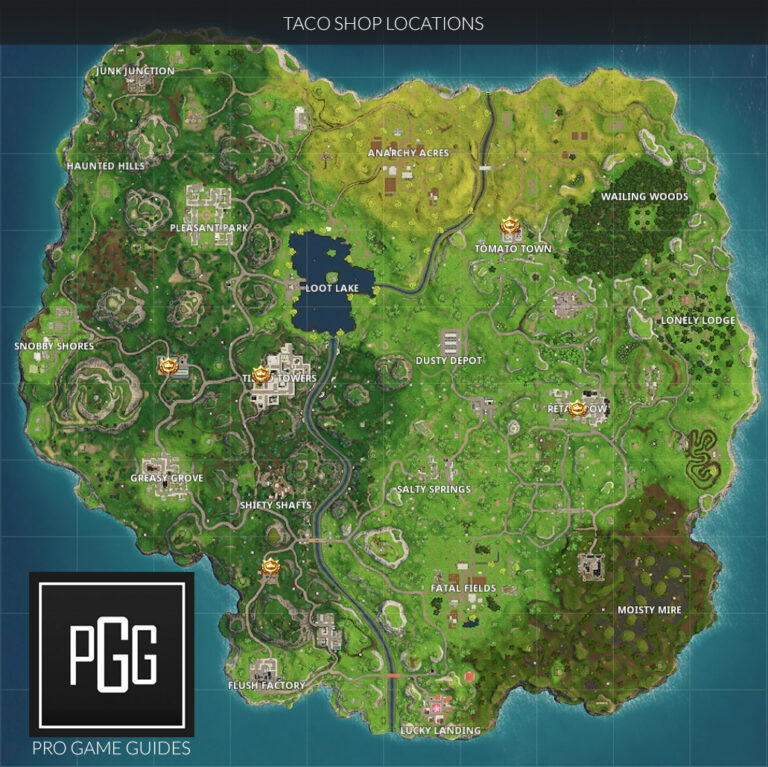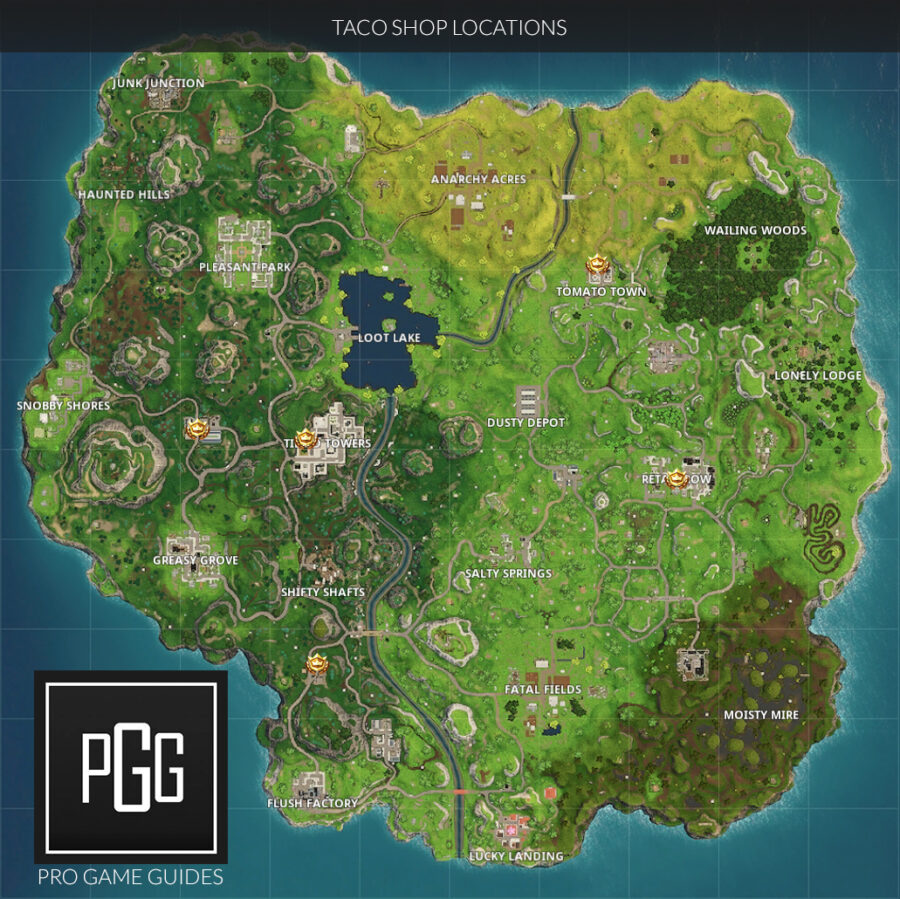 West of Tilted Towers: This Taco Shop is right near the soccer field that's located to the west of Tilted Towers. It's a stand alone shop in the middle of the area.
Tilted Towers: The shop that is actually in Tilted is to the very west of the town located north of the courtyard.
South of Shifty Shafts: This is a small area with another stand alone taco shop. You can land at Flush Factory if you want to play it safe and run up from there. These first three are going to be the shortest route to completing the challenge.
Tomato Town: North of the big tomato is a free standing taco shop!
Retail Row: Probably the most famous of the five taco shops is the one in Retail Row. Retail is pretty popular, so I wouldn't make this your first stop on your taco run.
Check out our Fortnite Season 3 Battle Pass Challenges Week 9 Guide!
Fastest Taco Shop Route
You are going to need to get to three of these locations in a single match. The most obvious and fastest route will be landing yourself south of Shifty Shafts, head up to the soccer field to the west of Tilted Towers, then make your way to Tilted Tower itself and hopefully not get eliminated in the process. I would do it in the order I've listed because you will be less likely to run into any enemies if you go to Tilted as your LAST destination. It should be pretty cleared out by the time you get there, and you can pretty much sneak your way in if you are careful.
An alternatively safer route, would be to go to Tomato Town, and then head south to Retail Row. After that you can make your way to the location that is south of Shifty Shafts. Tomato Town is a very low pop landing spot, and Retail gets cleared out and people move on to the middle of the map. You should keep to the east when heading to Retail to avoid people crossing over in that direction. After that go south west and stay in-between Salty and Fatal so you avoid anybody camping those areas. The area below Shifty Shafts you should be relatively safe as long as the circle isn't centered on it.