Our Fortnite consumables guides covers items like Apples and Mushrooms that you can find around the map that will either give you health or grant you shields! These items are referred to as "foraged items" by Epic, and in the future it looks like we might get stuff like hamburgers or other drinks you can find in different places on the map.
I'm not sure that hop rocks technically fall into this item category, but I will be listing them because they share a lot of the same characteristics.
Fortnite Foraged Items List
Here's a list of items you can find in the game that can be consumed currently!
Apples
Apples were the first consumable that gave you either or health or shield. Each apples gives you +5 health all the way up to 100 hp. These are great for topping off your health if you only had bandages or are lacking the healing to get yourself to 100.
Where-to Find Apples
Apples can be found on the ground around some trees. They are usually around the trees with the bright green leaves and kind of twisted trunks. They can be a relatively rare spawn, so you won't always find them in the same places or you might not even see one for an entire game. They aren't in the trees and you can't knock down a tree to find apples.
The amount of apples around a tree appears to be random. There can be one or two, or there can up to four or five!
How-to Use Apples
When you find an apple on the ground you can use your use key to eat the apple and it will give you 5 health. It takes about a second to consume, so you will be slightly vulnerable while doing this so be on your guard. You can't consume an apple if you already have 100 hp.
Hop Rocks
These items were added at the beginning of Season 4 of the battle pass. They are more of a flavor item that coincide with the meteor hitting dusty depot (divot) and are likely not going to be a permanent addition to the game.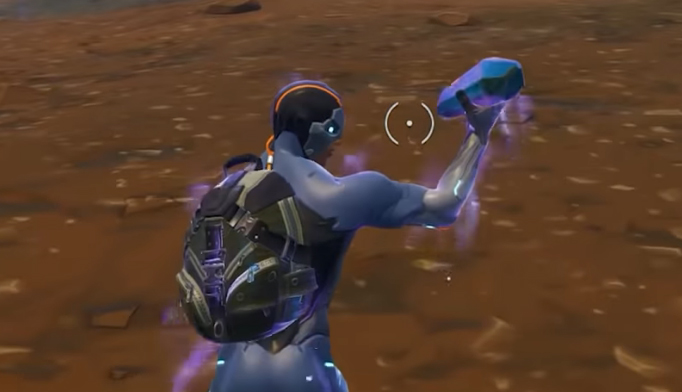 When you consume a hop rock, you get a jump boost that last 30 seconds. You travel much farther, higher, and faster than you normally would when jumping forward. You are NOT faster when running normally, only when jumping. You will NOT take fall damage while under the influence of these, but if it runs out when you are in mid-air you will fall down like a ton of bricks and take damage. You will know this is coming when your character's purple aura starts flashing.
Hop rocks do NOT stack, but if you are under the influence of one and then use another one it will reset the length of time you can use the aura.
If you jump on a launch pad when on a hop rock you will launch REALLY high and kind of awkwardly float a bit.
Where-to Find Hop Rocks
The most obvious place to find these is in Dusty Divot, there are tons of them scattered around in the crater. Any area that has a crater will usually have these, but as the weeks go by in season 4 the map is evolving and the hop rocks can sometimes be found in the back of big trucks.
How-to Use Hop Rocks
Like the rest of the consumables, all you'll need to do is find these on the ground and then hit your use key. They take about a second to use and last a full 30 seconds. Be careful when running up to grab one of these, if someone is watching you with a sniper they will wait for you to grab it and pop you while you are stationary. It can pay to be a bit cautious when grabbing these or throwing up a wall if you haven't checked an area of the map.
Mushrooms
Mushrooms are the natural progression after the release of apples. These will give you +5 shield for each one you consume all the way up to 100.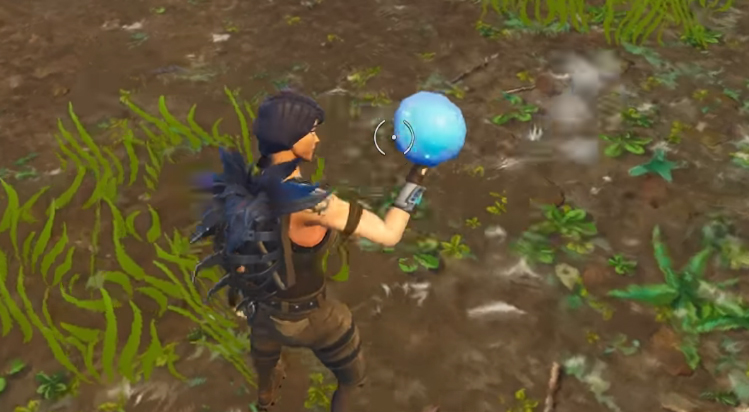 Where-to Find Mushrooms
The official word from Epic is that these can be found in "shady wooded or swampy areas". This obviously points to Wailing Woods and Moisty Mire. You will find them on the ground and around trees, there can be quite a few in a single area. These can also spawn directly onto trees, so look for that bright blue color when foraging around for these.
How-to Use Mushrooms
Once you find these on the ground, all you have to do is run up to one and press your use key. It takes about one second to consume and instantly gives you the 5 shield. You can't consume a mushroom if you already have 100 shield.
Leaked/Datamined Consumables
These were discovered via datamining by the Fortnite BR Leaks Twitter. They aren't necessarily going to be in the game for sure and we don't know exactly what they will do even if they are going to be in the game. So take the following with a grain of salt!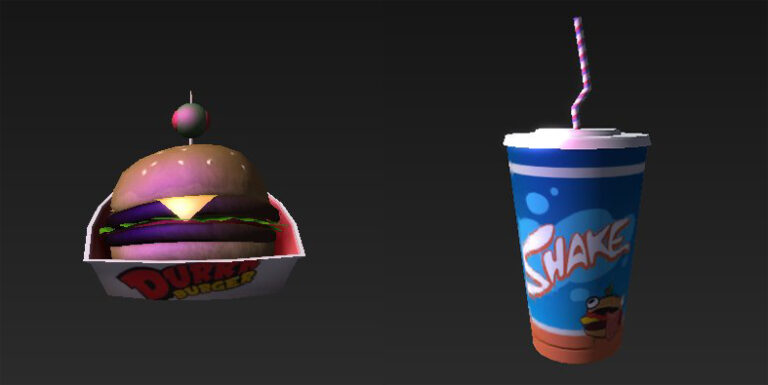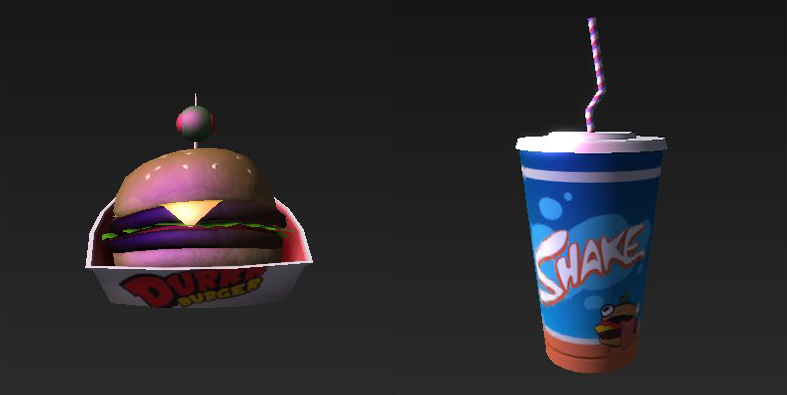 Cheeseburger (Durrr Burger)
I have to imagine this would just be like the apple but found in the restaurants across the map. You'd likely find these in Tomato Town, Greasy Grove, Retail Row, and Tilted Towers. You might even find them in houses in kitchens or on dining tables!
Milk Shake/Soda/Drink (Durrr Drink)
The drink would likely be for shields, and have all of the same likely spawn points as the burger. These could be more scattered, you are more likely to carry a drink to random places than you are a cheeseburger!