It's week 3 of the Season 3 Battle Pass for Fortnite Battle Royale and we've got a bunch of new challenge to tackle! Check out our guide below that will walk you through them, including the different Bullseye location as well as where to find the treasure from that map in Snobby Shores!
Season 3 Battle Pass Challenges Week 3 Guide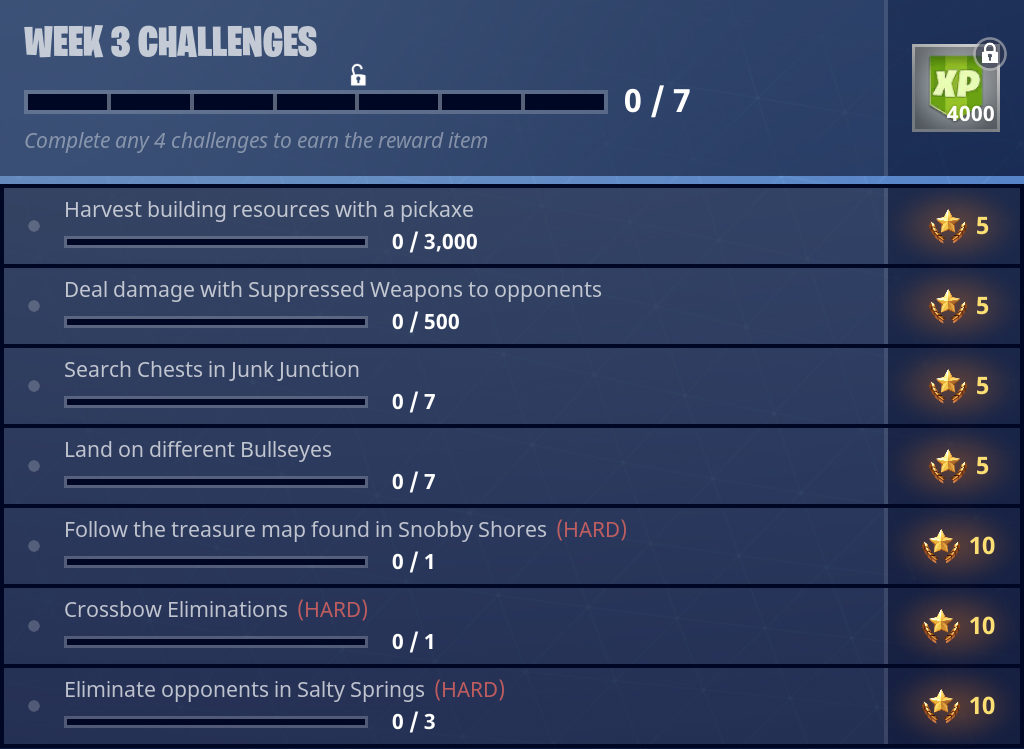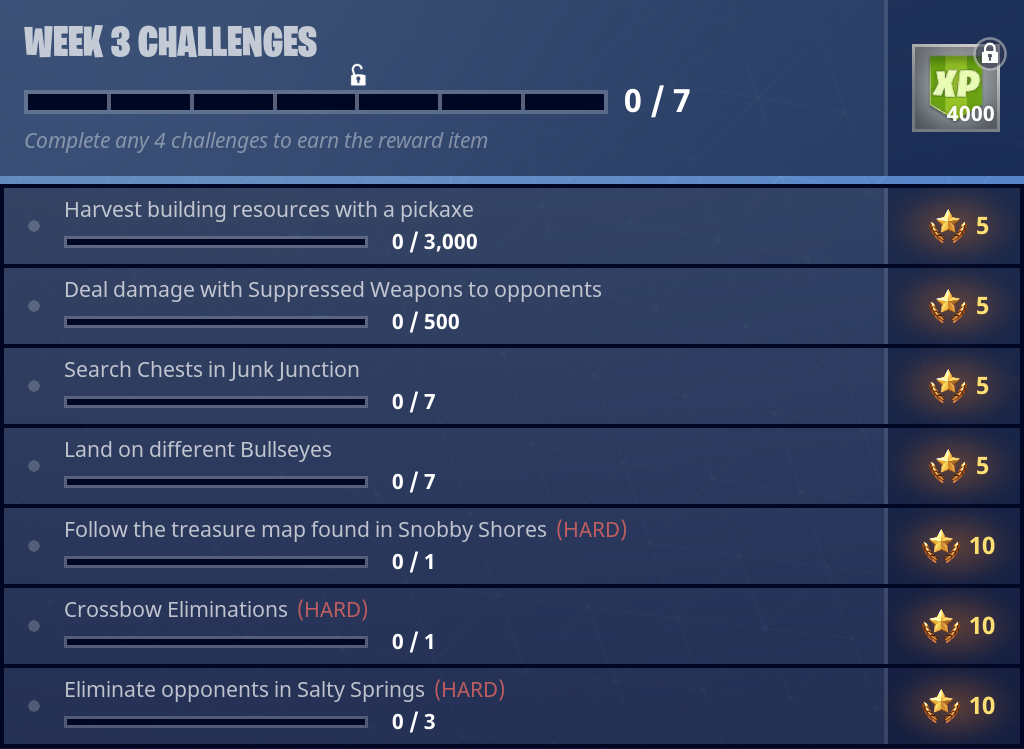 Harvest building resources with a pickaxe
This is obviously a very easy one, just hack away at trees and boulders to gather resources quickly and easily. Don't forget to hit those yellow wood palettes that are scattered around Tilted Towers!
Deal damage with Suppressed Weapons to opponents
The Suppressed Pistol and the Silenced SMG are going to be your options to complete this challenge. I actually really like the Pistol on an unsuspecting opponent, and the Silenced SMG is actually not that bad at mid-range where the slower rate of fire isn't so painful.
Search Chests in Junk Junction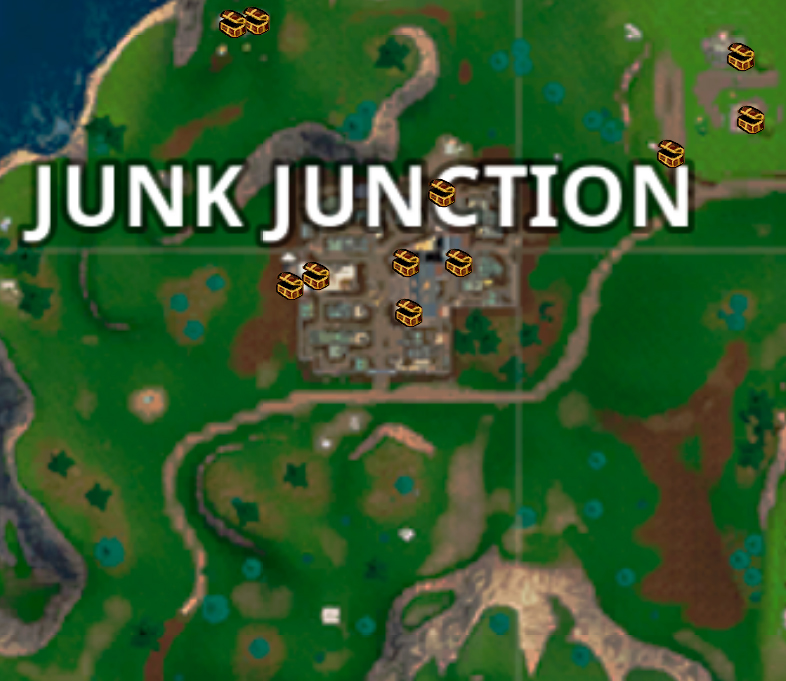 This should be less annoying than the one in Misty Mire, but it's going to be hectic for the first couple of days. My recommendation is to wait a few days, and then queue into squad games with no-fill. I found this method to be helpful when I was farming up the Mire chests! Screenshot is from here.
Land on different Bullseyes
This is a new style of challenge we haven't seen yet. You can actually see these when you jump from the bus, but you just have to land on the red markers that are very obvious on the map. If you get a launch pad, you can use it and land in the designated areas which will count as a landing. Here's a map from @LootLakeBR's Twitter that displays all of the locations!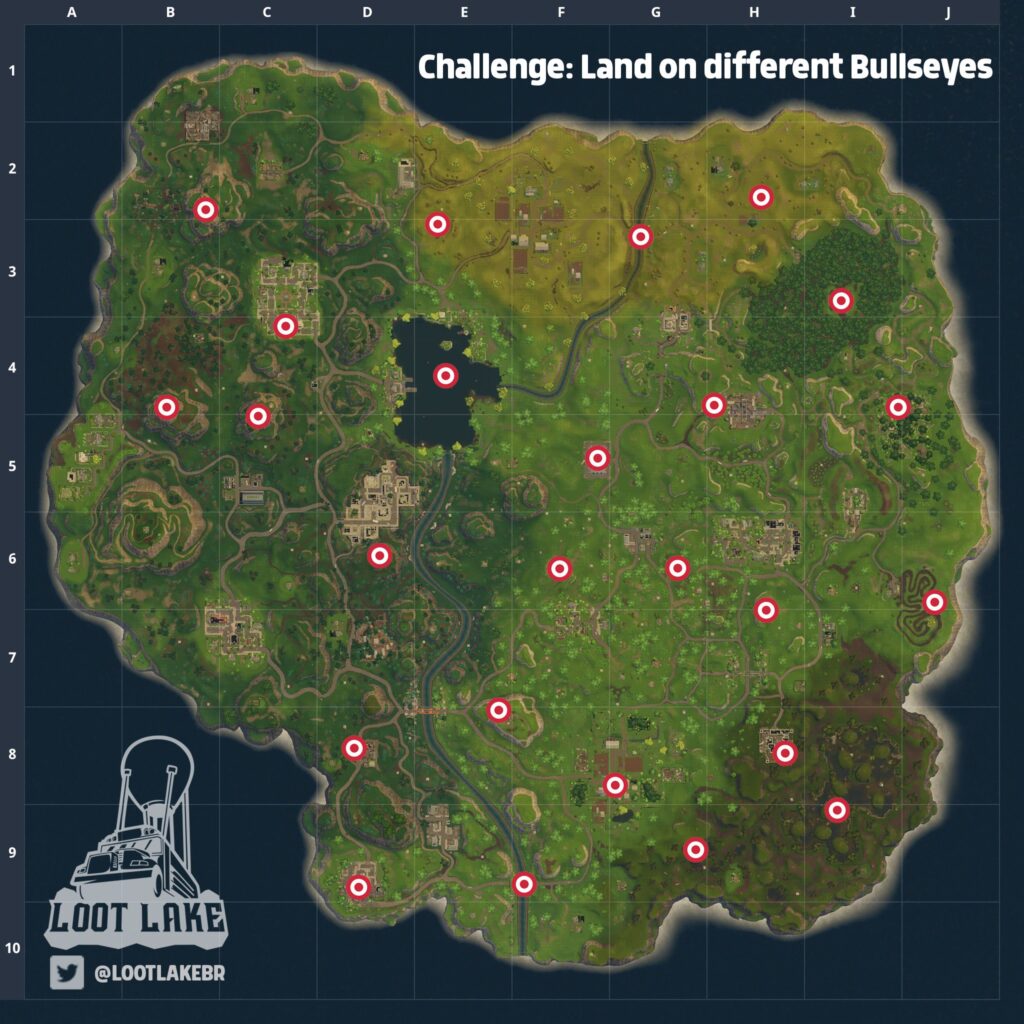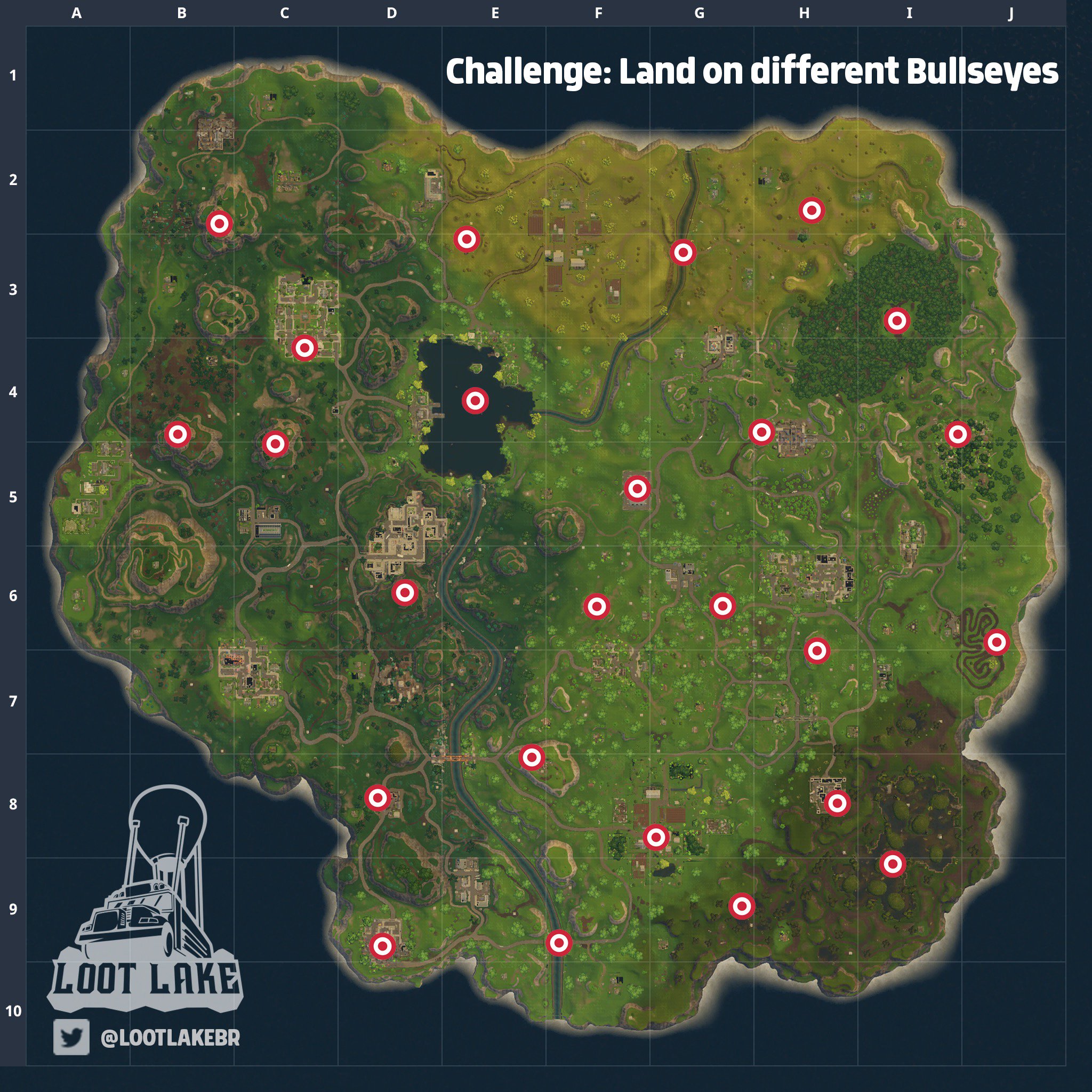 Follow the treasure map found in Snobby Shores (HARD)
No need to go to Snobby Shores, just head to the follow location on the map and you'll be able to finish this challenge. You might have to run around a bit to get the little gold icon to pop up, but once it does you just hit your use key on it and it will complete the challenge! Thanks again to Loot Lake on Twitter!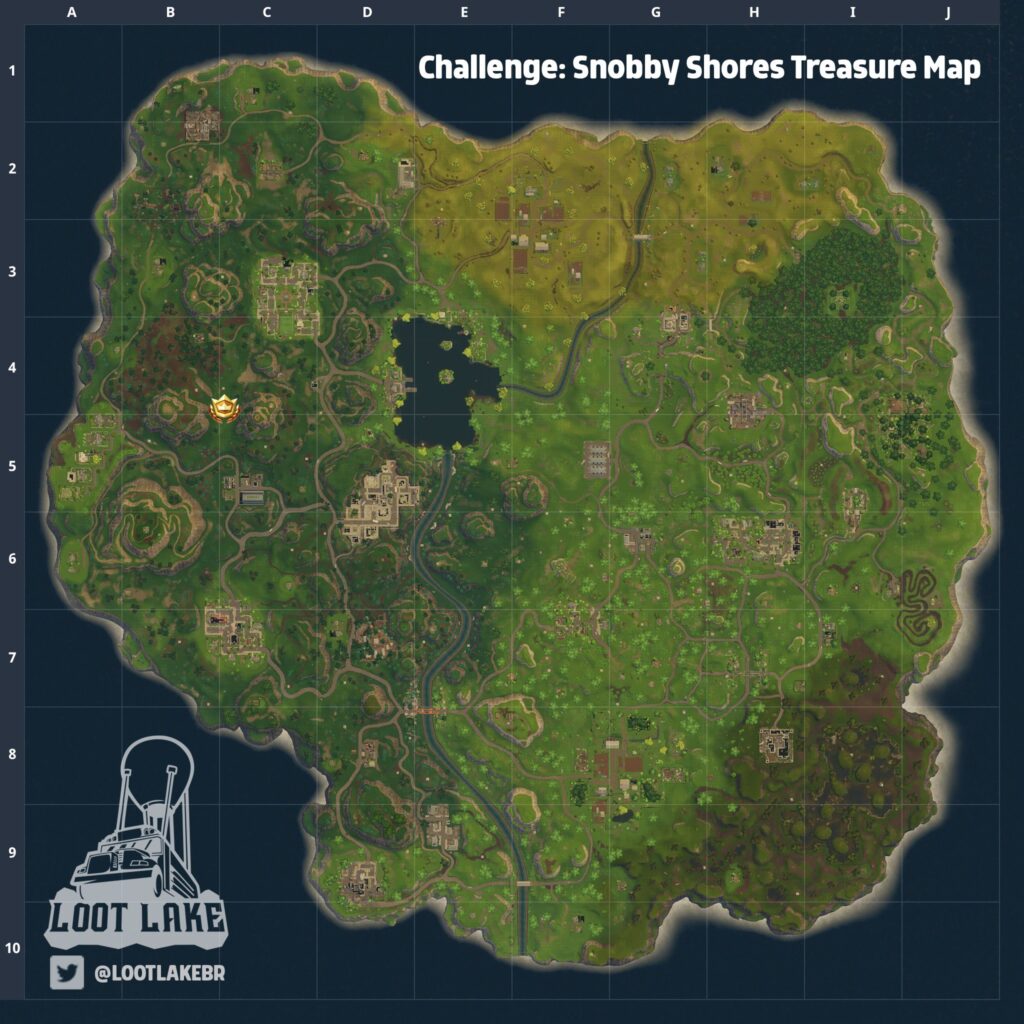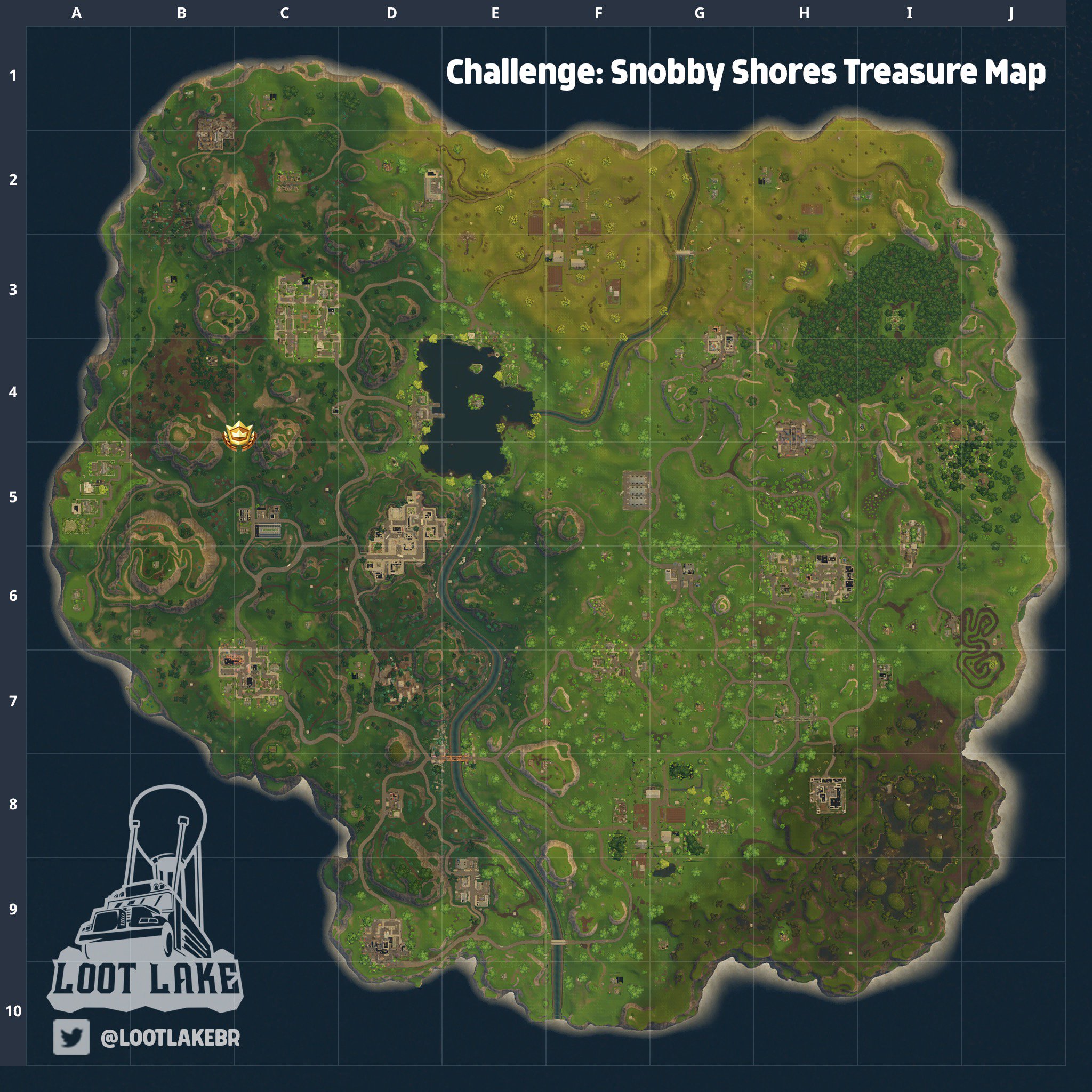 Crossbow Eliminations
This was originally two eliminations, but they dropped it to one shortly after it was released. An easier way to do this, is to play duos or squads and knock someone with another weapon and then finish them with the Crossbow! However, you can just work on your archery to also complete this challenge.
Eliminate opponents in Salty Springs
Pretty straight-forward, not much to see here. Salty isn't a great landing spot, especially when there's a bunch of people landing there. You could land at factories (this is what we call it, it's unnamed on the map) which is north east of Salty Springs. You can get a bit of loot (there's also a house or two along the way) then head to Salty afterwards to get some kills. Make sure you are actually in Salty when getting the kills, you don't want them not to count!