I hope you've been keeping up with your challenges, because week 4 of the season 4 battle pass is upon us! Just like every week, we've got a full guide on how to complete these challenges! Take a look below at what this week has to offer!
If you don't know already, it's important to finish each of the weekly challenges in season 4. If you complete each of the weeks, you will eventually unlock a mystery legendary skin via the Blockbuster Challenges!
Season 4 Battle Pass Challenges for Week 4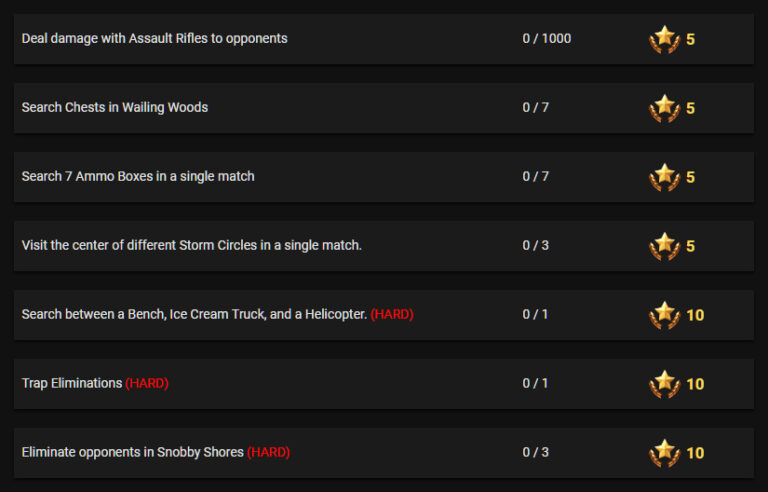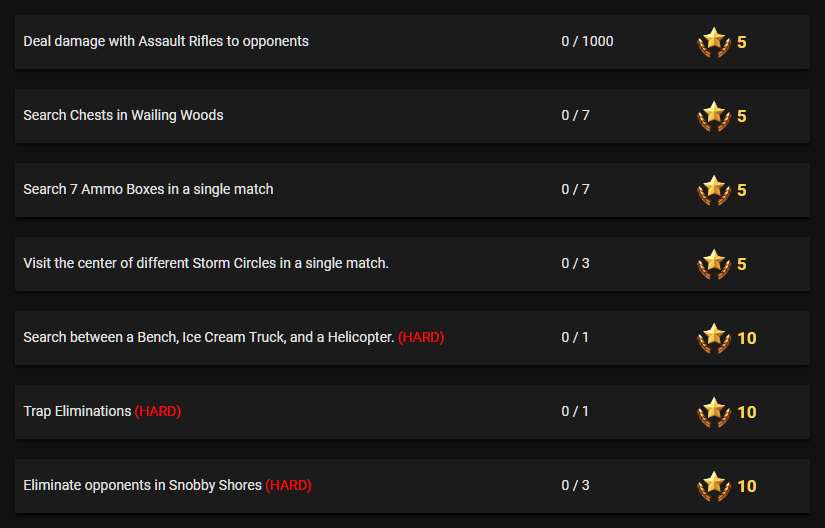 If you haven't already, be sure to complete your Week 3 Challenges! Also, check out our full overview of Fortnite Season 4!
Deal damage with Assault Rifles to opponents
Should be pretty easy although this is a lot of damage to deal. You could pretty much get this just by playing your normal game and not doing much special. If you want to get better with ARs, check out our Assault Rifle Tips Guide!
Search Chests in Wailing Woods
The infamous Wailing Woods chest challenge is back. This was pretty notorious when it came around the first time because there's so few chests around Wailing Woods. It ended up with a ton of games needed to be played and fighting off tons of players just to hopefully get a single chest each round. Hopefully they've increased the spawn rates on these chests or it's going to be more of the same.
Wailing Woods Chest Locations
Search 7 Ammo Boxes in a single match
This one could be a bit interesting, ammo boxes can be easy to ignore and they are obviously going to be looted more often with this challenge. If you land in some low population areas, you should be able to clear this one up pretty easily.
Visit the center of different Storm Circles in a single match.
To complete this challenge, you will need to go to the center of each circle (white circle on your map) three different times in a match. This one might be pretty difficult if you have multiple people heading for it, so you might want to hold off on doing this if you don't want to get into a lot of battles. The absolute center of the safe zone will have a purple marker place at it, and all you need to do is run near it and you will get credit for it!
Search between a Bench, Ice Cream Truck, and a Helicopter. (HARD)
You will find this treasure location right in Moisty Mire. There's a busted helicopter in the movie set location, a sunken ice cream truck to the east of that, and a bench to the west of it. In-between those three things you will find the treasure on a dirt patch that I've marked below!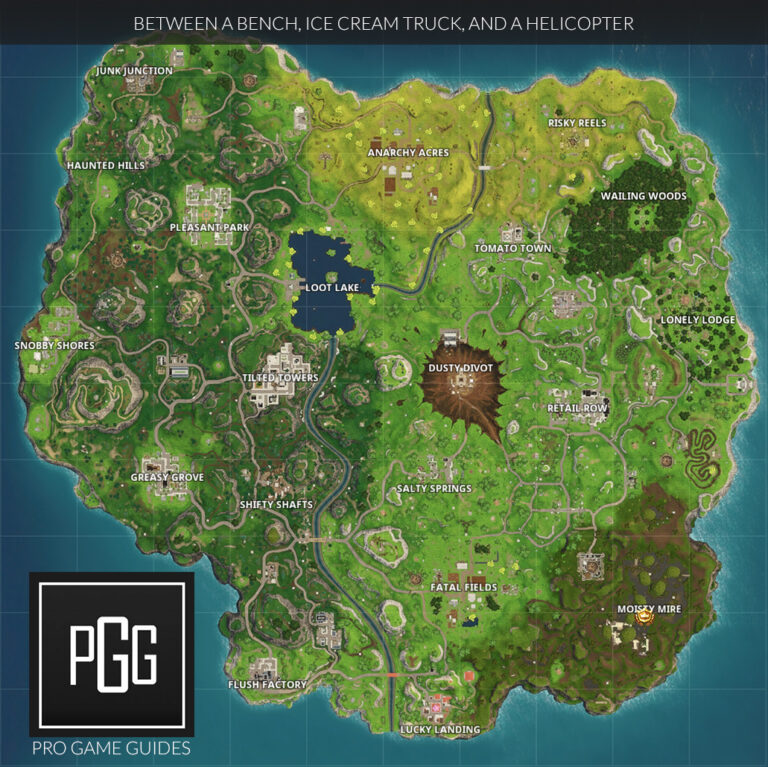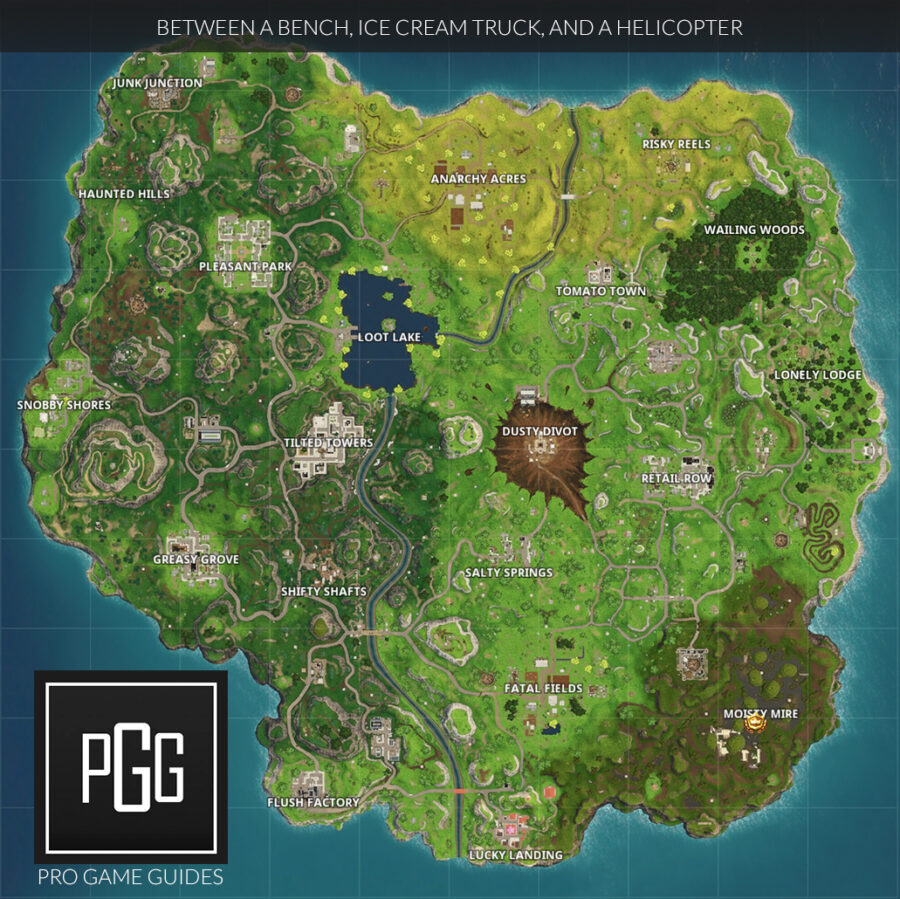 Trap Eliminations (HARD)
They actually just recently nerfed traps down from 125 to 75 damage. This challenge is going to be pretty difficult, so the best way to do this is to knock someone in a squad game. Shoot them or pickaxe them down a bit, and then lay a trap down to finish them. This should complete the challenge for you! Otherwise, try to lay traps in populated areas and hope someone runs into them!
Eliminate opponents in Snobby Shores (HARD)
Snobby Shores is a pretty good landing spot if you want low population and a high concentration of loot. This will be obviously a bit more popular now that we have this challenge, but it's a strong spot to land and learning it will be good if you want to branch out from your typical landing areas.
Week 4 Hidden Battle Star
Once you've completed all of the above challenges, you will get a loading screen that reveals a hidden battle star!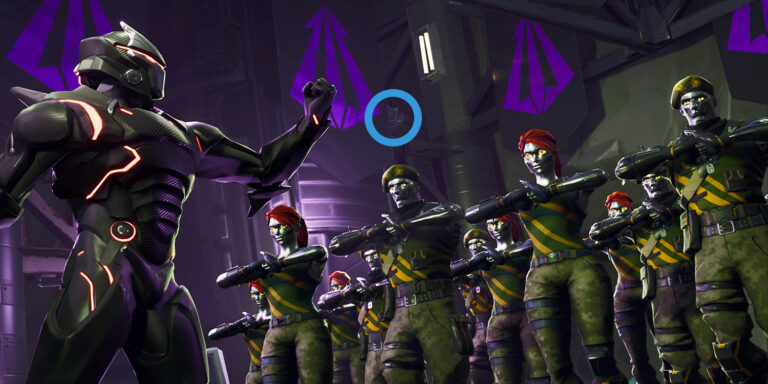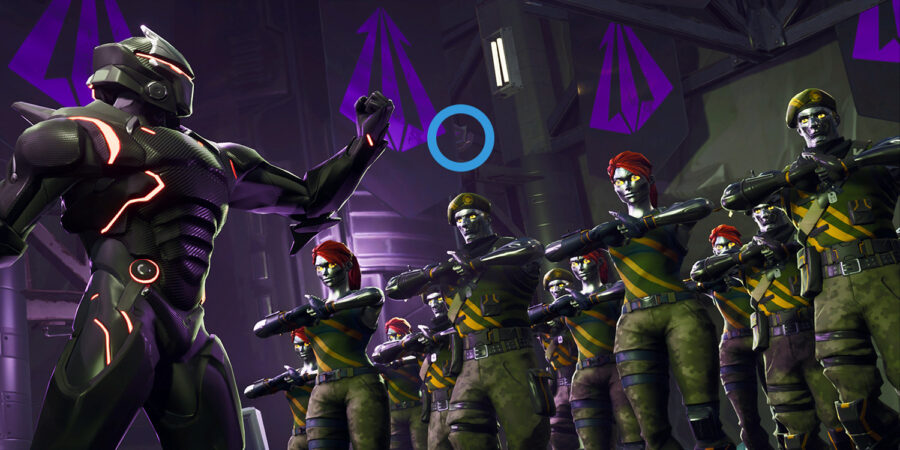 The battle star is located near the rocket inside the lair and you will likely need to ramp up to get to it!