We're taking a look at how-to get Fortnite's Minty Pickaxe! This thing is causing a bit of a craze in the community, so we're looking to clear up some of the confusion so that you can get one.
Minty Pickaxe Release Date
The official release date of the Minty Pickaxe was November 6th, 2019. You can purchase any of the officially licensed Fortnite merchandise in-store to receive one while supplies last. Check with your nearby stores to see if they are participating and if they still have them available!
What Countries Is It Available In?
The Minty Pickaxe is a promotion code that is going to be given away at select retailers in the US, Canada, United Kingdom, Ireland, France, Germany, Italy, and Australia/New Zealand. These codes will be given to people for free who have purchased an officially licensed Fortnite product in-store (while supplies last). Here are the stores you can find them in based on your country:
United States

GameStop
Amazon 4-star/Amazon Books retail stores
Target

Canada

United Kingdom

GAME
Hamleys
Smyths
GameStop

Ireland

France

Germany

Italy

Australia/New Zealand
How-to Get a Code
The official way to get a code is to purchase a licensed Fortnite product in-store at a participating location in your country. You will then either receive a card, or the code will possibly appear on the receipt. Make SURE to call and ask if the store you're planning on going to has them available.
Are They Still Available?
Yes, they are still available! You will want to call the listed stores in your country to verify if they are giving them away.
How did People Get Them Early?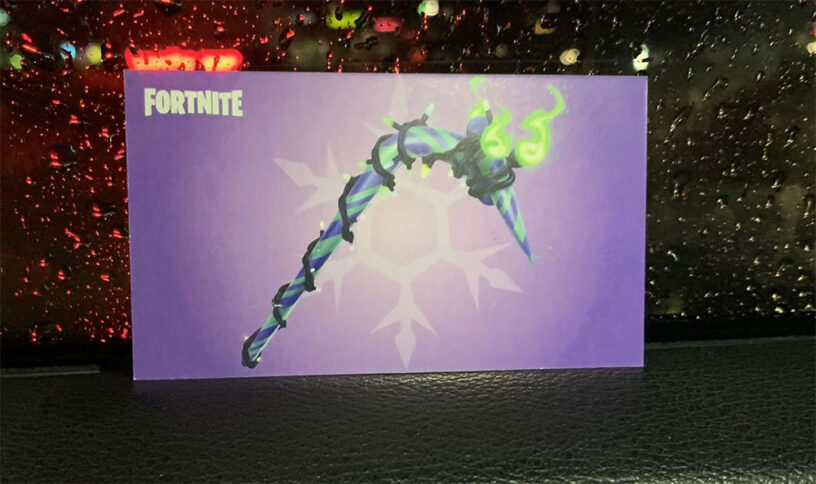 Minty Code Card - Credit: XotOcean
The codes you were seeing floating around were mistakenly given out to people who visited some select GameStop locations in the US.
I Redeemed a Code and Didn't Receive Anything!
You will need to contact Fortnite Customer Service if your code did not work for whatever reason. I have seen people mention a bug where they entered a code and it didn't work, so make sure to contact Epic if you are having trouble.
Do not beg for a code in the comments!