Our Fortnite How-to Refund Skins features the exact method you'll need to utilize to return a skin or other cosmetic item if you've purchased something you didn't mean to or want. These refunds are limited or are for a limited time, so make sure you pay attention whenever you make a purchase or you might regret it!
If this guide has helped you, consider using our Epic Creator Code for your next purchase: ProGameGs (Using this codes gives us a portion of the sale!)
What Can Be Returned?
The majority of cosmetics you purchase from the item shop can be returned for a limited time or with a refund token.
Outfits
Back Bling
Harvesting Tools
Gliders
Contrails
Loading Screens
Emotes
What Isn't Returnable?
There are currently some things you can't return, so don't purchase any of these unless you're set on what you want!
Battle Pass
Battle Pass Tiers
Starter Pack
Founder's Pack
Founder's Pack Upgrades
Loot Llamas (Save the World)
Event and Weekly Items (Save the World)
Returning Fortnite Skins & Other Cosmetics Guide
There are two ways you can refund a skin or other item. One is extremely limited and the other has a very short time-frame with which you can do it in. I'll go over each method, just remember do not attempt to utilize these too often!
Cancel the Purchase

If you've accidentally purchased a skin or cosmetic you can cancel it as long as you stay on the cosmetic screen. DO NOT LEAVE THIS SCREEN! Look for the button on the bottom right-hand side of the screen, it should say Cancel Purchase. Press that and you will be refunded your V-Bucks!
You have a very limited time to cancel the purchase (under 5 minutes or so), so if you are debating about keeping it or not, it's just safer to cancel it and think about it for a while. Most skins and cosmetics end up back in the shop, so you will likely get another chance to purchase it down the road.
Limited Option: Lifetime Refund Requests
You are limited to using this three times over the lifespan of your account! So, only use this option if you are absolutely sure you don't want the cosmetic you purchased and you don't have access to the previously mentioned method. You can only refund an item that has been purchased within the last 30 days.
Step 1: Go to Settings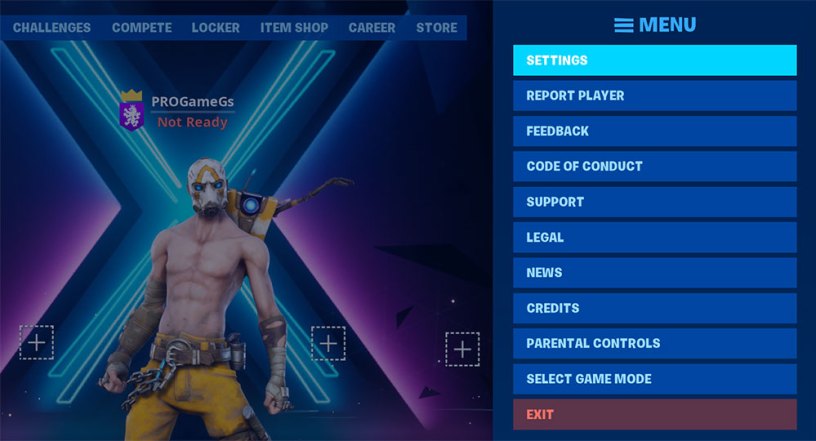 Look for the little hamburger menu (three lines on top of each other) or a gear. This will usually be at the top right of your screen, it might look different depending on what platform you are using. Hit the settings option in this menu.
Step 2: Click the Person Icon

You should see an icon at the top of your settings page that looks like a person. Click on that icon to access the Account Settings page.
Step 3: Submit a Request for a Refund

Look for the area labeled "Lifetime Refund Requests" and you should see the amount of requests you have left with a button. You should also see the following description:
In cases where you unintentionally purchase an item with V-Bucks, you have 3 lifetime Return Requests. Only items purchased within the last 30 days are eligible. Consumable items - such as the Battle Pass, Battle Pass Tiers, or Llamas - are not returnable. Occasionally, some items are returnable without a Return Request.
You'll notice that it mentions that some items are returnable without consuming a request. This is very rare and only happened one time that I can recall. When Epic changed the Plastic Patroller and Toy Trooper skins (they were all green colored, which made them hard to see in certain situations), they allowed players who had purchased either of these skins to request a refund and it did not consume a token.
Press the Submit a Request button (you won't consume a token by doing this).
Step 4: Select the Item You Want to Refund
You will now be shown all of the cosmetics that are eligible to be refunded. Remember, only ones that were purchased within the last 30 days are going to show up! Select the one you want to refund and it will take you to the next step.
Step 5: List the Reason Why You Want the Refund
It doesn't really matter which you choose, just pick the one that pertains to you. Accidental Purchase is probably the safest option if you are for some reason worried they are going to reject your request.
Step 6: Submit the Request

This is the point of no return, so MAKE SURE you can't refund it the previous way I mentioned before going this route. If you're positive on everything, you can go ahead and select the cosmetic and request the refund. The refund should happen right away, and in most cases your token will be consumed!
Contact Epic Support
If you're out of request tickets, you can always contact Epic Support to explain your situation. This might not work and is a long-shot, but if you've truly accidentally purchased a cosmetic, they might be willing to grant a refund.