We have heard murmuring of Epic experimenting in the past with the idea of bringing some kind of subscription service to Fortnite. While this never materialized, it looks like they are possibly working on something new. In a survey that Epic Games has sent out, participants were asked if they would be interested in a monthly subscription service that would potentially give you full access to Battle Passes, early access to a free new skin pack, and 1,000 V-Bucks each month. While these aren't set in stone, they are a few examples of what might be available!
Epic will sometimes send off surveys to gather opinions on the current state of the game and possible future updates. Another one of these surveys was sent out recently, and with it had an interesting question in it. That question was "Based on what is presented above, please select what you believe is included in this monthly subscription?" The image above is what was shown, so clearly Epic was trying to gauge if the advertising of the potential deal was on point enough for people to figure it out. Here's a look at the listings that were shown, as well as giving you the option to rate the subscription: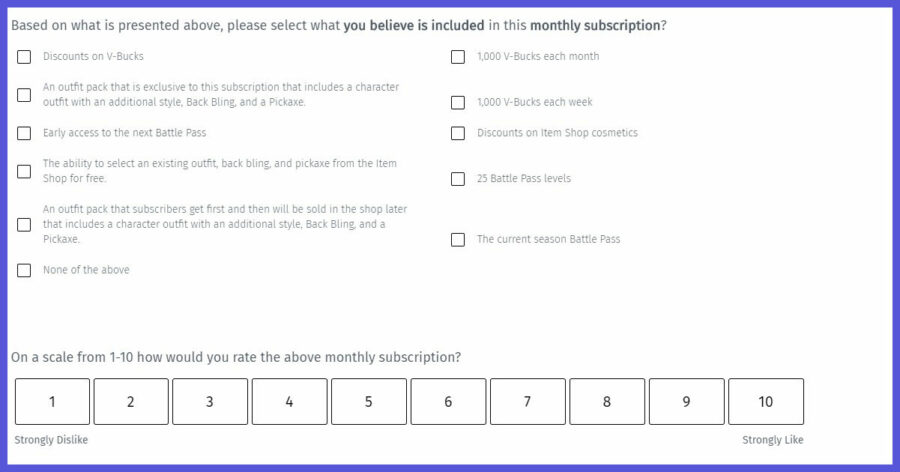 The deal would include the full Battle Pass, a Monthly Crew pack that would give you early access to a skin pack that includes an outfit + style, back bling, and pickaxe, and 1,000 V-Bucks each month. This could possibly cost you $15.99 USD a month. That was the price that was suggested as an option.
In the original send out of this survey, a possible new skin was shown that will likely be released at some point in the future:
That eventually fixed it to shown Ghost Rider, so that seems like they didn't mean to show off the skin in the original image! A monthly subscription would obviously bring in plenty of money to Epic, but would it be worth it to the players? We'll have to wait and see how it all works out!