Our Fortnite Ping System Guide will run you through all the ways to use this important new feature that has been added to the game in Season 8! We're featuring information on how-to use it, controls, and giving you tips to get the most out of it.
Before we get into it, yes this is very similar to the Apex Legends Ping System! It isn't as detailed as that system, but it largely functions in the same way. The main things it is used for is displaying the location of an enemy without having to verbally communicate it, or you can also display where an item is that might be useful to your team. It's a great feature that helps advance teamwork between random players that might not have or want to use a mic. This system is also just flat out better than a lot of verbal communication. Instead of your teammates yelling out things like "THEY ARE RIGHT BEHIND ME!", "THEY ARE ON ME!", "THEY ARE OVER THERE!", you can instead know exactly where they are when they use pings. If you know some people that do this, make sure to encourage them to use pings!
How Do You Ping? What are the Controls?
Unless you've bound the button to something else, the default control for pings is Middle Mouse Button for PC and Left on the D-Pad on Console. Target where you want to ping with your crosshair and press the button for a directional ping. If you want to alert your team about an enemy, you can double tap the ping button to give them a red ping that makes an alert sound. The button can be customized by changing the "Place Marker" key in your settings.
How Long Do Pings Last?
Each time you ping an item or an enemy spot the ping will last for a total of 10 seconds. This is a gift and a curse, because you might get a teammate that is littering the map with pings, so it's good that they disappear rather quickly. Unfortunately, if you point out an item to someone and they are kind of far away, the ping might be removed before they get to the spot. It isn't a perfect system, but it's better to remove pings than leave a bunch around that will clutter up the screen.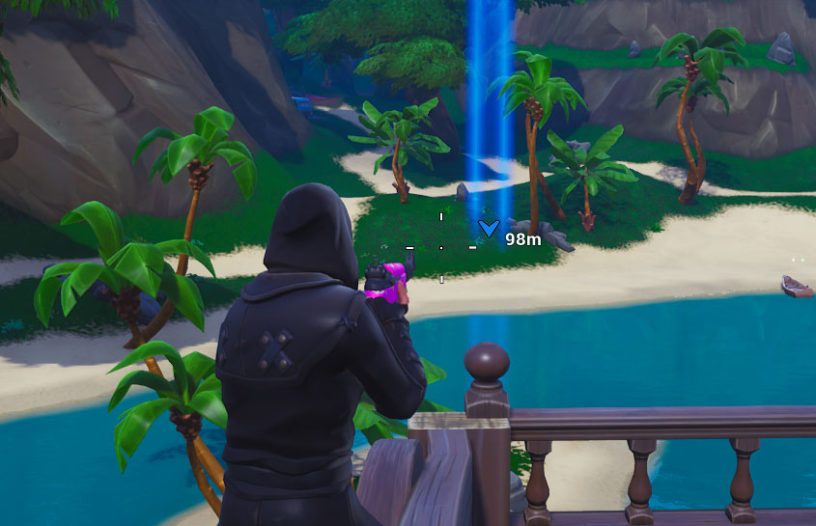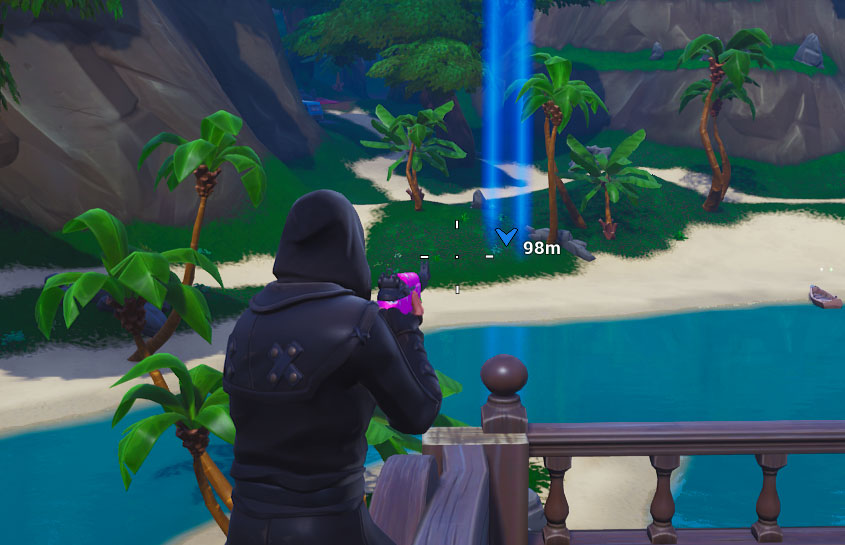 If you do a general ping it will stay on the map indefinitely. This is similar to the pings you do when you open the map and select an area. You can cancel these pings by hovering over them with your crosshair and hitting the ping button.
What Can You Ping?
Just about everything that isn't nailed down! This includes all floor loot (guns, shields, meds, ammo, resources), and other useful things like treasure chests and ammo boxes. Pinging weapons will display the rarity of it by coloring the circle around the icon. Gold is Legendary, Purple is Epic, Blue is Rare, Green is Uncommon, and Gray is Common.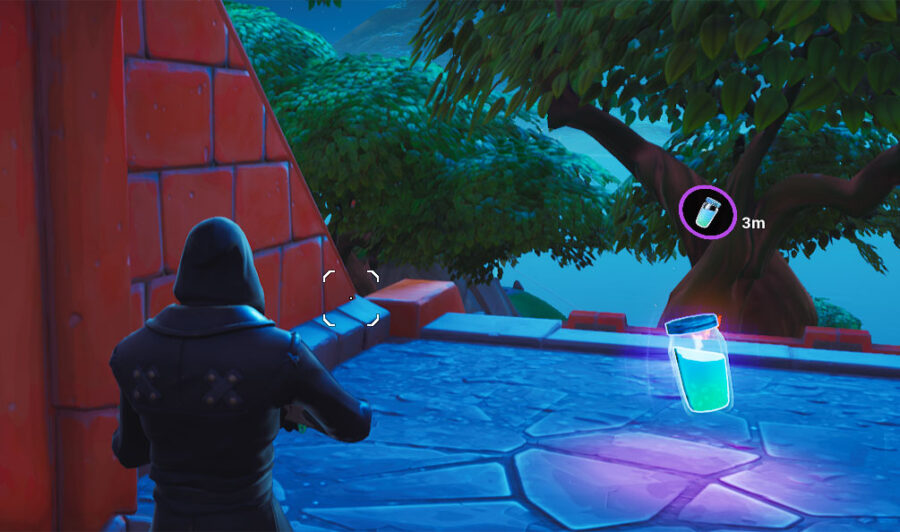 Things you can't ping? Well, technically you can't really ping specific points of interest on the map. Things like the zipline and the new volcano vents can be location pinged but they don't show any specific icon that highlights what you are pinging. You also can't ping vehicles or supply llamas, again you can ping the location but it won't display a unique icon.
General Ping Information & Tips
A location ping will show a beam of light on the map if you are at least 55 meters away from it. Once you get closer than 55 meters, the beam will start to fade and pretty much disappears. You'll still have the little colored area marking the spot, but it's less noticeable.
If the ping isn't in the direction you are facing, you will be shown a colored circle with a diamond inside of it on the side of the screen it is closest to.
If you are aiming (ADS), you can press the ping button once and it will display an enemy ping instead of a location ping. This gives you the ability to ping enemies faster in the heat of battle. It's a bit more useful when you are using an assault rifle or something and you aren't actively taking gunfire and trying to ping someone.
Pings are going to be better than telling someone where a person is located. Trying to give them a compass number and a direction that isn't always accurate is not as good as just putting out a ping. Use the pings regularly so they become part of your normal routine.
That's all for now, let us know how you are liking this new system in the comments!