Time to take a look at where-to find all of the XP Coins in Fortnite Season 4! Grabbing all of these is a good way to gain some extra experience and level up your Battle Pass quite fast. The coins are scattered all over the place, plus you will have to break, drive, and box some of them to make sure you can collect them!
XP Coins appear to be the same so far in Season 4 as they were in the previous season. Green coins can just be collected, Blue coins need to be found within an item that can be broken, Purple coins explode into a bunch of small ones, and Gold coins... well, we don't know for sure yet, but they will likely require you to drive through them in a vehicle!
When Do New XP Coins Come Out?
Coins appear to come out each week along with the fresh set of challenges. This is usually going to be on Thursdays at 6am PT!
Green Coins
Green coins are the easiest because you just need to go up to them and collect it. You will get 5,000 XP for each one you manage to grab.
Blue Coins
Blue coins require you to break a specifically placed item that has a blue flickering light glow to reveal the coin. These can be hard to find, so they are usually the ones that delay any new maps from being made! Each Blue coin will give you 6,500 XP when you collect it.
Purple Coins
The Purple coins will explode into a bunch of smaller coins that you need to pick up immediately or they will eventually fade away. You can prevent yourself from missing out on any by boxing around them and then collecting the smaller pieces. Collecting all the coins quickly in a combo will increase the amount of experience you get, and you can get up to 10,300 XP if you get them all.
Gold Coins
The first gold coin was added to the map in week 3! It looks like there's nothing you need to do special to collect them, so just grab them! Each gold coin will give you 15,000 XP when you collect it, so they are worth seeking out.
Season 4 XP Coin Map Locations
Here's where we will be collecting all of our maps to find yourself the XP coins for the season. We will try to add them as soon as possible, so bookmark this page so you can check it out each week!
Total Amount of Available Coins
If you're curious how many coins are currently available in the game, then here's the list:
20 Green Coins
15 Blue Coins
10 Purple Coins
3 Golden Coin
XP Coins Locations Map Week 5
4 Green Coins
3 Blue Coins
2 Purple Coins
1 Golden Coin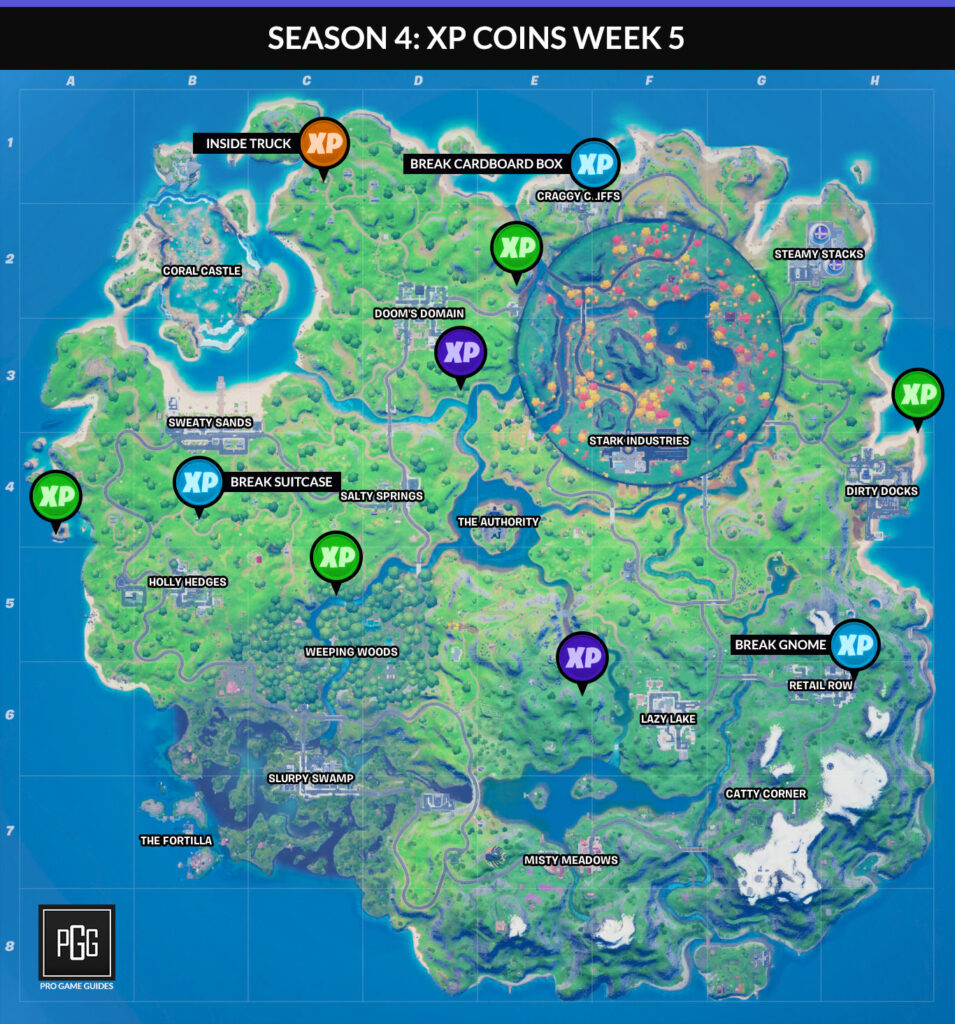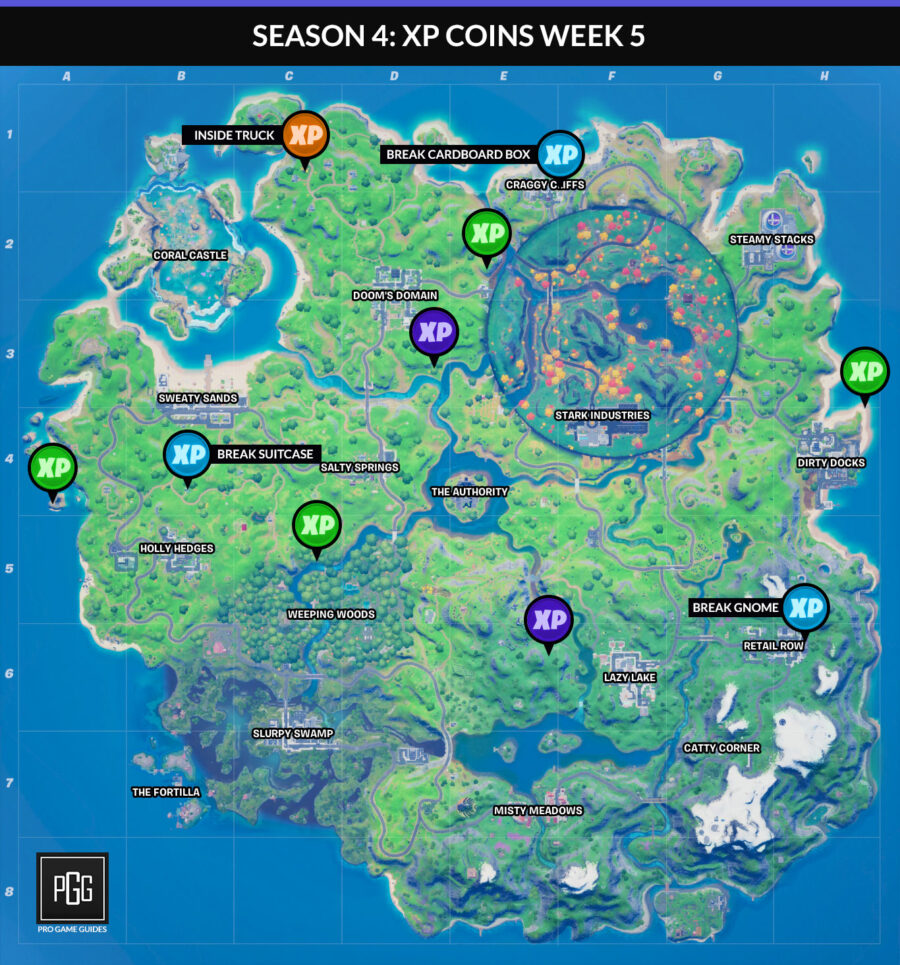 XP Coins Locations Map Week 4
Pretty easy week of coins, but the one at The Authority might be hard to find. It's at the very back of the main building, on the floor that kind of lines up with the helicopter pad. If you land on the roof of it, you should be pretty even with the pad!
4 Green Coins
3 Blue Coins
2 Purple Coins
1 Golden Coin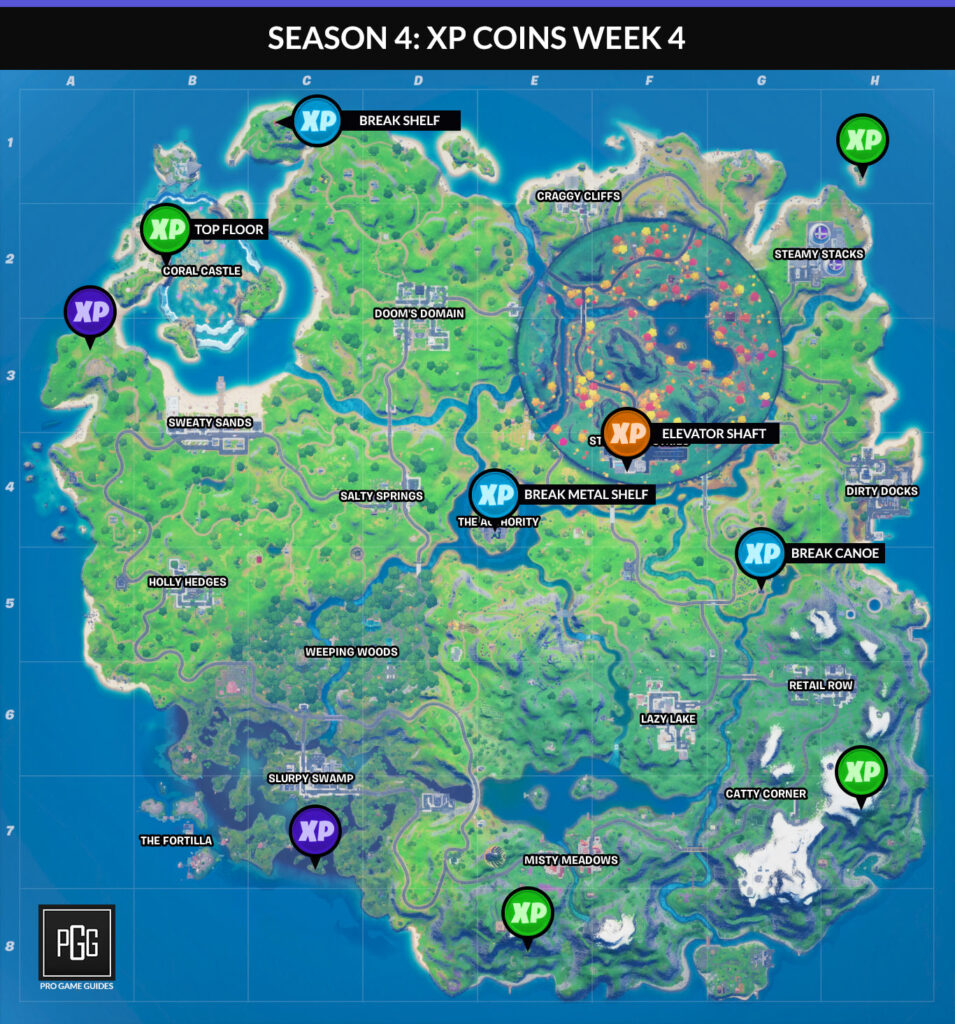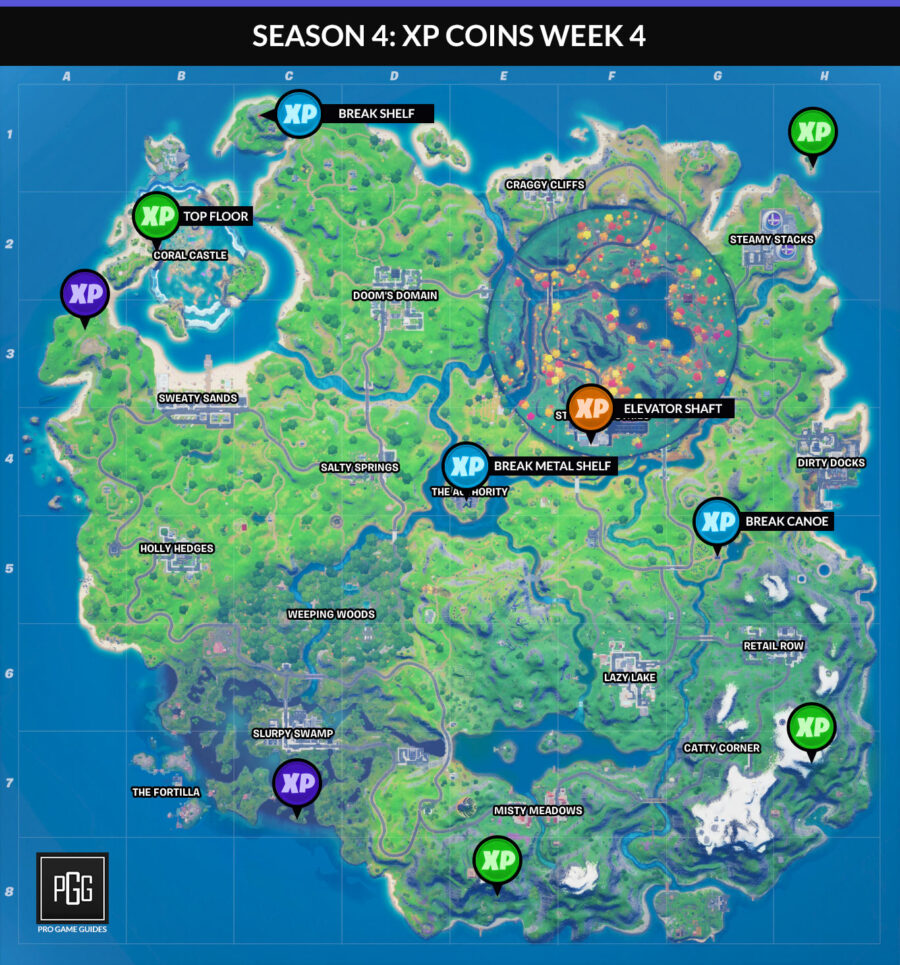 XP Coins Locations Map Week 3
We've got our map available for week 3! Not much changes for coins in the new patch, but we should be seeing gold coins in the next couple of weeks or so. Don't forget to complete your challenges, we've got a guide for those here.
4 Green Coins
3 Blue Coins
2 Purple Coins
1 Golden Coin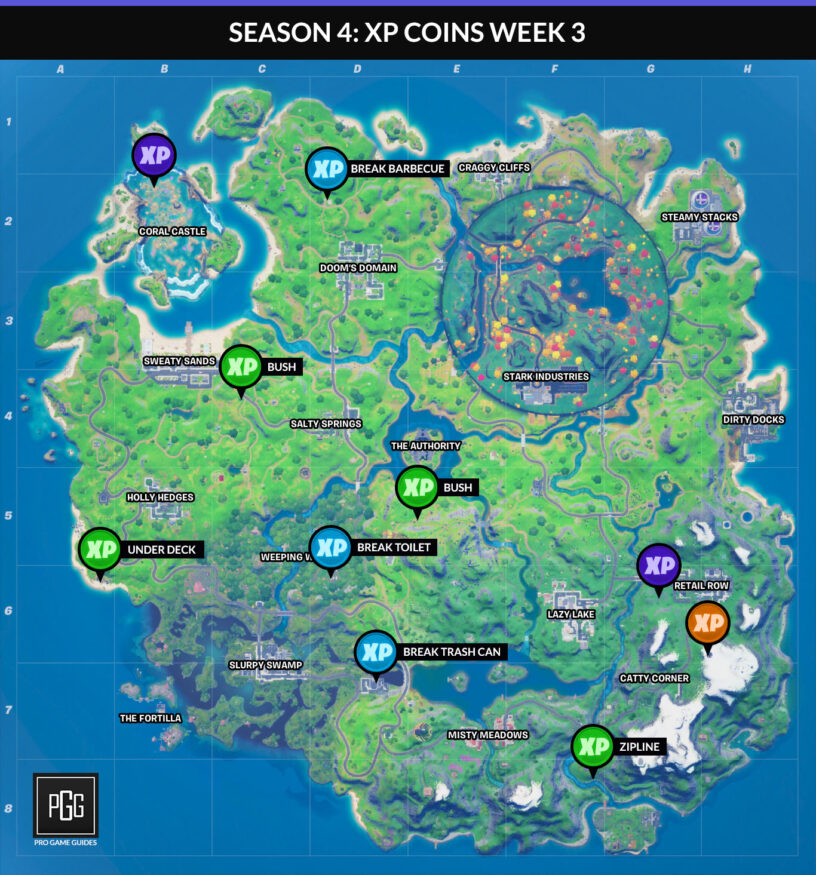 XP Coins Locations Map Week 2
4 Green Coins
3 Blue Coins
2 Purple Coins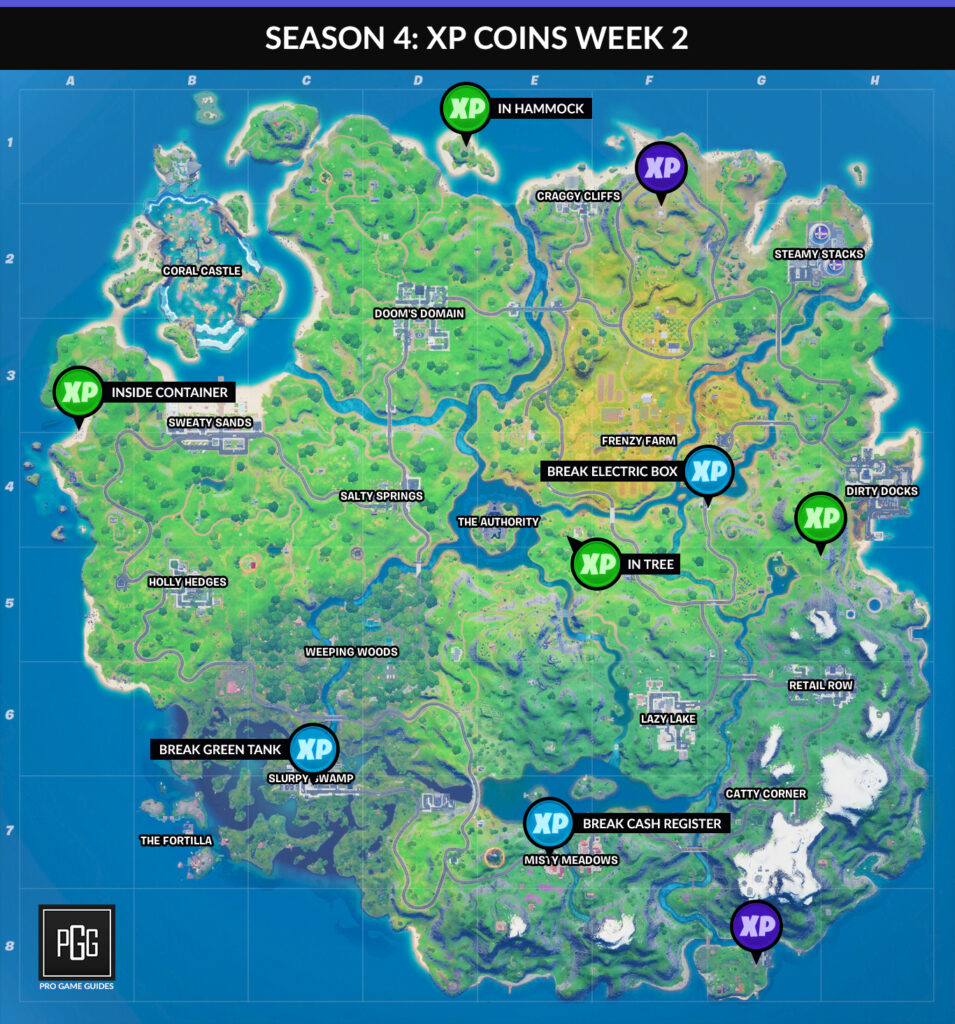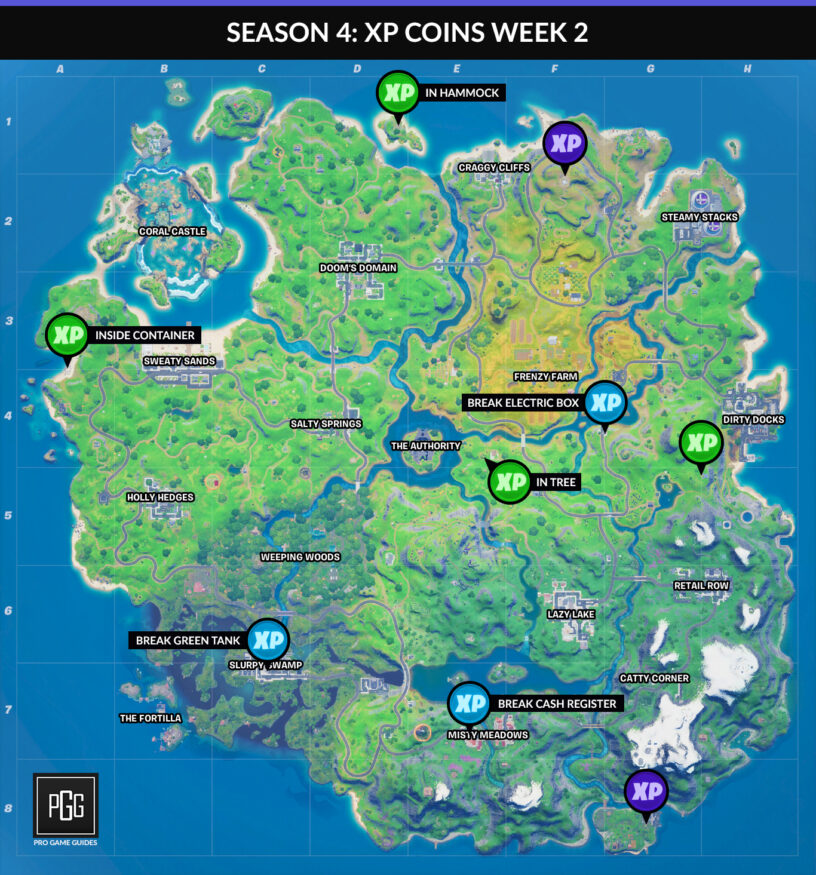 If you have trouble locating any of the coins, be sure to check out this video that displays them all:
XP Coins Locations Map Week 1
4 Green Coins
3 Blue Coins
2 Purple Coins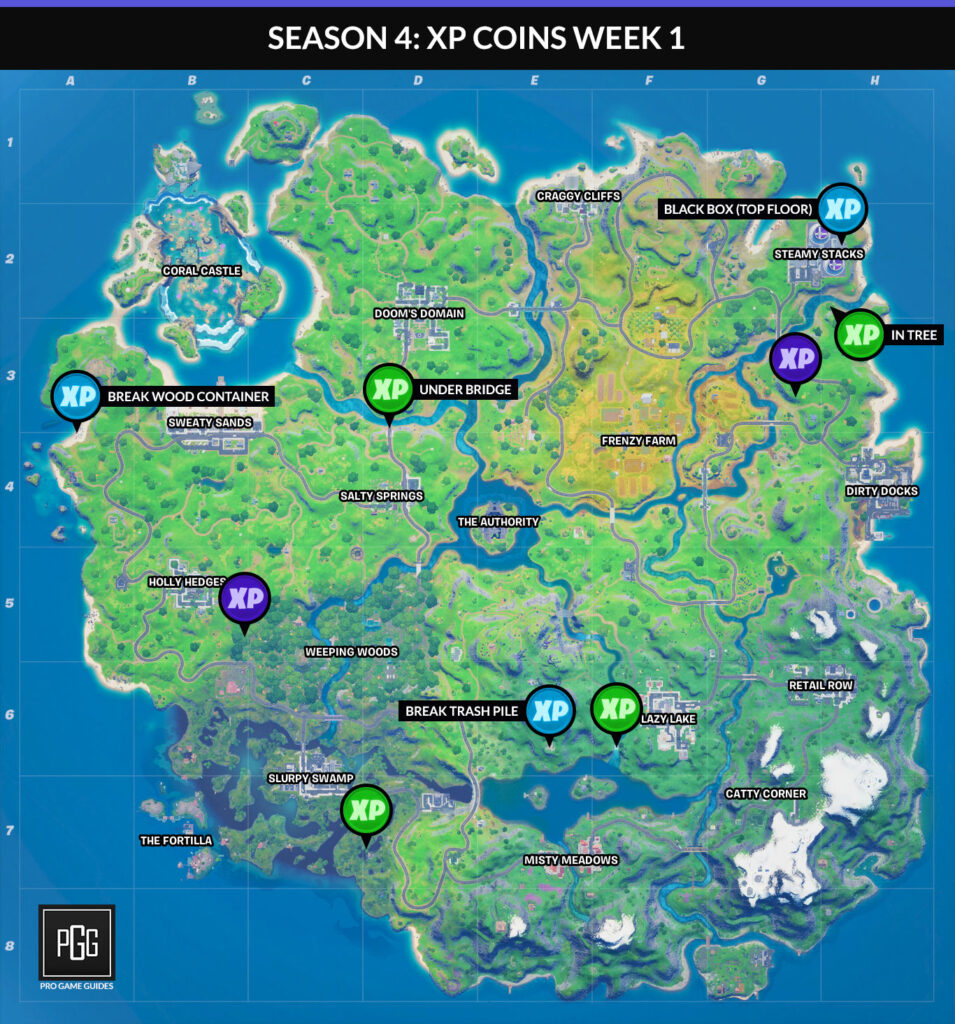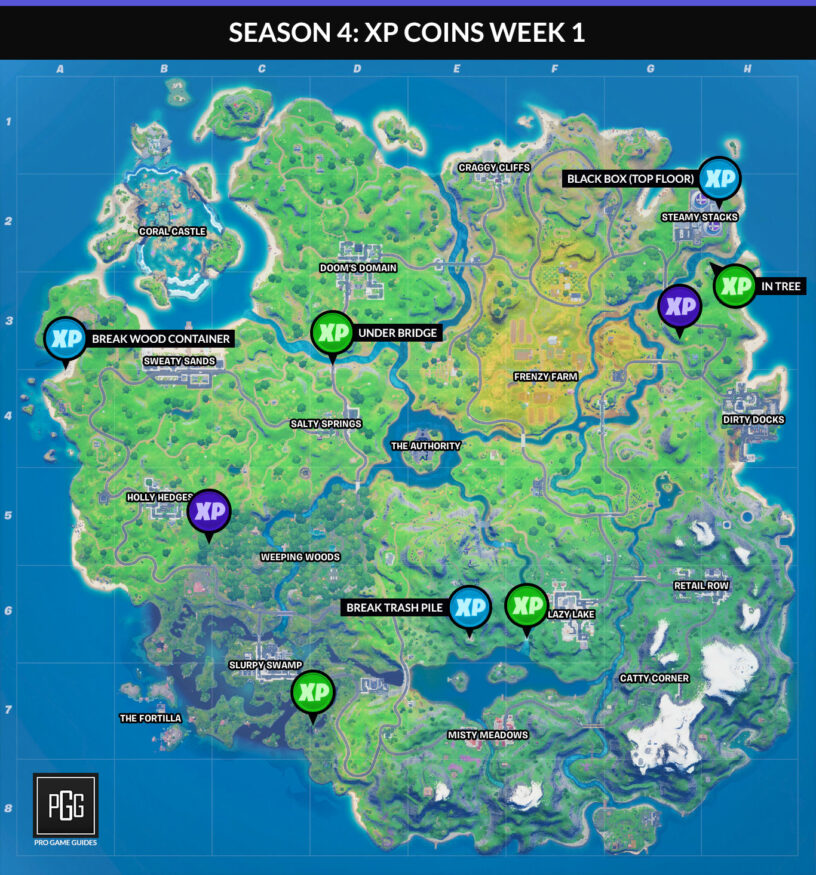 If you have trouble locating any of the coins, be sure to check out this video that displays them all: