Our Fortnite Vending Machines Guide features every location in Season 10 that you can find these loot containing machines that spawn all over the map! If you're looking for some pretty strong loot, it's smart to stop by these to check them out, they usually have something worthwhile to grab.
Vending Machines Info
While Vending Machines used to cost you resources to use, they were updated to now be free! However, you'll have more of a hard time finding them as they are a fairly rare spawn across the map. Vending Machines will show up in specific spots all over, but they aren't guaranteed to spawn in every game.
Vending Machines can come in different rarities, including Rare, Epic, and Legendary. There used to be both Common and Uncommon as well, but they were removed from the game. Each of these machines will have three items in them, and you can wack them with your pickaxe to cycle through the options. They can have weapons, throwables, or shields and healing. Once you've found the item that you want, hold the use key on the machine and it will pop out. Weapons will pop out with ammunition.
Vending Machine Locations (Season X)
These can be pretty much anywhere around the map (except for Mega Mall for some reason), so you'll just need to keep an eye out. As mentioned, the locations are static, so a machine will only spawn in particular spots on the map. However, they aren't guaranteed to spawn in every match. In fact, it's pretty rare to see a machine spawn in any one location all that often.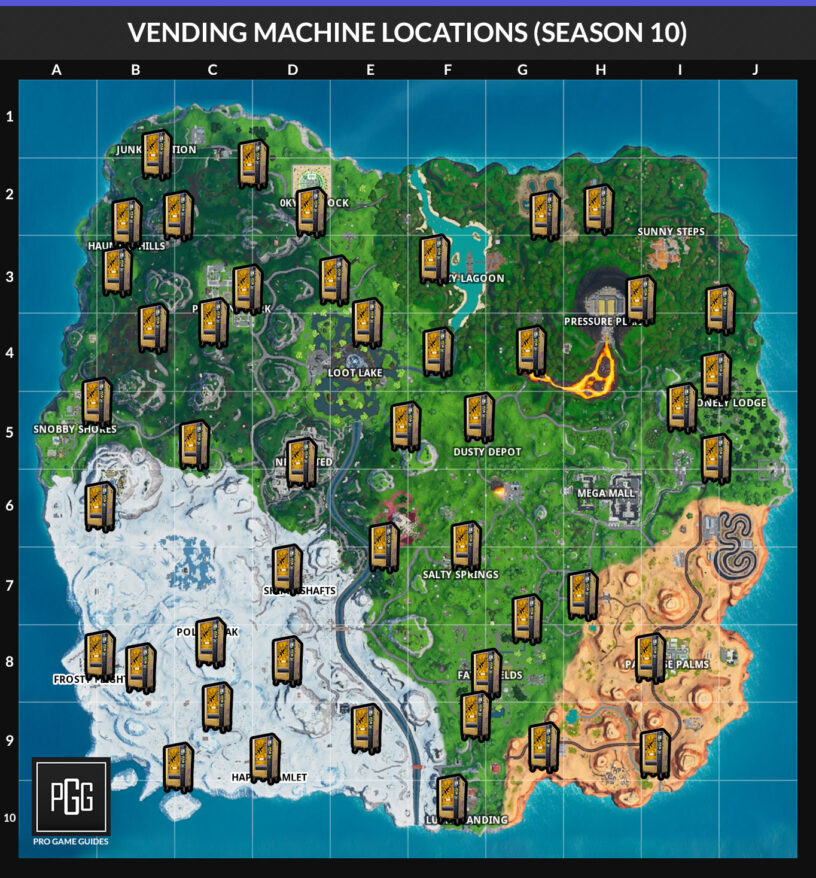 Named locations have the greatest chance for these to spawn (except for Mega Mall). Places like Neo Tilted, Paradise Palms, and Happy Hamlet have multiple spawn locations, so be sure to run around there looking for potential spawns.