In Fortnite, players need to complete various segments of the Dragon Ball Quests to gain Power Levels and unlock cosmetics from the limited-time DBZ Power Unleashed page in-game. One of the sections in the DBZ challenges includes the Recovery Quests. Most of the challenges in this Quest revolve around players healing themselves through various methods. While some challenges are straightforward, you must complete others at specific locations. Here's how players can complete the Dragon Ball Recovery Quests in Fortnite.
All Dragon Ball Recovery Quests in Fortnite
The Dragon Ball Recovery Quests have six challenges, most of which are relatively easy to complete. All of the Recovery Quests and rewards are mentioned in the following list:
Complete Recovery Quests (0/3) - Seventh Dragon Ball
Stage 1 of 2 - Regain health while resting in a Tent (0/50) - 2M Power Level
Get toasty by a campfire and regain health (0/50) - 3M Power Level
Go fishin' at Leafy Reef, Mighty Monument, and Loot Landing (0/3) - 4M Power Level
Restore health by eating fish or meat during or after a Versus Battle (0/200) - 4M Power Level
Use a fishing rod to ride a Loot Shark (0/1) - 1M Power Level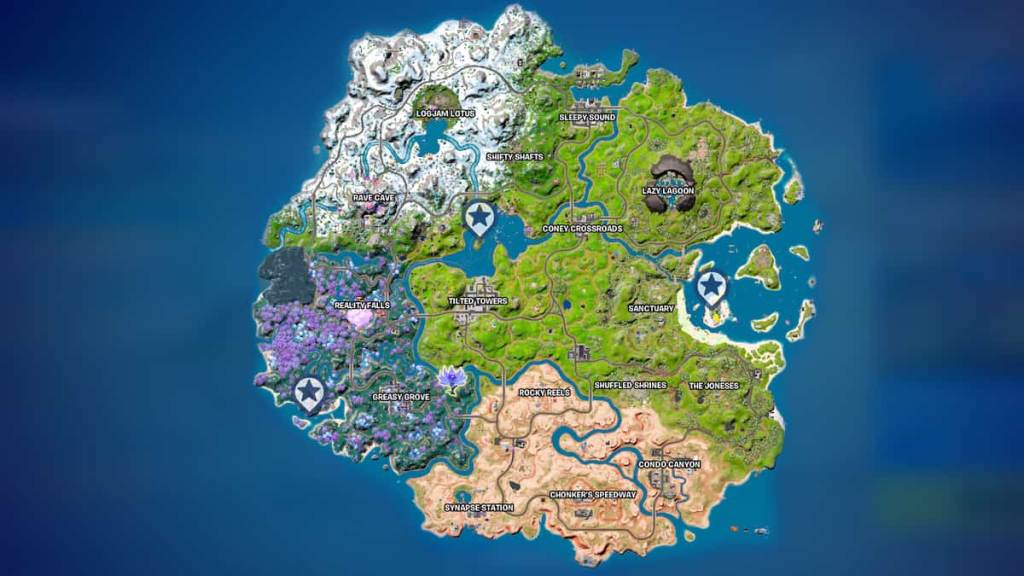 Related: How to complete Dragon Ball Endurance Training in Fortnite
The toughest challenges in the Recovery Quests require players to ride a Shark and visit three different unnamed landmarks. Check the starred locations on the above map to visit Leafy Reef, Mighty Monument, and Loot Landing. Similarly, you can ride a Shark at water bodies, and we recommend doing it in a remote location away from opponents. Earning all seven Dragon Balls by completing the Dragon Ball Power Unleased Quests rewards players with the Shenron Glider. You will also unlock free cosmetics from the Dragon Ball Power Unleashed by increasing your Power Level.
Wondering how to get started with the Dragon Ball Quests? Check out How to complete Dragon Ball Warmup Quests in Fortnite on Pro Game Guides.