Fortnite Chapter 2 Season 7: Invasion just dropped today and it has completely revamped the in-game Battle Pass. The page-based system replaces the old tier system in the game and players need to have battle stars to unlock new items in the game.
Earlier, players had to grind the battle pass and they had to do it in a systematic order. Therefore, players have to spend hours trying to get to that tier to unlock a reward they want from Day One. Now, players can do it very efficiently by the use of Battle Stars.
What is the best way to get Battle Stars in Fortnite?
Players can earn Battle Stars by playing matches and leveling up in the game. The leveling up method provides 5 Battle Stars at each level to the gamers. Another method is that players can also spend V-bucks to level up quickly in Fortnite and earn the Battle Stars to get ahead of wave.
Therefore, players have two separate forms of unlocking new items, either serially or grind for a particular item in the ladder of pages.
They can also move to the battle pass tab to know how many experience points are needed to get into the next level. Finally, they can save the battle stars and spend them on what they want in Fortnite.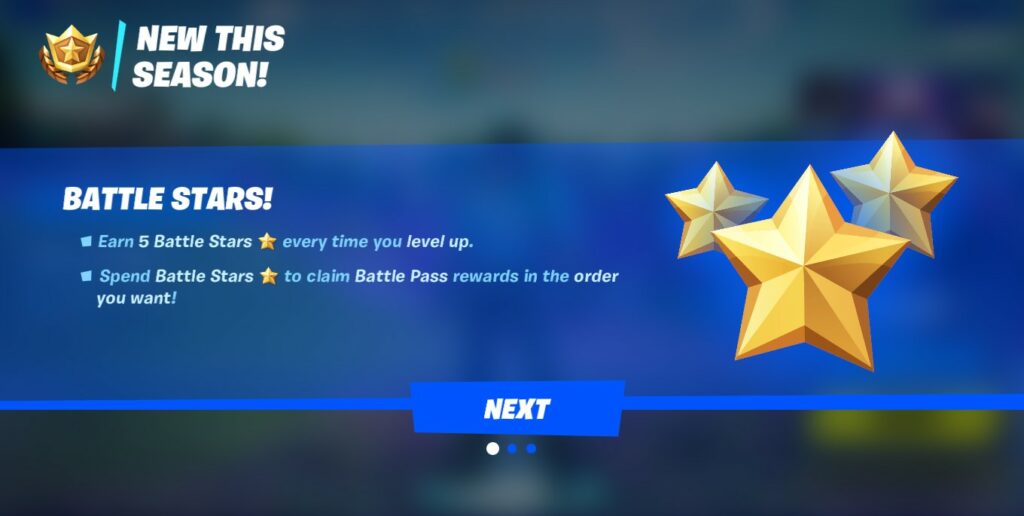 Players will have to unlock new pages—ten in total to unlock new themes of the battle pass, which gives cosmetics, Back blings, Sprays, V-bucks and much more! Two conditions can open these pages: Reach the required level to access that page or spend enough Battle Stars in the game. Moreover, these Battle Stars could be used by free-to-play players and there are ample rewards for them as well.
The above-stated method is a great way to reward players for playing the game and letting them choose their rewards in the game.
Don't forget to check out our full Fortnite Chapter 2 Season 7 Guide, which covers all updates, mechanics, and features of Season 7!